View all news
What did we learn from the 2014 World Cup?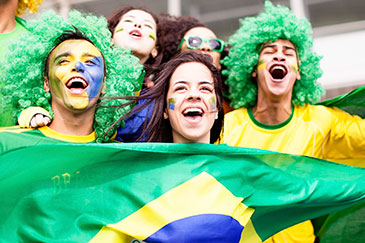 28 October 2014
Experts on the history, politics and culture of football will gather at the University of Bristol this week to discuss the impact of this year's FIFA World Cup. The event is free and all are welcome.
Co-organiser of the event, Dr Matthew Brown of Bristol's Department of Hispanic, Portuguese and Latin American Studies, said: "In June and July 2014 the world was united in its obsession for the spectacle of global football in the form of the FIFA World Cup, held in Brazil. Around the world, workplaces and battlefields paused to enable people to watch and comment upon formations, strategies, scandals, victories and defeats.
"Germany won, again. England lost, again. As in 1950, Brazil was swept into a collective national trauma by defeat on home-soil. But what did it all mean? What have we learned?"
These and other questions will be addressed by experts in an afternoon of talks and debates at the University on Thursday 30 October.
Speakers include David Goldblatt, author of Futebol Nation: A Footballing History of Brazil, who will discuss the social and political context for Brazil 2014 and David Winner, author of Brilliant Orange: The Neurotic Genius of Dutch Football, on Louis Van Gaal and Dutch failure .
The event is free and open to the public. It starts at 2pm on Thursday 30 October in Lecture Theatre 3, 17 Woodland Road. No registration required.