View all news
Enjoy a summer's evening at the Botanic Garden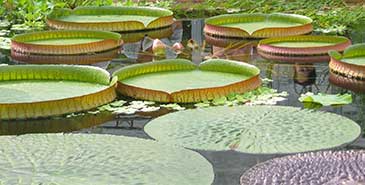 Press release issued: 5 June 2014
With summer upon us, members of the public will have the opportunity to see summer plants and wildlife at one of the many evening tours taking place at the University of Bristol Botanic Garden.
The first tour in the series will take place next week, Tuesday 10 June.
Visitors will have the chance to visit the Garden's glasshouses where they will experience the secret treasures of the Amazon rainforest and encounter a world of tropical food and medicinal plants.
Nick Wray, Curator of the Botanic Garden, said: "The Garden has matured enormously since first planted and now buzzes throughout summer with colour and wildlife. Each area has a story to tell with many plants to intrigue and interest everyone. Whatever your plant knowledge, you will come away from a Botanic Garden tour enlightened."
The tours will start at 6.30 pm with a glass of wine or elderflower presse in the Linnaeus study room before the Garden tour with an experienced guide begins at 7.00 pm.
The summer evening tours cost £7.50 per person including refreshments (£4.00 per person for Friends of the Botanic Garden).
Bookings for a tour can be made online only at the University online shop.
For help booking, download 5 easy steps to enrolling online (2.1MB) document, or email botanic-gardens@bristol.ac.uk
The summer evening tours at the University of Bristol Botanic Garden, The Holmes, Stoke Park Road, Stoke Bishop, Bristol BS8 1JG, will take place on Tuesdays on 10 and 24 June; 15 July; 5 and 19 August and 9 September at 6.30 pm.
Further information
About the Botanic Garden
June, July, August and September. Open Monday to Sunday from 10 am to 4.30 pm.
Admission is £3.50 adults; free to University staff and retired staff, Friends of the Botanic Garden, students and children under 16.
Dogs (except registered disability assistance dogs) are not permitted in the Botanic Garden.
The Garden is largely accessible for wheelchairs and mobility scooters with a designated path leading around the Garden and glasshouses. Disabled toilet facilities are available on site.
The garden also offers private day, evening and weekend guided tours for groups of ten upwards and gardening or any other leisure clubs. Please contact the garden for further information. There is a charge for the guide.
Directions to The Holmes
From the city centre go to the top of Whiteladies Road, at the junction and traffic lights go straight ahead across Durdham Down towards Stoke Bishop. At the traffic lights go straight ahead and take the first turning on the right into Stoke Park Road, The Holmes is 150 m on the right.
Members of the public wishing to support the work of the Botanic Garden should join the Friends of the Garden. For more information go to the Friends of the Garden or write to Susan Redfern, The Membership Secretary, 24 Dublin Crescent, Henleaze, Bristol BS9 4NA.