View all news
The Holmes and D-Day: a historic role remembered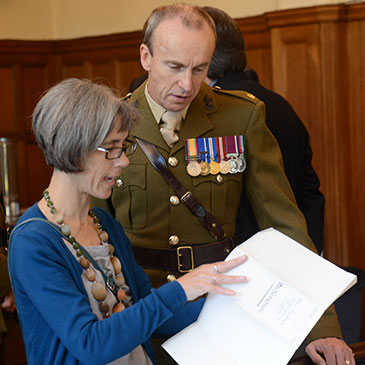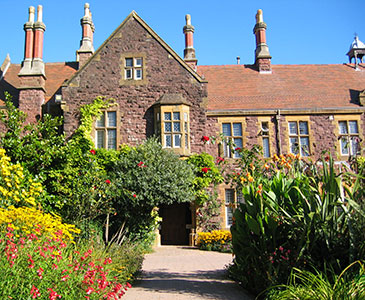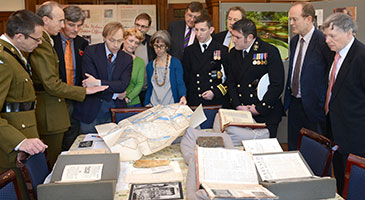 27 November 2014
The role of The Holmes as a headquarters for senior US Army officers planning the Normandy landings was celebrated at a reception earlier this month as part of the 70th anniversary commemoration of D-Day.
Uniformed officers from the University's Officer Training Corps and Royal Naval Unit, along with representatives from HMS Flying Fox, joined other guests at the reception, which took place at The Holmes on Friday 14 November.
The Holmes (part of Churchill Hall, one of the University's halls of residence, and located within the University's Botanic Garden) was commandeered in 1943 as a home for General Omar Bradley and his senior staff of the US 1st Army. General Bradley commuted from the house to Clifton College, where the larger part of his staff and troops were based.
The reception featured a display from Clifton College Archives of rare documentary evidence of the American military presence at The Holmes and the College. The display also reflected the role of Lt Gen Sir Frederick Morgan, old boy of Clifton, who was General Eisenhower's Deputy Chief of Staff, and who had devised the original plan codename, COSSAC, for the invasion of Normandy.
Michael Richardson and Hannah Lowery from University Special Collections provided a number of historical documents illustrating University life in the Second World War. These included issues of the University publication, Nonesuch, and details of a visit by Winston Churchill, Chancellor of the University, who on 12 April 1941 conferred an honorary degree on the Prime Minister of Australia, Robert Menzies, and the Ambassador of the United States of America, John Winant, in the immediate aftermath of an air raid on Bristol.
Attending Friday's reception was Rynholdt George, great-great grandson of William Edwards George, who built the house in 1879. William George never lived there, but rented it in 1884 to William Mills Baker and his wife Hannah, whose son, Hiatt Baker, would become a senior figure in the University and later a benefactor.
A display featuring the Normandy landings has been mounted in the Devers Room at The Holmes and will be open to visitors during limited hours from next Easter. Please check the Botanic Garden website for details.
A longer account of the D-Day reception is available on the Botanic Garden's news page.