View all news
Bristol team win enterprise and employability competition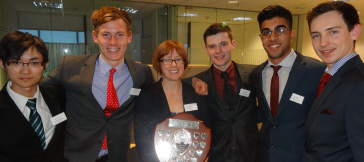 Press release issued: 2 April 2014
A team from the University of Bristol has emerged victorious from the UK's premier enterprise and employability skills competition – the Universities Business Challenge 2013-2014 (UBC).
The grand final was hosted by IBM at their headquarters on London's South Bank where 10 teams of undergraduate students were challenged to work as board of directors in realistic, simulated companies, making all the critical business decisions that affect the company's performance.
It was a close run event, with the teams from the University of Abertay and the University of Bristol in fierce competition for the number one spot throughout the day. The final result was not clear until the very last round of decisions, when Bristol took first prize of £1000.
The Bristol team members, Ash Sony, Oliver Deane, Matthew Sarre, David Corfield and WaiLun Poon, are all students of Bristol University's School of Economics, Finance and Management.
They were supported on the day by their lecturer, Claire Spencer, who said: "The UBC is an extremely valuable student activity. Teams develop the essential business skills that employers are looking for.
"They also get to hear some fantastic speakers with inspiring stories about their own careers, business ideas and working environments.
"Our winning team did not all know one another before the game, so for them it has been a real test of their team work and interpersonal skills."