View all news
Creating the next generation of engineers and scientists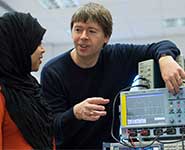 Press release issued: 22 November 2013
The University of Bristol has been successful in receiving funding for seven Centres for Doctoral Training (CDTs) following the announcement of the UK's largest investment in postgraduate training in engineering and physical sciences.
The Universities and Science Minister, David Willetts, will provide details of how the £350 million fund will be used to train tomorrow's engineers and scientists at an event in London today [Friday, November22].
The funding of over seventy new CDTs, targeted at areas vital to economic growth, has been allocated by the Engineering and Physical Sciences Research Council (EPSRC). The investment, spread over 24 UK universities, will train over 3,500 postgraduate students.
David Willetts, Minister for Universities and Science, said: "Scientists and engineers are vital to our economy and society. It is their talent and imagination, as well as their knowledge and skills that inspire innovation and drive growth across a range of sectors, from manufacturing to financial services.
"I am particularly pleased to see strong partnerships between universities, industry and business among the new centres announced today. This type of collaboration is a key element of our industrial strategy and will continue to keep us at the forefront of the global science race."
The seven Bristol CDTs are:
Professor Nishan Canagarajah, Dean of Engineering, said: "The large number of CDT awards reflects the excellent research training environment at Bristol and depth of our collaboration with our industrial partners in research and education. With these awards, we will continue to produce the research leaders of the next generation."
Professor Tim Gallagher, Dean of Science, added: "The CDT successes at Bristol reflect the strength of the programmes that we have across the full breadth of the EPSRC remit. We will strengthen the collaborative interactions we have with our external industrial and academic partners, with a focus on the SME sector and on sharing resources and experiences with other CDTs."
The University is also partners in a further four CDTs including: CDT in Catalysis – South-West UK Alliance (Professor Duncan Wass); CDT in Water Informatics: Science and Engineering (WISE) (Professor Thorsten Wagener); CDT in Theory and Modelling in Chemical Sciences (Professor Fred Manby) and CDT in Diamond Science and Technology (Professor Paul May).
Further information
About the seven University of Bristol Centres for Doctoral Training

Industrial Doctorate Centre in Composites Manufacture
The scope of the Centre is the manufacture of high performance engineering structures from polymer matrix composites that use state of the art fibres as reinforcement. This encompasses design for manufacture and those novel aspects of materials and processes which relate directly to the development and evaluation of flexible next-generation composites manufacturing processes based on low cost, short cycle times, efficiency and sustainability.
The applied research projects undertaken by the Research Engineers in the IDC in Composites Manufacture are industrially defined and positioned in the Technology Readiness Level 3-5 range of research and development activity. They have a natural synergy with curiosity driven projects undertaken by PhD students within the EPSRC Centre for Innovative Manufacturing in Composites (CIMComp).
CDT in Future Autonomous and Robotic Systems
In the future, robots and autonomous systems will be more involved in our lives. They will support our independence as we age, work closely alongside us, and operate in emergency situations while we keep safely away. These new roles demand much more intelligent interaction between robots and their surroundings and people. In short, they must be more adaptable, and this is the theme of the FARSCOPE CDT.
Run by the Bristol Robotics Laboratory (BRL), a partnership between the University of Bristol and the University of the West of England, FARSCOPE brings together 50 academics across many disciplines. The CDT takes a broad view of robotics, developing researchers whose expertise can be applied across many different domains. To this end, FARSCOPE's programme combines individual research with a taught programme of fundamentals, opportunities to work with or even start businesses, and group activities to foster cross-disciplinary awareness.
CDT in Chemical Synthesis
This Centre will bring together students, academics and industrialists from across the chemistry disciplines to train a new generation of world-class research chemists equipped to solve the diverse molecular problems of the future. State-of-the-art training at postgraduate level will enable this core underpinning science to evolve and make the essential economic and societal contributions the nation requires. Chemical synthesis is the science of molecular construction. It provides access to materials and substances essential to modern society - from life-saving medicines to the colourful substances that make iPad and laptop screens come alive.
CDT in Quantum Engineering
The Centre will train a new generation of engineers, entrepreneurs, research leaders and professionals with the skills and knowledge to tackle the most important challenges in modern science and technology – harnessing the power of quantum mechanics and using the latest industrial technologies. This innovative Centre for doctoral training bridges the disciplines of physics, engineering, mathematics and computer science, working closely with chemists, biologists and interacting strongly with industry. The Centre will work with industry to develop individuals with the engineering knowhow and in-depth understanding of quantum information science to deliver world changing quantum technologies.
CDT in Advanced Composites for Innovation and Science
The Centre is embedded within the Advanced Composites Centre for Innovation and Science (ACCIS). The Centre's vision is to develop the next generation of technical leaders in advanced composites by stimulating adventurous interdisciplinary research, which bridges the length scales, connects to and interfaces between the disciplines of engineering, chemistry, physics and life sciences, and bestows enhanced and added functionality to composite materials. The Centre's integrated four year PhD programme incorporates an innovative taught component followed by two parallel PhD streams: applied projects undertaken in collaboration with industrial partners and blue-skies projects that seek fundamental solutions in composites technologies.
CDT in Future Communications 2: Training Tomorrow's Internet Innovators
Communications technology not only provides personal voice, data and video services but also underpins emerging transport, healthcare, automation and security applications. By 2020 the number of network-connected devices will reach 1,000 times the world's population presenting enormous technological challenges.
Future Communications 2, with its 29 partner organisations, will address these challenges providing both technical and human solutions. It will build on the successes of Bristol's existing Centre to train PhD graduates who are intellectually leading, creative, mathematically rigorous and who understand the commercial implications of their work – people who will become the future leaders in the sector.
Centre for Functional Nanomaterials
The Centre is dedicated to training the next generation of interdisciplinary scientists and fully equipping them for leadership, within a BCFN network of academics which numbers more than 100 from 15 departments of the University of Bristol. The size and scope of this academic network, the wide variety of student degree backgrounds, and the full involvement of industrial partners creates an immensely rich training and research environment. The students choose projects across the whole spectrum of Functional and Advanced Materials, one of the most important sectors of the UK economy, and their work addresses global challenge themes such as Energy and Food Security.
About the Engineering and Physical Sciences Research Council
The Engineering and Physical Sciences Research Council (EPSRC) is the UK's main agency for funding research in engineering and the physical sciences. EPSRC invests around £800 million a year in research and postgraduate training, to help the nation handle the next generation of technological change. The areas covered range from information technology to structural engineering, and mathematics to materials science. This