View all news
PhD student honoured by Dashkova Humanities Institute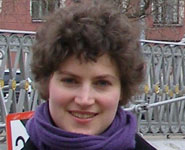 20 November 2012
Jessica Tipton, a PhD student in the School of Modern Languages, has been awarded a Princess Dashkova Medal by the Dashkova Humanities Institute in Moscow.
The Medal recognises Jessica's research into the trips made by Princess Dashkova (a leading figure in the Russian Enlightenment) to Britain in the late 18th century. The Institute has also invited her to become a member of the Dashkova Society and present a paper at its 2013 conference in Moscow in March.
Her award follows a conference held at Bristol in September, 'The French Language in Russia', which marked the 200th anniversary of Napoleon's invasion of Russia. Jessica, with the help of Dr Vladislav Rjéoutski (a postdoctoral research fellow at Bristol), led overseas delegates on a tour of places in Bristol that were visited by Princess Dashkova during her visit to England in 1770. The conference was one of several events associated with 'The History of the French Language in Russia', a three-year project funded by the Arts and Humanities Research Council and led by Professor Derek Offord from the School of Modern Languages.
Jessica, who also has a BA in Russian with French from Bristol, is working with Michael Liversidge (from the Department of History of Art) and Professor Offord on an edited English translation of Dashkova's account of this journey.