View all news
Soldiers' lives shed new light on the history of post-colonial South America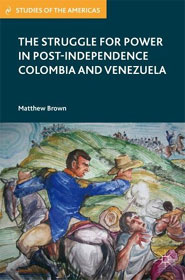 Press release issued: 13 June 2012
A collective biography of the veterans of the Battle of El Santuario, fought in Colombia in 1829, is published today by Dr Matthew Brown in the School of Modern Languages at the University of Bristol.
The Struggle for Power in Post-Independence Colombia and Venezuela uses the untold stories of the soldiers' ordinary lives to explain the reconfiguration of European influence in the region after the end of Spanish colonial power, a subject almost entirely ignored by historians up to now.
At the Battle of El Santuario, fought on mountainous Andean terrain on October 17, 1829, the rebel General José María Córdova was defeated by an army in the service of the Gran Colombian government, reporting to the orders of the famous Liberator, President Simón Bolívar.
For present-day Colombians, El Santuario is remembered primarily for Córdova's death. After the battle as he lay wounded, he was sought out and brutally murdered by one of the opposing army's senior officers – an Irishman, Rupert Hand. Hand's commanding officer was General Daniel O'Leary, who decades later became the British Empire's highest diplomatic representative in Bogotá. All this gives rise to conspiracy theories about the power and machinations of the British Empire in Colombia after the colony's independence from Spanish colonial rule.
The Struggle for Power tells the life stories of those who served at the Battle of El Santuario, from O'Leary and Hand to the local people, including slaves and indigenous men, whom Córdova recruited into his army just days before the battle.
Dr Brown said: "I was intrigued when I learned of the presence of Hand and O'Leary at El Santuario, and their involvement in the 'assassination' of a national hero. I scratched the surface a little and found that they were not alone. The government forces sent from Bogotá under O'Leary's command were entirely officered by men born many thousands of miles from the battlefield, several of them Britons.
"When I set out to discover why this was so, I found that there was nothing at all written in English on El Santuario. My initial intention was simply to write a short narrative of the battle but, as I researched the lives of those who fought there, understanding where these men can from and where they went became just as important as knowing what they did on the battlefield.
"With time, the book became a collective biography of the El Santuario veterans and, through their stories, an examination of the wider history of the imperial conflicts that shaped politics and society in Colombia and Venezuela after independence from colonial rule."
Dr Matthew Brown is Reader in Latin American Studies in the School of Modern Languages at the University of Bristol, UK. Dr Brown's blog, Bolivarian Times, discusses Latin American independence, with particular focus on its international context.:
The Struggle for Power in Post-Independence Colombia and Venezuela is published by Palgrave Macmillan £55