View all news
Reorganisation of NHS cleft services shows improved care for children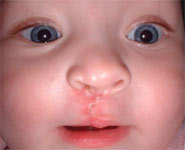 Press release issued: 8 June 2012
A new study by researchers at the University of Bristol has found the reorganisation of NHS services for children in the UK with cleft lip and palate has improved standards of care.
It has also led to a co-ordinated approach to national cleft research that has the potential to improve health and treatment worldwide.
The study by researchers at the University of Bristol, and published in the British Dental Journal, found the audit has informed the process of centralisation and a research strategy and infrastructure have been developed and embedded in the emerging clinical networks.
Around a thousand children are born in the UK every year with a cleft lip and/or palate that require treatment. However, until recently, the service was spread across many centres and few clinicians were engaged in audit or research projects.
Over the past 15 years there has been significant reorganisation and centralisation of UK cleft services, with the reduction of the 57 centres operating on these children in 1998 down to 11 centres or managed clinical networks in 2011.
The researchers found not only are improvements in standards of care becoming evident, but important parallel developments initially in multidisciplinary audit, and latterly in research, have been initiated through this reconfiguration.
Professor Jonathan Sandy, lead researcher and Head of the School of Oral and Dental Sciences, said: "Centralisation has not only raised the profile of this relatively small care group, but also enabled a UK wide co-ordinated approach to research into cleft lip and palate. This process illustrates how NHS services can provide a platform for national research that has the potential to improve health worldwide."
Cleft lip and palate is a common congenital anomaly in humans, which impacts on the individual, their families, the healthcare system and society. Different forms of clefting can affect appearance, speech, hearing, general health and social integration and treatment requires the input of a range of healthcare professionals.
The evidence to inform clinical care for children with cleft lip and/or palate is limited. Much clinical practice is supported by case reports or case series. Large-scale observational studies and randomised trials need access to clinical populations and an adequate infrastructure for clinical research.
The UK is well placed to make an important contribution to research in children with cleft lip and/or palate, the population is contained within a relatively small island and almost all children are treated within the NHS and monitored through a single information system.
Centralisation has created some of the clinical research infrastructure required to run large studies and made readily accessible clinical populations.
Paper: Using service rationalisation to build a research network: lessons from the centralisation of UK services for children with cleft lip and palate, Jonathan Sandy, Nichola Rumsey, Martin Persson, Andrea Waylen, Nicky Kilpatrick, Tony Ireland, Andy Ness, British Dental Journal, published 9 June 2012.
Further information
In March 2012 parents of children born with a cleft lip and/or palate were invited to enrol in the world's largest ever-cleft research programme.
The programme, called The Cleft Collective, is funded by UK charity the Healing Foundation, and hosted by both the University of Bristol and the University of Manchester.
The five-year UK research programme, costing £11 million, is the biggest single investment in cleft research anywhere in the world, and will involve the largest DNA gene bank of its kind being set up at the University of Bristol.