View all news
Can your memories make history at Bristol Zoo Gardens?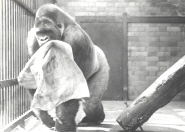 Press release issued: 8 May 2012
A unique research project is underway to document the distinguished history of Bristol Zoo, calling on members of the public to play their part in contributing artifacts, film footage and photographs to bring its colourful past to life.
People are invited to a special roadshow event called
Know Your Zoo
on Saturday, 12 May, where historians will be on hand to collect memorabilia for an exciting research project looking at the 175 year history of the world's fifth oldest zoo.
A rich collection of rarely seen historic photographs, guidebooks and other artifacts, as well as film footage and interviews with former Zoo staff, is already housed in the archives on site at the world's oldest provincial zoo, but experts are hoping to add the more personal memories of visitors to this treasure trove.
Andy Flack and Sarah-Joy Maddeaux, PhD students from the University of Bristol, are leading the research, which aims to fill any existing gaps and make historic archival materials more readily available to researchers in the future.
Professor Peter Coates, from the Department of History at Bristol University, said: "This event is a terrific opportunity to promote a lively exchange of ideas and information between the wider community and historians working on the Zoo's fascinating social, environmental and animal histories.
"Lots of families from across Bristol and the South West, as well as South Wales, will have their own piece of history linked to the Zoo, whether it's a photo of their great-grandparents enjoying a visit or a more recent experience – we're casting the net as widely as possible, looking for any memories, from personal stories to postcards and souvenirs."
There will be a display introducing visitors to the research project and brief talks for those who want to learn more. Those who attend the event are also encouraged to record their stories on tape recorders that will be on hand.
Simon Garrett, Head of Learning at Bristol Zoo Gardens, said: "Bristol Zoo is such an integral part of the city's past that we do not want to lose vital information and memories. There are already countless stories and events from the early days of the Zoo that have been lost forever, and we want to preserve as much of the Zoo's magic as possible for the future. Looking to the past is also a vital tool in determining how we can make the Zoo better for the future."
He added: "Now we want to capture people's memories and experiences to give future generations the chance to have a glimpse of Bristol Zoo from years gone by, and let everyone know how important the Zoo is for Bristolians past, present and future."
Bristol Zoo is the fifth oldest Zoo in the world, first opening its doors to the public in 1836. Since then it has welcomed six generations of visitors, helped save over 175 species from extinction through captive breeding, established over 30 field conservation and research programmes all over the world, showed 40 million school aged children the value of nature and have given more than 90 million visitors a great day out.
The Zoo has also been home to tens of thousands of animals over the years. Among its most well known were Zebi the Asian elephant, who arrived in 1868 and became renowned for removing and eating straw hats; Rajah, who replaced Zebi, gave rides to children for many years. Rosie the elephant was also very popular, and many local people have fond memories of rides on Rosie during the 1940s and 50s.
Arguably Bristol Zoo's most famous resident was Alfred the gorilla, who lived at the Zoo from 1930 to 1948. He was, at the time, the only gorilla in captivity in the country and was a very popular Bristol citizen. Now his body stands in the Bristol City Museum and Art Gallery.
As well as being a successful visitor attraction, Bristol Zoo now focuses on breeding endangered species, developing its educational and scientific roles and working to protect wildlife in their natural habitats.
Know Your Zoo is part of the Know Your Bristol project - a hands-on history project which explores some of the city's best-loved and most intriguing places. The project, being run by the University of Bristol in partnership with Bristol City Council and local community bodies such as the Zoo, is part of the Inside Arts programme of public events and has been funded by the Arts and Humanities Research Council as part of the Connected Communities Programme.
Know Your Zoo is on Saturday, 12 May from 10am until 4pm. It is taking place in the Zoo's Conservation and Education Centre, access is via Guthrie Road and does not include access to the Zoo. For further information, please see the Bristol Zoo Gardens website or the Centre for Public Engagement website.
Further information
Future Know Your Bristol events include:
Know Your Arnos Vale on Saturday, 19 May: The remains of a significant proportion of the city's residents from 1837 into the early 20th Century are contained here. Members of the public are asked to contribute any information to the cemetery's archive.
Know Your Kings Weston, 16 June: Kings Weston House, built in 1709, is a focal point of what's now a large area with a thriving community. Find out more about the house, the local area and how people relate to it.
Know Your South Bristol on Saturday, 23 June: This event will focus on the heritage value of film, video and photography as documentary evidence of the rapidly changing landscape of South Bristol over the past 150 years.
Know Your Bristol on Saturday, 30 June: The last in the series celebrates the heritage of the entire city. Residents can bring in objects which have a particular meaning to them, from photo albums to bicycles, tea cups, season tickets or children's books.