View all news
Teen girls abused by boyfriends warns NSPCC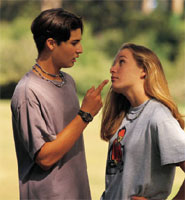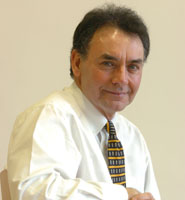 Press release issued: 1 September 2009
A third of teenage girls suffer unwanted sexual acts in a relationship and a quarter physical violence, reveals new research launched today [1 September 2009] by the NSPCC and the University of Bristol.
A third of teenage girls suffer unwanted sexual acts in a relationship and a quarter physical violence, reveals new research launched today [1 September 2009] by the NSPCC and the University of Bristol.
The survey of 13 to 17-year-olds found that nearly nine out of ten girls had been in an intimate relationship. Of these, one in six said they had been pressured into sexual intercourse and one in 16 said they had been raped. Others had been pressured or forced to kiss or sexually touch.
A quarter of girls had suffered physical violence such as being slapped, punched, or beaten by their boyfriends.
Nearly nine out of ten boys also said they had been in a relationship. A smaller number reported pressure or violence from girls. (Only one in seventeen boys in a relationship reported being pressured or forced into sexual activity and almost one in five suffered physical violence in a relationship).
Girls were much more likely to find this behaviour harmful -- more than three in every four compared to one in ten boys. Girls also reported that they suffered more repeatedly in relationships and at a younger age.
Sian, one of the girls interviewed for the research, said: "I only went out with him for a week. And then because I didn't want to have sex he just started picking on me and hitting me."
Another girl, Tanisha, said about her boyfriend: "He bit me on the face. It was horrible, really disgusting. Because when I am trying to show my point of view, he doesn't appreciate it."
Unlike most boys, girls often felt they had little choice but to put up with the abuse because they felt scared, guilty, or feared they would lose their boyfriend.
Having an older boyfriend was found to put girls at a higher risk, with three-quarters of them saying they had been victims. Girls from a family where an adult had been violent towards them, one of their parents, or siblings, were also at greater risk.
For boys, having a violent group of friends made it more likely that they would be a victim, or be violent themselves, in a relationship.
One of report's authors, Professor David Berridge from the University's School for Policy Studies, said: "The high rate and harmful impact of violence in teenagers' intimate relationships, especially for girls, is appalling. It was shocking to find that exploitation and violence in relationships starts so young. This is a serious issue that must be given higher priority by policy makers and professionals."
NSPCC Head of Policy and Public Affairs, Diana Sutton said: "It is shocking to find so many young people view violence or abuse in relationships as normal. Many will not tell their parents what is happening.
"We must make sure that every young person knows this behaviour is never acceptable, that nobody should hurt or scare them, and they can call ChildLine on 0800 1111 for help.
"Boys and girls are under immense peer pressure to behave in certain ways and this can lead to disrespectful and violent relationships, with girls often bearing the brunt."
Bobby, one of the boys interviewed for the report, said: "I think there's probably more pressure on boys, but if a girl goes out with a lot of people she's called a 'slut' or a 'slag' or something, but if it's a boy he's just one of the lads if he does it."
Diana Sutton continued: "Young people need to learn to respect each other. Parents and schools can perform a vital role in teaching them about loving and safe relationships, and what to do if they are suffering from violence or abuse."
The report, which was part-funded by the Big Lottery Fund, recommends that:
· Schools should raise awareness amongst pupils of the harm caused by controlling and physically or sexually abusive behaviour.
· Schools' peer support groups, which mainly tackle bullying, should expand their remit to provide support for young people suffering violent relationships.
· Professionals dealing with child protection and domestic violence cases should also check the safety of young people in the family who are in intimate relationships, especially girls with much older boyfriends.
Parents and other adults who are concerned about the safety or welfare of a young person in a relationship can contact the free, 24-hour NSPCC helpline on tel 0808 800 5000.
Further information
1. The report, entitled 'Partner exploitation and violence in teenage intimate relationships' is the first study in Great Britain to provide a detailed picture of the incidence and impact of teenage partner violence. 1,353 young people, between 13 and 17 years old from England, Scotland and Wales took part in the research survey and 91 young people took part in in-depth interviews. The report was authored by Christine Barter, Melanie McCarry, David Berridge and Kathy Evans from the University of Bristol and funded by the NSPCC and the Big Lottery Fund. A summary of the report will be available to download for free from www.nspcc.org.uk/INFORM from September1st 2009. 2. The NSPCC is the UK's leading children charity specialising in child protection and the prevention of cruelty to children. The NSPCC's purpose is to end cruelty to children FULL STOP. The NSPCC runs projects and services across the United Kingdom and Channel Islands, including ChildLine, the UK's free, confidential 24-hour helpline for children and young people. The NSPCC helps over 10,000 children and their families every year. 3. The Big Lottery Fund distributes half the National Lottery good causes funding across the UK. The fund is committed to bringing real improvements to communities and the lives of people most in need.