View all news
£20 million funding boost for the Heilbronn Institute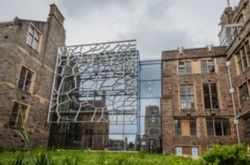 21 January 2021
A £20 million investment to champion innovation and nurture the greatest minds in mathematical sciences across the UK has been awarded to the Heilbronn Institute for Mathematical Research.
The grant from UK Research and Innovation (UKRI) forms part of a £300 million Government funding package over the next five years to advance excellence in mathematics, for which the Helibronn Institute for Mathematical Research (HIMR) is renowned worldwide.
The vital role of mathematical science in helping understand and fight the COVID-19 pandemic has been proven and brought to the public eye over the past year. Perhaps less recognised, but no less important, the power of mathematics is being harnessed to develop highly complex algorithms to support future quantum computers which hold the key to a safer, secure internet. Behind the scenes, statistical and data science techniques are being deployed to model and combat cyber-attacks.
Professor Geoffrey Grimmett, Chair of the Heilbronn Institute, said: "This very substantial grant will allow us to expand HIMR'S central role as a national institute dedicated to the development of excellence across UK mathematics. The award is a far-sighted recognition by Government of the importance of fundamental research, and it will support large cohorts of students and fellows as they build scientific careers and, in turn, foster future generations."
The far-reaching impact of rigorous theoretical work undertaken by mathematical researchers is helping the Government and industry to overcome some of the biggest challenges facing today's world, including climate change, counter-terrorism, and internet security.
Professor Jens Marklof, Dean of the Faculty of Science, said: "Advanced mathematics has become an indispensable tool in the digital world, providing powerful solutions for modern data analysis and secure communications. The Heilbronn Institute is at the forefront of research in this area, and this significant additional funding bears testament to its remarkable success to date."
The funding boost recognises the institute's track record in uniting academia with Government and providing an effective model for mathematics in industrial collaboration.
Professor Hugh Brady, Vice-Chancellor and President of the University of Bristol, said: "This is tremendous news for the Heilbronn Institute for Mathematical Research and the future of mathematical sciences at large. Recent events have highlighted more than ever the important work of mathematicians and data scientists, who grapple tirelessly with huge challenges which pose grave threats to our health and security. The funding will allow this highly-regarded institute to further support these unsung heroes and remain at the leading edge of developments in this fast-evolving field."