Professor Howard Wheater FRSC, FREng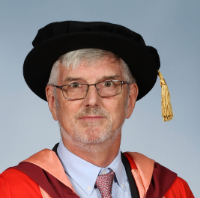 Doctor of Engineering
Friday 19 July 2019 - Orator: Professor Thorsten Wagener
Vice-Chancellor,
Over the last decade, over 90% of major natural disasters have been caused by floods, storms, droughts and other weather-related events. Following the UN, over 2 billion people live in countries that experience high water stress and 700 million might be displaced by intense water scarcity by 2030. So, understanding hydrology and water resources is essential to society.
Howard Wheater is a world-renowned expert in hydrological science and sustainable water resource management. Throughout his career, he has made substantial contributions to all aspects of hydrology – to research, practice, education, and government policy.
Howard earned his first degree in engineering science from the University of Cambridge, and then began his research career in the 1970s as a PhD student and postdoctoral researcher in this University of Bristol's Department of Civil Engineering. He subsequently moved for his first academic position to Imperial College London, where he worked for over 30 years.
Many of his research contributions have helped to advance hydrological science. To take one area with which we in the South-West of England are quite familiar, conventional flood design used to suffer from serious limitations. Howard developed stochastic rainfall modelling tools for hourly rainfall, which are now used for continuous-simulation flood modeling in the UK and in Europe.
To take another example, his research into diffuse pollution looked at the acidification of freshwater in Europe, and the resulting models and field observations informed the UK's Surface Water Acidification Programme, which subsequently changed this country's policy on sulphur emissions.
Among the 60 or more PhD students who worked with Howard at Imperial were my colleague Dr Nicholas Howden and myself. We both remember his ability to quickly identify the core of a problem and his rigorous assessment of our writing. Early manuscript drafts regularly came back from his office drenched in red ink, with handwritten comments longer than the text we had provided. This could have been daunting for a couple of young researchers, but Howard's unwavering enthusiasm and support was highly motivating.
Next to supervising PhD students, Howard directed the Hydrology Masters programme at Imperial for 25 years, seeing more than 500 students successfully graduate. Many of his former Postdocs, PhD and Master's students subsequently took high level engineering, academic and governmental positions all over the world. His former postdoctoral student, Jining Chen, became President of Tsinghua University, then Environment Minister for China – and he is currently the mayor of Beijing.
In 2010 Howard moved to Canada, to take up a Canada Excellence Research Chair at the University of Saskatchewan. Others might have chosen to "see out" their career, but he changed gears – and accelerated. Having seen water-resource systems come under increasing stress from the effects of environmental change and the risk of extreme events such as floods and droughts, he introduced a new paradigm to advance transdisciplinary water science through large-scale observatories where hydrological processes are monitored at unprecedented scales.
Howard's position in Canada enabled him to use his rare ability to connect people to great effect. He built on pan-Canadian expertise to address the global challenges of changing hydrology in cold regions, having recognised that these regions supply water resources to half the world's population. Partners in this ongoing work include UNESCO, the World Climate Research Programme, Future Earth and now 68 scientific institutions from 17 countries.
In developing countries, too, Howard has been a champion for the water needs of people. To advance hydrologic science and practice in the most water scarce regions of the world, he co-founded UNESCO's GWADI arid regions water programme in the 1980s. GWADI is still strengthening the global capacity to manage water resources in arid and semi-arid areas today.
It's no wonder that Howard's expertise, both as a researcher and as a chartered professional engineer, has been in high demand. He has advised the British government on improving flood management and led a major research initiative to assess the impacts of agricultural intensification on flood risk. He was also advisor to the Pitt Report, a Cabinet Office inquiry into the widespread 2007 floods.
Water has increasingly become an issue causing cross-border tension across the world. Howard is a key expert and arbitrator in many such international disputes. At the International Court of Justice in The Hague, he represented Hungary as Counsel and Advocate in a dispute with Slovakia concerning dams on the Danube, and Argentina in a dispute with Uruguay concerning pulp mill discharges to the river Uruguay.
He also sat on an International Court of Arbitration that recently adjudicated a dispute between Pakistan and India arising from the Indus Waters Treaty. And he has been appointed by Chile as an expert in a dispute with Bolivia, currently before the International Court of Justice.
Howard's expertise is not just deep but wide-ranging: his research on the transport of nuclear waste led him to chair the UK government panel on deep subsurface nuclear waste disposal and advising the American state of Nevada on the proposed Yucca Mountain high-level nuclear waste repository.
Howard's research and practical contributions have brought him many accolades. To cite just a handful, he has been made a Fellow of the Royal Academy of Engineering, was awarded the Prince Sultan bin Abdulaziz International Prize for Water, and received the International Water Prize, jointly awarded by UNESCO, WMO and the International Association of Hydrological Sciences.
Such recognition is richly deserved for his unflagging dedication to science and his achievements in research, education and practice across the globe; and I have the pleasure of proposing further recognition today.
Vice-Chancellor, I present to you Howard Simon Wheater as eminently worthy of the degree of Doctor of Engineering honoris causa.