Stephen. J .Toope OC, LLD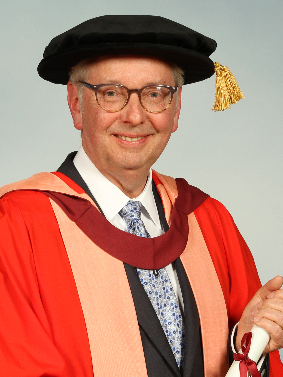 Doctor of Laws
Thursday 21 February 2019 - Orator: Robin Geller
Vice-Chancellor,
Stephen Toope is, simply put, an extraordinary man - a bare recitation of the key milestones in his life suffices to establish this fact. And, while many individuals have achieved greatness in one aspect of their lives – Stephen has been exceptional in multiple spheres that have made this a better world.
Stephen distinguished himself academically at an early age as an outstanding student and scholar. He holds an undergraduate degree from Harvard University in English History and Literature, graduating magna cum laude. He went on to receive both Common Law and Civil Law degrees from McGill University, with Honours. In 1987 he was awarded his PhD in Law from Trinity College, Cambridge, where he held a commonwealth scholarship.
Stephen's professional career has followed a similarly remarkable trajectory. He clerked for the Chief Justice of the Supreme Court of Canada before taking up an academic appointment at McGill University's Faculty of Law where he became the youngest person to serve as Dean, only 7 years after joining the Faculty. During his tenure as Dean, he led the then-largest capital campaign in Canadian law faculty history and oversaw the introduction of a new trans-systemic programme, where students obtain both common law and civil law degrees via a bilingual integrated curriculum.
In 2002, Stephen became the Founding President and CEO of the Pierre Elliott Trudeau Foundation – an organisation that focusses on identifying and nurturing outstanding talent in the social sciences and humanities, and building a network to promote public debate on issues of societal importance.
When he returned to the university sector in 2006, it was to assume the role of President and Vice-Chancellor of the prestigious University of British Columbia (UBC), one of Canada's top research-intensive universities. He led UBC for 8 years, bringing a critical combination of vision and direction that was essential in guiding UBC through a time of significant growth and in propelling the university to the highest echelons of academic distinction.
In 2014, Stephen stepped down as Vice-Chancellor and returned to Eastern Canada and to the life of scholarship that he loves, taking up the role of Director of the renowned Munk School of Global Affairs at the University of Toronto. He didn't know it at the time, but he was not to remain there for long. But I'll return to that in a moment.
Stephen has also excelled as a scholar. Many academics holding senior leadership roles find it almost impossible to maintain their academic and consulting or advisory activities after taking on the unrelenting demands of such senior roles. Stephen is a notable exception, determined to continue to contribute to legal scholarship and society through his scholarly work. Throughout his career and to this day he has maintained an active research profile, and serves on boards and as an advisor to governmental and non-governmental bodies.
Over the course of his career Stephen has published in leading journals on a wide array of subjects including international dispute resolution, international environmental law, human rights, the use of force, and international legal theory. His work with Jutta Brune on interactional international law now forms a fundamental part of the discourse in international legal theory.
If I were to single out one other area of particular achievement, it would be Stephen's work on international human rights and particularly his academic and advisory work on disappearances. He has, for example, served as Chair of the UN Working Group on Enforced or Involuntary Disappearances, working with colleagues from around the world in their search for people who have disappeared as a result of political or other interventions.
Returning, though, to 2016, we would find Stephen happily living and working in Toronto and leading the Munk School. He was regularly approached about other roles and consistently turned them down. But, when he was asked to be a candidate for the role of Vice-Chancellor at Cambridge, it was an opportunity he couldn't turn down. And so, in October 2017, Stephen Toope became Cambridge's first non-British leader.
Stephen is now 18 months into his role at Cambridge and his impact is being felt across the university. Among a wide range of new initiatives, and during a challenging period for the higher education sector, a key priority for him is student support and he recently announced the donation of £100 million for this purpose - the largest single gift to a UK university in recent history.
The widening participation agenda is also very close to his heart. Under his leadership, Cambridge is undertaking a root and branch review of its activities which now include a foundation year that will help to prepare students from disadvantaged backgrounds to successfully pursue their studies at Cambridge.
Although his successes have been so very noteworthy, Stephen's life has also been touched by tragedy. In 1995, during his first year as Dean of the Faculty of Law at McGill, and shortly after the birth of his second child, his parents were killed in their home by intruders. This devastating event might easily have come to dominate and define his life. But Stephen knew that would not be what his parents would have wanted. He has instead paid daily tribute to them by living his life with integrity and humility, the values that his parents had instilled in him.
So, I hope that you agree that Stephen Toope is indeed an extraordinary man – an exemplary leader, scholar and advisor… But I am not yet done. What is perhaps most extraordinary about Stephen is that, alongside his many achievements, he has not lost sight of what really matters – and has successfully built a rich and full personal life.
Stephen has a wide range of interests. He is well-read in both academic and popular literature and loves films, the theatre and music. He goes for walks. He is deeply spiritual. And he takes holidays with his family – resolutely leaving his phone and his computer behind. Perhaps most importantly, he is warm and caring with his many friends, a great husband to Paula (who is here today) and a fantastic father to their three wonderful children - Hannah, Alex and Rachel – whose development into well-rounded and caring adults he regards as his greatest accomplishment.
This ability to combine an extraordinary career with the meaningful life of an ordinary man is perhaps Stephen's greatest achievement. In that regard he serves as a model to us all – but perhaps particularly so for today's graduates.
Vice-Chancellor - it gives me enormous pleasure to present to you Professor Stephen Toope as eminently worthy of the degree of Doctor of Laws, honoris causa.