Paul Lindley OBE, HonLLD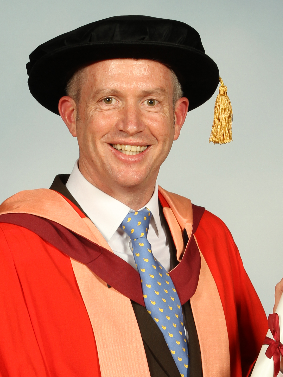 Doctor of Laws
Tuesday 19 February 2019 - Orator: Dr Kirsten Cater
Deputy-Vice Chancellor,
It is my pleasure to present Paul Lindley for an honorary degree in recognition of his achievements as an entrepreneur and children's welfare campaigner.
Ask Paul what it takes to be a successful entrepreneur and he will tell you the best businesses are those that not only make profits but have a core purpose to do social good. In Paul's case, his focus has always been on improving the rights and welfare of children. But to understand how this passion led him to become one of the UK's leading entrepreneurs, we need to wind back the clock and understand how his entrepreneurial journey unfolded.
Paul grew up in Sheffield before moving to Lusaka in Zambia when he was eight years old. He returned to the UK for college and went on to study economics and politics at the University of Bristol, graduating in 1989.
He started his career as a chartered accountant at KPMG, and then moved on to spend nine years working at Nickelodeon, progressing from Financial Controller all the way to Deputy Managing Director. Seeing him here today suited and booted is a rare occasion; he admits that he is not a suited and booted type of person who enjoyed working for big organisations where his individuality wasn't always recognised. So, he was always determined to work for an enterprise which would support creativity and individuality; little did he realise this would be his own company.
Becoming a dad, with the birth of daughter Ella in 2006, was a critical turning point in his life that inspired an "ah-ha" moment. When Ella started weaning, she rejected food, so Paul utilised his creative skills to turn eating into a fun experience. He saw a gap in the market to launch an organic baby and children's food brand with a mission to improve children's lives through helping them develop a healthy relationship with food. Today that company, Ella's Kitchen, is the UK's No. 1 bestselling baby food brand, which retails in 40 countries across the world and is listed in the Sunday Times 'Top 100 Best Small Companies To Work For'.
Launching one successful company is enough for most, but how could he disappoint his next born and not create another company in his son's name? So in 2008 he launched Paddy's Bathroom, an organic toiletries brand for children. The company baked in a social good purpose - to provide clean water for children in Rwanda through its Drop Buy Drop programme.
Since selling Ella's Kitchen in 2013, Paul has been able to turn his efforts to promoting business as a force for good, by highlighting the role of food in childhood health concerns. He has led the Averting a Recipe for Disaster, Hungry Childhoods and Veg for Victory campaigns, becoming an activist to establish a more co-ordinated approach to improve nutrition nationally for under-fives.
Having grown up in Zambia, Paul was also fully aware of the social injustice there and resolved to do something to empower people in Africa out of poverty through entrepreneurship. He co-founded a social enterprise called The Key is E, with former child soldier and international rapper Emmanuel Jal, to provide practical and much needed support to businesses in Africa that benefit children. He also wrote the lyrics to Emmanuel's hip-hop song, Every Child's Plate, about food, obesity and hunger.
In 2017 he turned his writing, creative and entrepreneurial skills to authoring the best-selling book Little Wins: The Power of Thinking Like a Toddler. In the book, Paul makes the compelling case that we can all unlock our personal potential not by learning new skills, but rediscovering old ones, through the mindset we all had as toddlers.
Last year, Paul was appointed Chair of the newly established London Child Obesity Taskforce by Mayor of London, Sadiq Khan. The taskforce aims to unleash a transformation across London so that every child has every opportunity to have a heathy diet, more water and increased physical activity. And just this year he has founded 'just IMAGINE if…', an annual university-based innovation competition to help entrepreneurial ideas addressing the UN's Sustainable Development Goals become a reality.
Paul is Founder and Chair of Robert F Kennedy Human Rights UK and of social enterprise Toast Ale - which I'm told makes delicious beer from surplus bread. He is also a Trustee of Sesame Workshop, the non-profit that created Sesame Street. So he is one of only a few people who can legitimately say that he works with a bunch of muppets!
Paul is an inspiring leader who has won many national awards, including Entrepreneur of the Year at the 2011 National Business Awards, Entrepreneur of the Year at the 2012 City AM Awards, Director of the Year Award for SME Businesses in 2013, and International Director of the Year in 2017 by the Institute of Directors, to name just a few. This year, Paul was awarded an OBE for services to Exports in the Food and Drink Sector and to Children's Welfare. He is very modest about these amazing achievements, preferring instead to focus on how he can continue to have a positive impact on children's welfare worldwide.
Deputy-Vice Chancellor, I present to you Paul John Lindley - entrepreneur, children's welfare campaigner, songwriter, and author - as eminently worthy of the degree of Doctor of Laws, honoris causa.