Dr Julie Maxton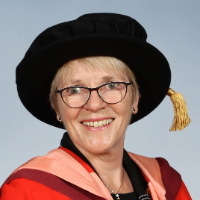 Doctor of Laws
Wednesday 24 July 2019 - Orator: Lucinda Parr
Chancellor,
Dr Julie Maxton is well accustomed to breaking new ground. She served as the first-ever female Registrar of the University of Oxford, she then became the first woman to be appointed Executive Director of the Royal Society. Those two august institutions have clocked up a combined total of over 900 years so far; Julie rather less. But she has left her mark on both – not by imposing change and stirring up controversy but by listening, focusing and resolving.
Julie was born in Edinburgh and graduated in 1976 from University College London with a law degree, she then trained as a barrister. No sooner had she qualified and been called to the bar at Middle Temple, then she moved to New Zealand in 1978 – a transition she chose in order to be with her husband, Jim. It was there that she studied as a postgraduate, first at the University of Canterbury, earning a Master of Laws degree, then at the University of Auckland, where she earned her PhD in 1991.
In parallel with her postgraduate study, Julie also began her teaching career, at the age of 22, while still at Canterbury. Her move to the University of Auckland was initially to take up a lecturing post; but Julie completed her PhD while teaching at Auckland full-time. Julie also became the first recipient of a teaching excellence award.
It's clear, from the conversations I've had with her, how passionate Julie is about teaching. She recalls the significance of that award as a point where she felt that 'people took teaching seriously'. She certainly does, and throughout her career she has continued working as a barrister in order to inform her teaching practice.
Not for nothing did a colleague at Auckland describe her as 'the complete legal academic'. Besides having become an international authority on equity law, she covered a dizzying range of legal subjects in her teaching, from commercial law and estate and tax planning to property law, succession and legal theory. She also maintained strong links with the legal profession, and appeared as counsel at almost every level of the New Zealand court system, including the Privy Council.
Meanwhile, Julie's progress up through the academic ranks at Auckland was remarkable. She became a Senior Lecturer in 1987, then Associate Professor and on to Professor in a single year before becoming Dean of Law – the University's first female Dean.
This is undoubtedly an impressive track record – but in a sense, it was merely a prologue to the next chapter of her career. In 2006, Julie returned to the UK to become the first female Registrar at the University of Oxford.
It's fair to say that Julie arrived at Oxford during a difficult time for the university's administration: newly introduced IT systems causing widespread disgruntlement, not to mention a headline-grabbingly rough passage for the opening of a new centre for animal research. But Julie quickly built a reputation as a Registrar with an unassuming manner and a willingness to listen, and she set about making many of the processes and structures in Oxford's administration more efficient and transparent. In doing so, she won over many formidable Oxford dons; when she left the post in 2011, Sir Peter North, former Principal of Jesus College Oxford, described her as 'the model Registrar'.
So, what qualities make her so exemplary? That Auckland colleague commented on 'her ease with people from all walks of life … her shrewd judgment, wisdom, and ability to see the big picture'. He went on to describe her as 'a team player, with the ability to bring the best out of the rest of the team'. Julie's time at Oxford also demonstrated her facility for grasping complex and entrenched problems, considering all points of view, and resolving those problems efficiently. Julie herself has expressed her belief that administration should be as light as possible while still enabling the members of an institution to 'do a good job'.
From Oxford, Julie moved to her present appointment as Executive Director of the Royal Society – becoming the first woman in its long history to hold the post. She speaks warmly of her time working with the then President of the Royal Society, our University Chancellor Sir Paul Nurse. Their rapport was evident early on. They attended a ceremony in Spain during which they received, on behalf of the Royal Society, the 2011 Prince of Asturias Award for Communication and Humanities. In front of a distinguished audience including members of the Royal Family, Julie and Sir Paul turned to face each other, raised a hand to deliver a high-five – and missed. Both then succumbed to laughter, along with a good deal of the audience.
I mention this because, if there are any personal qualities of Julie's that we should add to the list of professional attributes, they would be her humanity, her groundedness and her humour – qualities she clearly shares with our Chancellor.
None of this detracts from Julie's deep commitment to her work, or from her many achievements –she received a CBE in the 2017 Queen's Birthday Honours for services to science, law, and education. We are delighted to honour her in our own way today – and if, by any chance, Julie and Sir Paul would like another go at that high-five, please be our guest.
Chancellor, it gives me great pleasure to present Dr Julie Maxton as eminently worthy of the award of Doctor of Laws honoris causa.