Emeritus Professor John Scott FAHA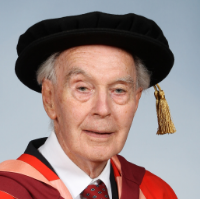 Doctor of Letters
Friday 26 July 2019 - Orator: George Ferzoco
Deputy Vice-Chancellor,
The great poet and critic T.S. Eliot famously declared: [quote] 'Dante and Shakespeare divide the modern world between them; there is no third.' [unquote] You[GF1] , our graduates, who have devoted your studies to French, German, Portuguese, Russian, Spanish, and other languages, will have ample reason to prefer Molière, Goethe, Pessoa, Pushkin, Cervantes, and others as your own personal favourites. I simply hope everyone may agree that it is difficult to overlook Dante in any consideration of modern culture, even though he lived seven centuries ago. One need only think of how, earlier this year, Donald Tusk, President of the European Council, claimed a [quote] 'special place in Hell' [unquote] for certain people; after this declaration, a leading trend on Twitter was 'Dante'.
The mind of Dante – the theologian, philosopher and linguist who is Italy's most illustrious poet – has arguably been most clearly explained to today's world by someone who was educated in this country, and who began his academic career in England – indeed, right here, at the University of Bristol. From 1955 to 1957, in his first professional post, John Alfred Scott was appointed to the Classics Department, under the legendary professors William Beare and H.D.F. Kitto. From Classics, he served as an adjunct to the Departments of English and of French, where he taught courses on Italian influence on their respective literatures. At that time, Bristol boasted the first and only Department of Drama in the UK. Its founder, Glynne Wickham, asked John to give courses on the Commedia dell'Arte and Pirandello. As 'Junior Fellow in Italian', John effectively started the teaching of Italian within our University, with language courses at all levels, and literature courses on Dante and other writers.
Not surprisingly, news of this gifted young scholar spread rapidly, and he was soon snatched by Berkeley, from which he was in turn poached by Reading, where he helped to establish its Italian Department and served not only as its head but also as director of Reading's interdisciplinary Centre for Medieval Studies. In 1978 John moved to the University of Western Australia, his base for the past forty years. With his wife Simone, John has frequently traversed his adopted homeland, building as many bridges as possible involving Australia's sizeable Italian community by organizing concerts, dramatic productions and exhibitions, and giving public lectures. Not only that: shortly after moving to Australia, John led a group of renowned academics from around the world, invited to Italy in order to report on the state of higher education there. The group's work involved meeting not only professors and students but also a variety of trade unionists, politicians, and businessmen.
While engaged in such activities, John's scholarly output never diminished. He has published – along with over 100 articles, translations and lengthy reviews – four landmark volumes on Dante. His most wide-reaching book is the 2004 Understanding Dante , selected as one of the outstanding English-language academic titles published that year, and hailed by the Times Literary Supplement as [quote] 'the richest and clearest account in any language of Dante's oeuvre' [unquote]. The excellence of this book is such that Italian publishers fell over themselves to put out a version of this book, written by a non-Italian, for Italian readers. This augmented 680-page edition has been hailed in Italy as the best account of Dante's thought and writings, and this year a second edition – now over eight hundred pages long – has been published.
John Scott's scholarship is the fruit of true interdisciplinarity, involving research in cognate areas of textual and visual history, literature, philosophy, and religion and theology. John is a great Dante scholar precisely because of the breadth and depth of his cultural and intellectual pursuits. Similarly, our own University aims for its scholars, students, and alumni to be engaged in activities that cross boundaries. This is evidenced precisely in the teaching of Dante at Bristol, the only English university to teach Dante not just in an Italian department but in the disciplines of Religion and Theology, too. This teaching is supported by the activities and renown of our Centre for Medieval Studies, which is about to celebrate its silver anniversary, and which is co-directed by our French Department's Dr Marianne Ailes.
John Scott maintains strong ties with Bristol. He visits his family and friends here when possible; many have joined us today on this festive occasion. His niece, Juliette Scott, earned a PhD from our School of Modern Languages three years ago. Two years ago another niece, Abigail Bamber, heroically saved the life of the victim of an attack, and received from Avon and Somerset Police an award for her bravery.
From Bristol to the world, John's scholarship and cultural activities have won him many distinctions. One of them, from the City of Florence and the Italian Dante Society, is the 'Silver Florin', a sort of 'keys to the City of Florence', awarded for the body of John's work on Dante. Another is his receiving from Rome not one but two Italian honorific knighthoods: first, as Cavaliere Ufficiale (a rank senior to that of Silvio Berlusconi!) and then the even more exalted Commendatore.
Bristol is pleased to add to these distinctions by including John Scott as a recipient of one of our honorary degrees. Not bad going for an English lad who, in 1947 at age fifteen, picked up the unassuming book Teach Yourself Italian and fell in love with Italian culture.
Deputy Vice-Chancellor, I present to you John Alfred Scott as eminently worthy of the degree of Doctor of Letters honoris causa.