Gary V Mabbutt MBE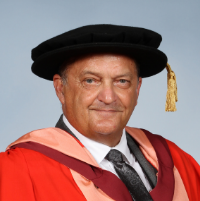 Doctor of Laws
Friday 19 July 2019 - Orator: Professor George Banting
Deputy Vice-Chancellor,
Gary Mabbutt was a professional footballer from 1977 to 1998. But his influence on young people reaches far beyond those years, and far beyond football.
Gary was born and grew up in Bristol attending Elmlea Junior School (close to the University Halls of Residence in Stoke Bishop). He began his professional football career with Bristol Rovers in 1977, before being transferred to Tottenham Hotspur (Spurs) in 1982. This is the club with which he became synonymous, playing over 600 games and scoring 36 goals in his 16 years with them. He won a U.E.F.A. Cup winners medal in 1984 and, during his 11-year stint as Team Captain, an F.A. Cup winners medal in 1991. He also played 16 times for England.
But Gary's path to top-flight professional football was not without its challenges. He was diagnosed with type 1 diabetes when he was 17, and was told by more than one specialist that it meant the end of his dream to be a professional footballer. He proved them wrong, becoming an icon and a role model for many children with the condition. He appeared on the BBC's Blue Peter programme where he demonstrated injecting insulin into an orange to show how he dealt with his condition on a daily basis.
Not that it was easy. Gary spent his playing career massaging his numb feet, dealing with circulation issues and injecting himself with insulin in the dressing room. Once, before extra time in the 1987 FA Cup final, he even took a blood test on the field.
So when he woke up one night in 2013 with a cold, painful left leg, he suspected trouble. 'They told me I needed surgery or I could lose it,' he said. 'I remember lying on the table and there were 15 people running around. I thought, "I can't do anything. Just trust them".
'I had no idea when I woke up whether I would have my leg or not. Beforehand I said to the surgeon, "Just have a good day at the office today, doc". He just smiled. But he did, he saved the leg.'
The leg, however, needed 112 staples to heal a wound that ran from thigh to ankle. As a result, Gary can no longer run, kick a ball, or let his feet get particularly wet or cold.
Gary's determination to succeed as a professional footballer has been an inspiration for others with diabetes to understand and manage their condition, to pursue normal sporting activities and to refuse to let the condition rule their lives. His message is simple and positive: 'No matter what you want to do in life, diabetes will not stop you. Do not live your life round diabetes; let it live round you.'
Gary's achievements as a player speak for themselves: he was awarded an MBE in 1994 for his services to football, and in 2000 the Professional Footballers Association presented him with an award for outstanding service to English Football.
But the end of Gary's playing career was only the beginning of his work as an advocate for football, at-risk children and people with diabetes. He works with the Deloitte Street Child World Cup, training and encouraging street children and ex-street children in football, and has campaigned for street children's rights in Durban, South Africa. He is currently an Ambassador for Spurs and the English Football Association and Patron of Tottenham Ladies FC.
He is also an Ambassador for the Prince's Trust and Honorary Vice-President of Diabetes UK.
Gary has supported Diabetes UK for many years, recently focusing on raising awareness of foot issues for people with diabetes. He headed the charity's Putting Feet First campaign to highlight the dangers of circulation problems leading to foot issues. This campaign aims to achieve a 50% reduction in the rate of lower limb amputation for those with diabetes. At the moment, up to 80% of diabetes-related amputations are thought to be preventable.
Gary has made regular public appearances for Diabetes UK, campaigning for greater awareness of diabetes, especially within sport. He leads their coverage for World Diabetes Day – which, by the way, is 14th November. His work as a public voice for raising awareness of diabetes, breaking down many barriers and perceptions and living with its consequences over several decades, has inspired other diabetics to succeed in various walks of life in spite of their condition.
Gary also had life-saving heart surgery in 2017. His former Spurs team-mate Gary Lineker tweeted 'When they operate, it will be the biggest heart they've ever seen'.
Gary Mabbutt is a great credit to Bristol, the city of his birth and formative years. He is also a role model for us all, diabetic or not, sporting or not. To paraphrase his quote about diabetes, 'Do not live your life round the challenges of living; let them live round you.'
Deputy Vice-Chancellor, I present to you Gary Vincent Mabbutt as eminently worthy of the degree of Doctor of Laws honoris causa.