Emma Stibbon RA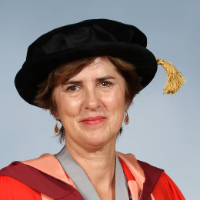 Doctor of Letters
Friday 26 July 2019 - Orator: Micheal Liversidge
Vice-Chancellor
Great artists change how we see the world around us, how we think about what we see, and how we experience it. They make us think by deploying what they see to enlarge our awareness of what affects us most directly as sentient beings. Today, in welcoming Emma Stibbon to this celebration of our graduates' achievements, we are in the presence of an internationally acclaimed artist whose work is profoundly important to our own understanding of the time we are living in, of the planet we live on, and of what is happening to it. If art exists to make us aware of ourselves and our environment, then Emma Stibbon has much to teach us. She is an artist of, and for, our time.
That is something you can judge for yourself if you pay a visit to one of the exhibitions where her work is currently on view – in Bristol at the Royal West of England Academy's Fire: Flashes to Ashes, in London at the Royal Academy Summer Exhibition, or, if you can get to Kendal in the Lake District, the Abbot Hall Art Gallery has just opened an exhibition in which she appears in contemporary complementarity alongside the painter William Turner and the critic John Ruskin. To say she holds her own in their august company is an understatement. Another solo exhibition has just closed, but there is a permanent record of it in the Royal Academy book which it launched, Fire and Ice.
The Kendal exhibition starts from something Ruskin wrote in 1884. In it he compares the weather he was observing with what he remembered from when he was young, and with what Turner had painted. He concludes that human behaviour – industry – is polluting the atmosphere, and he sees a darkening storm cloud gathering which he predicts will veil and envelop the planet. Today we call it climate change. Emma Stibbon, whose work closes the Kendal exhibition, similarly uses art and science to show us how fragile nature is.
Arriving at where she is now – a landscape artist admired the world over – has been an epic journey which began in Germany where she grew up while her father was serving with the British army. The family followed him wherever promotion led. General Sir John Stibbon became Assistant Chief of the Defence Staff and Master-General of the Ordnance, but he had other strings to his bow: he was a formidable footballer for the Army who became Honorary Vice-President of the Football Association, and he was an exceptionally accomplished watercolourist. His daughter Emma's success delighted him, especially when she became a Royal Academician in 2013. Her mother Jean, Lady Stibbon, is here today, and we very warmly welcome her to this Congregation.
A foundation course at Portsmouth College of Art led to Goldsmiths College and First Class Honours in Fine Art in 1984. She describes it as challenging: Goldsmiths was known for experimentation, but it also offered an exceptionally rigorous training in core principles and practices, like drawing. She excelled in printmaking and working on paper. From there she went to Camberwell School of Art to study paper conservation which gave her a rare understanding of the materials she works with. Then she came to Bristol to work in the City Museum and Art Gallery, and here she has remained, somehow finding time to complete a Master of Arts with the University of the West of England in 2005.
By then it was evident she was a rising star. She was awarded the 2001 Dupree Prize for a Woman Artist at the Royal Academy Summer Exhibition. She became a Royal West of England Academician. Awards, accolades and artist residencies followed in profusion as her reputation went global. They have taken her from the Arctic to Antarctica, from the Andes to the Alps, from the Grand Canyon to the Hawai'i Volcanoes National Parks. She began this year as artist in residence in Death Valley National Park; in September the prestigious Queen Sonja of Norway Print Award will take her deep into the High Arctic. Wherever she works she distils a visceral beauty from the remote and desolate. She does not go for comfort or fine cuisine.
The greatest recognition (so far) came when she was elected to the Royal Academy of Arts in 2013. In its 250 years there have been just 612 Royal Academicians elected, only four of them Bristol artists. Each Academician receives a medal struck by the Royal Mint from the die approved by the Academy's founder, King George the Third: it bears his portrait, and is worn on formal occasions to signify the Academician's special status. Today is formal – and probably the only time most of us will see one worn.
There is much more to say about why Emma Stibbon's art is so relevant now, but that is best done by doing what she does best herself, looking at what she sees. As she says in Fire and Ice, "…the constant transition and frailty of place…is fast becoming critical. As an artist I feel committed to represent the dynamic effects of change in landscape, and this comes from a realisation that many sites will change beyond recognition in my lifetime…my impulse to draw is that I may act as a witness."
Vice-Chancellor, I present to you Emma Stibbon, Royal Academician, as eminently worthy of the Degree of Doctor of Letters, honoris causa.