Dr C Cindy Fan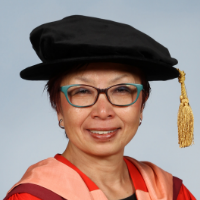 Doctor of Laws
Tuesday 23 July 2019 - Orator: Dr Winnie Wang
Pro Vice-Chancellor
As we are entering a new era that promotes gender equality and cultural diversity, Cindy sets an extraordinary example. She has achieved an outstanding academic career and has broken glass ceilings in higher-education administration. In doing so, she provides great inspiration for our new graduates.
Cindy is a distinguished scholar in the field of human geography. She is also an inspiring teacher, a pioneering educator and an influential public intellectual. She has been my mentor for nearly two decades.
Cindy was born and grew up in Hong Kong. She was the first in her family to go to college. The flat where she used to live was so close to a school that she was able to read the blackboard in the classroom from her bedroom window. However, her upbringing in such a cramped and modest environment has not stopped Cindy from developing a global outlook later on in life.
It was in her secondary school years that Cindy first developed a love for geography. Teachers at Queen Elizabeth School in Hong Kong opened her eyes to the world. A sports star at the University of Hong Kong, she travelled to Malaysia to a volleyball tournament. Along with geography field trips to Japan and the Philippines, Cindy's first visits to foreign countries further fired her aspiration to become an academic and professional geographer.
Cindy followed her passion and enrolled in the Master's program in geography at the Chinese University of Hong Kong. After that, she began her PhD at Ohio State University in the USA. She met her future husband Philip there. After receiving the PhD, she moved to California, started her academic career at UCLA and, together with Philip, raised two children, Isaac and Naomi.
Cindy has long been considered an authority and a prolific writer on migration in China. Her book, China on the Move, is a must-read for researchers and students who work on migration in China. In her research, she examines how migrants, particularly women migrants, exercise their agency within the extended family. This household approach helps explain the formation of different types of migrant families with family members living at multiple locations. This sets her work apart from most studies on China's rural-to-urban migration. She has published numerous articles in top journals and is one of the most cited authors in her research area. She received the Distinguished Scholar Award from the Asian Geography Specialty Group of the Association of American Geographers.
In addition to her academic work, Cindy also spends time engaging with the public. She works as a regular commentator for the New York Times and is frequently interviewed by media outlets such as the BBC, China Radio International, and National Public Radio in the US. She provides intellectual insights and shares her thoughts on current Asian American affairs with the public.
Having been a Professor of Geography for 30 years, Cindy has taught thousands of undergraduate and postgraduate students. She received UCLA's Distinguished Teaching Award, the university's highest honor for teaching. The award not only recognizes her outstanding performance in classroom teaching but also her mentorship of students. She constantly encourages students to achieve their full potential and inspires female students to excel despite gender stereotypes. She has always been positive, attentive, and nurturing to her students. Her relationship with students is one of life-long support and partnership which many people, including myself, have greatly benefited from. Cindy also cares deeply about the next generation of scholars. You can often see her introducing herself and eagerly chatting with many young students and researchers at conferences. To them, she is a source of wisdom and inspiration.
Later in her career, Cindy started to take on administrative roles. At UCLA she was the Chair of Asian American Studies and Associate Dean of Social Sciences, then became the first woman and Asian Vice-Provost for International Studies and Global Engagement. To this date, the vast majority of senior administrators in American universities are male and White. At UCLA, a top-ranked global university, Cindy's very presence as an Asian female professor in senior administration is inspiring to other women and minorities. As the university's chief international officer, Cindy created the UCLA Global Forum Initiative and has organized forums in more than 17 countries on issues of global and local relevance, such as health and education, workforce in the US and Indonesia, and the future of China. Global citizenship and partnership, diversity, and inclusion are the hallmarks of her vision as a university leader.
To our graduates today, Cindy is a tremendous inspiration, for her success as a human geographer, a teacher, a mentor and a leader who always embraces challenges with enthusiasm and pride, but also remains humble and kind at the same time.
Pro Vice-Chancellor, I present to you Chi-Fun Cindy Fan as eminently worthy of the degree of Doctor of Laws honoris causa.