Dr Anne-Marie Imafidon, MBE, HonFBSA, FRSA, Hon DSc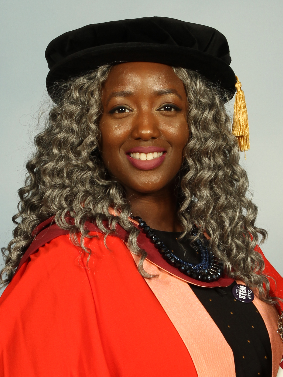 Doctor of Science
Tuesday 19 February 2019 - Orator: Lucy Collins
Pro Vice-Chancellor,
Anne-Marie Imafidon is a woman with a determination to do things differently. Born a year after Tim Berners-Lee invented the world wide web, Anne-Marie has always sought, in her words, to be the 'cause of a shift'. To challenge the orthodoxy. To inspire. This is the story of how she's done just that.
Anne-Marie grew up in Walthamstow, East London, the eldest of five children. Her parents, Chris and Ann, had emigrated from Nigeria and were determined for all their children to reach their potential. They encouraged Anne-Marie to be curious, insulated her from gender bias in her play, patiently allowed her to take apart the VCR in order to understand how it operated, and worked with her teachers to explain that the 'messing about' Anne-Marie had been accused of wasn't a reflection of her lack of ability, but of her need to be challenged.
Indeed, it was in Year 3 (when she was seven) that her intellect was first identified at school, and Anne-Marie herself realised that she might be exceeding 'age-related expectations'. During an OFSTED inspection, her teacher, understandably feeling the pressure, made an error in the calculations on the white board. Anne-Marie realised this immediately but, rather than embarrass her, gently suggested, to her teacher, a mathematical way of getting to the correct answer by another route. Anne-Marie had a way of looking at the world differently.
From Year 3, Anne-Marie's academic achievements continued at remarkable speed. By ten she could speak six languages and had gained two GCSEs in maths and computing; by 11 years old she was the youngest girl in the country to pass A-level computing. While such success might prove daunting to some, Anne-Marie took it in her stride. The most exciting part of her scholarly success, she recalls, was the McDonald's her dad treated her to on getting her results!
At the age of 13 Anne-Marie secured a scholarship to study at John Hopkins University in Baltimore, Maryland, and by 20 she had become one of the youngest students to graduate from the University of Oxford in Mathematics and Computer Science.
On leaving Oxford, a time of her life she enjoyed, she went straight into financial services working for a range of global banking companies including Goldman Sachs, Lehman Brothers and Deutsche Bank. She could have stayed in this industry, as many of her peers were doing, and become professionally successful and financially secure. But Anne-Marie wanted more than that. She wanted to cause that shift, to make her mark and change the narrative. She knew just where to start.
During a visit to Baltimore as a panellist at a conference, Anne-Marie found herself involved in conversations about the shrinking number of women in STEM. In the UK it remains a significant challenge: despite girls outperforming boys in the majority of STEM subjects at GCSE, in 2018, only 12% of computing and 22% of physics A-level entrants were female, and women in STEM made up just 23% of the workforce. Anne-Marie was determined to do something about this. And so she did. Inspired by her desire to bring a 'London fashion week vibe' to STEM, Anne-Marie founded Stemettes.
Stemettes is a social enterprise that inspires, supports and encourages girls and young women into the STEM sector through workshops, hackathons and start-up incubator sessions. At the core of Stemettes is a determination to challenge social norms, including that pervasive narrative that STEM disciplines should somehow 'belong' to boys and men.
Anne-Marie and her team were on a mission to ensure that the next generation of young women would see the opportunities in technology, and the relevance of it to their lives, and have the confidence to succeed. Six years on, 40,000 young Stemettes are doing just that. Not bad for a programme Anne-Marie started without any expectations. She recalls 'I mean, it wasn't really supposed to be a thing. I was like "I'll do more yoga; I'll set up Stemettes"'.
I don't know how the yoga's going but Stemettes has certainly been a success. The government has recognised Anne-Marie's impact: she's advised Michael Gove as Education Secretary, been called an 'insurgent' by David Willetts for her work, and in 2017 was awarded an MBE for services to young women within the STEM sector — an honour which is opening new doors across the globe.
So at the grand old age of 29, what's next? Well, Stemettes is going to go 'macro'. TV projects and books are planned, and a new podcast called 'Women Tech Charge' launched last week in partnership with the Evening Standard.
Anne-Marie shows no sign of slowing down. And why should she? There are orthodoxies still to challenge. A narrative to alter. More shifts to come. I have no doubt that she will be at centre of such shifts. We should all look forward to the fourth decade of this remarkable woman.
Pro Vice-Chancellor, I present to you, Anne-Marie Imafidon as eminently worthy of the degree of Doctor of Science, honoris causa.