Andy Sheppard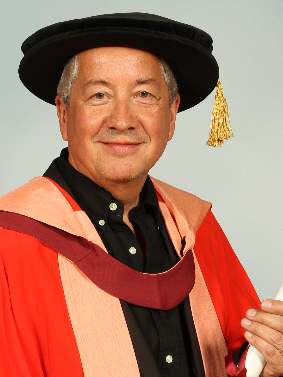 Doctor of Music
Thursday 21 February 2019 - Orator: Dr Justin Williams
Deputy Vice-Chancellor,
Frank Zappa famously said, 'Jazz is not dead, it just smells funny.' But if I were to attach a particular smell to Andy Sheppard's saxophone playing, I'm not sure I could. Sometimes sweet as a rose in Wiltshire, at other times strong as Somerset wild garlic. It would have to be a potpourri that represents the virtuosic, surprising, romantic, spacious, even magical elements of his playing. In any case, I don't think Andy would want his music to be reduced to one smell, nor could it be. What his career shows for certain is that jazz is still very much alive – a vital part of the European artistic landscape.
Andy Sheppard was born in Warminster in 1957. In the late 1970s, he got his start in the Bristol-based quartet Sphere before moving on to the jazz clubs of Europe in the early 1980s. In 1987, his self-titled solo debut album helped him win the Best Newcomer prize at the British Jazz Awards. In addition to his solo work, he is perhaps best known as a member of the Carla Bley trio, and more recently, for his own Quartet recordings. He has toured the world and continues to do so – he took the first western jazz group to play in Outer Mongolia, for example. A cursory glance at the list of upcoming gigs on his website shows how much he plays and travels, and values being a global citizen.
One of the greatest compliments that you can receive as a jazz musician is: 'You have a great sound.' Not, 'you clearly learned all 12,000 jazz scales and utilise them well', not 'you have a nice-looking saxophone', not 'you are amazingly polystylistic', but 'you have a good sound', Andy has an amazing sound – ethereal, focused, uncompromising. I can't help but think his South West origins have contributed to the sense of space and pastoralism in his sound; his music is constantly innovating and reinventing itself just as Bristol does, creating something new out of the cosmopolitan influences of this historic port city.
Andy has been described as a 'serial collaborator.' If I read out the full list of collaborators, we'd be here until midnight, so I'll just mention a few: canonical jazz greats Steve Swallow, George Russell, Gil Evans and (the Southmead-born) Keith Tippett, but also those from non-jazz planets in the musical universe: Ringo Starr, Fela Kuti, Joan Armatrading, Eric Clapton, classical musicians such as John Harle and Joanna MacGregor, and singer-songwriters like Elvis Costello and John Martyn. He is not bound by style, genre or geography – he plays with Brazilian percussionists, Indian violinists, English folk musicians, and many others.
Andy maintains a strong connection with Bristol. In 2006, Andy was commissioned to write a piece to mark the 200th anniversary of Brunel's birth. Entitled "The Living Bridge," Andy composed a fanfare for saxophone and electronics incorporating the sounds of the suspension bridge and utilizing the talents of 200 local saxophonists of all ages and abilities. He is that rare breed, an elite performer who never forgets the audience, nor those musicians still climbing the ladder.
He also composed music for the Bristol European Green Capital in 2015, premiering at St. Georges. In 2017, he composed a live score to the 1927 film Metropolis as part of the Bristol Jazz and Blues Festival and the Bristol Film Festival. He has been a supportive presence in the Bristol music scene, helping to sustain and push it forward for decades.
His innovations go beyond his more than 350 compositions. His idea to construct a new type of saxophone was conceived over a coffee in Bristol, and resulted in the Andy Sheppard Autograph Series Saxophone, co-designed with Andy Brush. They wanted to construct the 'perfect sax', and after a few rough drafts, they cracked it. Each saxophone is tested by Andy, and buyers receive an audio recording of his test on an autographed CD.
I mention this not to help him flog his wares, but to point out skills and attitudes that I hope we have instilled in today's graduates. Sheppard reflects the innovative spirit of the University and of the city more broadly, the work ethic to keep going until an idea is just right, and the generosity to share it with others.
Sheppard's career is a masterclass in communicating authentically while erasing boundaries and preconceived notions of genre, speaking truth through your instrument or vocation regardless of affiliation, language, nationality; in working hard, staying humble, and providing inspiration through the beauty of improvisation, creativity, and connection; in letting your individuality shine while contributing to a larger entity. Graduates, these features of Andy's performative spirit are things to consider as you continue on your journey beyond these walls.
While he performs to large crowds at festivals and in concert halls, he also values the intimacy of playing smaller venues. He can be found down the road at the Bristol Fringe in Clifton or at the Hen and Chicken in Southville with his trio The Pushy Doctors. Today he has truly earned the title of Doctor, pushy or otherwise.
Deputy Vice-Chancellor, I present to you Andrew Philip Sheppard as eminently worthy of the degree of Doctor of Music honoris causa.