Sherry Coutu CBE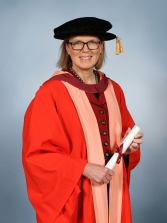 Doctor of Laws
February 2018 - Orator: Nick Sturge
Vice-Chancellor,
This is the story of a woman who has truly excelled.
Not just in her own learning and entrepreneurial achievements but in giving back to her adopted country and doing everything she can to encourage others, young and old, individual and organisation, to fulfil their potential.
This aligns completely with the mission of this institution.
Sherry has been a phenomenal supporter of the technology sector, of entrepreneurship, of women in business and of inspiring young people to be active contributors to society.
She is ambitious, capable, innovative and tenacious. But most importantly, she is generous with her time and passionate about creating a thriving and inclusive economy.
Originating from Canada, and with a first-class degree from The University of British Columbia, she attended the London School of Economics followed by an MBA at Harvard.
Then the real work started.
Having learned computer programming, between her LSE and Harvard degrees, she discovered a calling in the technology industry.
As an entrepreneur, Sherry co-founded Interactive Investor International, in 1995, providing research to the investment community and a platform for investors to communicate. This was highly innovative and influential in democratising the institution-dominated investment industry, making it more accessible to the retail investor. She ran that until 2000 when it was floated on the London Stock Exchange.
She then became an angel investor, working with hundreds of entrepreneurs, investing in more than 50 companies and 5 venture capital firms.
TechCrunch voted her the best CEO mentor in Europe in 2010, and in 2011, Wired magazine named her one of the top 25 'most influential people in the 'wired world'.
In 2015 she was voted one of the most inspiring women in Europe and named as one of the most philanthropic entrepreneurs in the UK, perhaps in recognition of her founding of the Silicon Valley Comes to the UK programme and her directorship of the Raspberry Pi foundation, bringing the joy of programming to young people.
She was appointed CBE in the 2013 New Year Honours for her services to entrepreneurship.
Having invested a significant amount of time, energy and money into fledgling businesses, Sherry has gone on to invest that monumental energy further down the pipeline, if you like, to create a sustainable economy, not only by promoting skills and careers in technology and entrepreneurship to younger people but also in raising their aspirations.
When, in 2014, the Government asked Sherry to lead a review into how to make the UK the best place for businesses to scale up, Sherry's words were that "she wanted the private, public and education sectors to join together, to lean in to support more effectively scale-up companies and help them soar to even greater heights."
At the same time, this University was exploring similar ideas around public, private and third-sector collaboration in economic development, but Sherry, ahead of the game as ever, was to articulate the challenges and solutions within the Scale Up Report that have gone to change government policy at national and regional levels, and have created a growing army of Scale Up champions around the UK.
But, like us, Sherry realised that pushing companies to grow was not enough – you have to stimulate the talent pipeline for the long term. So she created, and still runs, Founders4Schools, which makes it easy for schools to find local entrepreneurs to speak to students about their journeys. This proved such a success, as you'd expect, that last year she created WorkFinder, an innovative platform to inspire young people to explore the working world on their own terms.
There are few areas in the UK technology, business and entrepreneurship fields where Sherry has not become involved, and thanks to her wisdom, tenacity, credibility and personality, she has always made a positive impact.
The UK is, in many respects, in a better place now than it was, thanks to Sherry's interventions.
Sherry is conscious that as a woman technologist, entrepreneur and investor, she is often in the minority. She has strived to change the gender balance in these areas, notably as a mentor and role model but also putting her money where her mouth is, co-funding an investment fund that invests solely in female-led start-ups.
She cares deeply about the future of work, informed by her entrenched belief in the need for increasing and enhancing talent, and for enabling students and ascending or successful entrepreneurs to fulfil their potential.
Rather than pontificating about the rights and wrongs of policy, Sherry actively creates opportunities for change.
She is a genuine creator of deep value that sustains.
She has a healthy impatience, is forthright in her views and is happy to challenge and provoke at the highest level – to ensure the right things get done.
She is an inspiration to me and many others.
Vice-Chancellor, I present to you Sherry Coutu as eminently worthy of the degree of Doctor of Laws, honoris causa.