Sir Ranulph Twisleton-Wykeham Fiennes, BT, OBE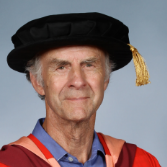 Doctor of Laws
Friday 20 July 2018 - Orator: Professor Gianni Angelini
Vice-Chancellor,
I present to you today a man who needs no introduction. He is well known in this city, our country and across the world. I present to you Sir Ranulph Twisleton-Wykeham Fiennes, often described as Britain's greatest living explorer, a prolific writer and poet and a man who in his later years has made a major difference to patients with heart disease and cancer by his unflagging charitable efforts on behalf of the British Heart Foundation and cancer charities.
For today's graduands Sir Ranulph has many qualities that they might learn from and try to emulate in their own lives. He is a decorated officer in the service of his country, he has pushed the limits of human endeavour through his ground-breaking explorations and he has applied his fame to deliver charitable benefit for others.
Sir Ranulph was born in Windsor in 1944. Sadly, he entered the world after the death of his father in active service in WWII. He spent his early life in South Africa and returned to this country to be educated at Eton. The academic life was not for him and he enlisted as an officer in the Royal Scots Greys and subsequently the SAS as an expert in demolitions. He saw active service in Oman against Marxist insurgents and was decorated for his bravery by the Sultanate of Oman.
As an explorer and adventurer, he has been active for more than 30 years. His achievements are many but to summarise a few today:
With long-time associate Charles Burton he was the first to reach both Poles, the first to cross the Antarctic and Arctic Oceans and the first and still the only expedition to circumnavigate the world along its polar axis.
He led the first hovercraft expedition up the longest river in the world (the Nile) in 1968/1969.
He led the team that discovered the lost city of Ubar on the Yemeni border in 1992.
He achieved a world first in 1992/1993 by completing the first unsupported crossing of the Antarctic Continent (with Mike Stroud). This was the longest unsupported polar journey in history. Just in case the pain of this journey was not enough they also regularly collected muscle biopsies from their thighs for medical research.
Sir Ranulph was awarded an OBE in 1993.
In 2003, only 3½ months after a massive heart attack, spending 3-days unconscious and undergoing a double coronary bypass, Sir Ranulph (with Mike Stroud) achieved the first 7x7x7 (seven marathons in seven consecutive days on all seven continents). I still remember him sitting in my office (with his late wife Ginny, rather concerned and willing me to tell him that he was crazy) asking for my opinion and blessing on such an enterprise. My reply was that I could not recollect any of my patients having asked me such a question or even for permission to run just one marathon. I was sure that regardless of my advice he was going to proceed. I asked him not to push himself too hard and wished him good luck.
In 2005, again in my office accompanied by his present wife Louise (who was also rather concerned and alarmed), Sir Ranulph informed me that he was planning to climb Everest. Again, I gave him my best wishes. I must confess that I was a little disappointed on hearing that he had to stop within 300 metres of the summit, but he still raised £2 million for the British Heart Foundation. This was probably the wisest decision he ever made, since he felt as though there was an elephant sitting on his chest.
In 2007, in between attempts to climb Everest, Sir Ranulph climbed the North Face of the Eiger and raised £1.8 million for Marie Curie Cancer. This is a man who suffers from vertigo.
He won the ITV Greatest Britons 2007 Sport Award in competition with the two other main nominees, Lewis Hamilton and Joe Calzaghe.
In 2008, he climbed Everest again to within 400m of the summit, raising £2.5 million for the Marie Curie Cancer Care Programme.
Just to prove that this is a man who does not give up easily, he successfully made it to the top of Everest in May 2009 with Thundu Sherpa, raising a total of £6.2 million for Marie Curie. The oldest Briton ever to the summit.
In 2015, he became the oldest Briton to complete the Marathon des Sables – the 'toughest footrace on earth'. This is a gruelling multi-stage adventure in one of the world's most inhospitable environments – the Sahara Desert. You must be self-sufficient and carry all your own food and equipment for the week on your back. In just six days you run over 250km (156 miles) through endless dunes, over rocky jebels, and across white-hot salt plains with temperatures regularly reaching 50 centigrade. In my opinion this was, not least because of his age, possibly the hardest test he ever put his body and heart through. This is the best living advertisement a cardiac surgeon could have hoped for.
Sir Ranulph has raised massive amounts for charity for both cancer and heart disease. He is the patron of the Bristol Heart Institute. I count him as a personal friend (in my dreams I hope that one day he will ask me to join in one of his crazy adventures).
Vice-Chancellor, I present to you Ranulph Fiennes, world-famous adventurer and explorer who has pushed the limits of human endeavour and endurance, as eminently worthy of the degree of Doctor of Laws, honoris causa.