Lois Patricia Golding, OBE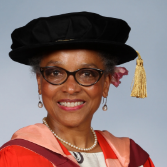 Doctor of Laws
Wednesday 18 July 2018 - Orator: Professor Guy Orpen
Vice-Chancellor,
Today we honour the life and work of the woman born Lois Patricia Hauser – now universally known as Peaches Golding. Her life is a modern story of diversity and inclusion, personal achievement and public service; and one shot through with grace and dignity of character.
Ms Golding's great-great grandmother, Bethania Hauser Williams Russell, was purchased as a child and enslaved by Peaches' great-great grandfather, a plantation owner in North Carolina. Peaches grew up in the shadow of segregation but refuses to define herself, or others, by their race. Citing Martin Luther King she reminds us that "People should be judged on the content of their character, rather than the colour of their skin". Her father, Dr Charles Brady Hauser, was an exemplar of these values and beliefs. A D-Day veteran, and later a State Assembly member and university professor, eight years prior to the famous protest by Rosa Parks he successfully sued the Greyhound Bus Company for trying to make him give up his seat on the bus.
Lois Patricia grew up in a family that encouraged her to explore the world and seize opportunities to learn and develop – and who nicknamed her Peaches. Her parents worked in education and summer provided opportunities to travel far and wide. She reminisces "there were always songs, cooking, giggles, lots of games and sports. We attended Expo 67 in Montreal, explored northern Mexico and the American Mid-West, camped in the mountains and along the unspoilt coastline of North Carolina."
Elementary school (where she was the first black girl to attend the school) and high school followed, and her prize-winning talents started to emerge. She then went to the University of North Carolina at Chapel Hill becoming a biology major – and cheerleader! Indeed, the distinguished woman we see here today adorned the cover of the football programme in a Carolina Blue cheerleader outfit in 1974. After graduation she went to Nigeria with a friend, confident in the belief that work and happiness would follow. She was right. She became a teacher, first in school and then at the University of Ibadan.
It was on campus that she met her future husband Bob, as a result of the elephant that sat down. The elephant in question did so in the truck carrying it to the zoo that Bob directed. As a result, the journey was interrupted for safety reasons (the safety of the elephant!), and Bob had time to spare to go to the campus staff club. There he saw and met Peaches. By her account, it was love at first sight. They rapidly discovered they shared a birthday, and an interest in matters zoological, and in snakes and reptiles in particular. Over 40 years later they remain a devoted and happy couple. Bob's devotion is notable – not many husbands build and tend a conservatory designed to provide their wife with a hibiscus to wear every day, of a colour to match her outfit. Bob does to this day. Today it is pink.
The happy couple, now married and with growing family, left Nigeria and settled in Bristol in 1983. [I am sorry to that Peaches' beloved Bob cannot join us today because of a period of ill health. But it is a great pleasure to welcome their daughters Amanda and Samantha to the ceremony today]
Once in Bristol they threw themselves into their respective careers. The 1990s saw Peaches, after several years leading the Aluminium Can Recycling Association, involved in establishing a successful marketing company, working day and night to build her business. Her profile was raised by, among other things, the occasion on which she once again graced the cover of a magazine – this time Metal Bulletin, the trade magazine of the metal marketing world. Not, I am afraid, a magazine we have all had the pleasure of reading but a valuable platform for Peaches' business career.
As her business and commercial portfolio grew, her civic visibility developed alongside. In 1996 she began working in the Prince of Wales' Business in the Community Trust to help improve diversity in the workforce. Over time she rose to prominence, serving at board level on a range of private, public and third sector bodies including HTV Independent Television; the governing body of UWE; and the boards of the North Bristol NHS Trust and Avon & Wiltshire Mental Health Partnership Trusts. She also chairs the Bristol Water Challenge Panel, serves as a trustee of the SS Great Britain, and much more besides. In 2009 she was awarded the OBE for her service to ethnic minority communities in the South West.
In 2010 she was appointed High Sheriff of Bristol –the first black woman to serve in this 1,000-year-old post. Last year she was appointed Lord-Lieutenant of Bristol – after an exhaustive process, which confirmed the high regard in which she is universally held. In this she succeeds Mary Prior, a Pro Chancellor of this University, as the Queen's personal representative in the city, a signal of the trust in Peaches from the city, its leaders and its diverse communities and the monarch. Once again Peaches Golding has broken new ground, being the first black woman in England to have been appointed Lord-Lieutenant.
Vice-Chancellor,we have before us today an exemplar of commitment to values we cherish: enterprise, public service, compassion and diversity. Peaches Golding is a role model for, and a champion of, these causes.
Vice-Chancellor, I present to you Lois Patricia Golding as eminently worthy of the degree of Doctor of Laws, honoris causa.