Dame Mary Perkins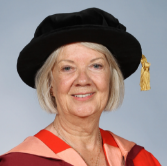 Doctor of Laws
Thursday 19 July 2018 - Orator: Professor Agnes Nairn
Chancellor,
How many people in the audience have one of these? A golden ticket. No not for Willie Wonka's Chocolate Factory - much more exciting for myopics like me – a 50% off deal for me and my husband from Specsavers. I just spent mine on a new, rather fetching pair of prescription sunglasses – which I decided not to wear inside this wonderful hall as I'm not a film star and I'd probably trip on the steps.
However I would like to join with – I suspect – a very large proportion of the audience in personally thanking Dame Mary Perkins, the co-founder of Specsavers, for revolutionising our experience of going to the optician.
But let me begin by saying "Welcome Home", because Mary was born and brought up in Bristol. I'm glad we have managed to supply some warm weather for Mary's trip back as she tells me that her earliest memory of Bristol is the 1947 snow in which Bristol ground to a halt for 3 months.
Mary's early days were spent with her nose deep in a book – she loved reading and early on thought she would be a librarian. She still loves reading and her top recommendation at the moment is The President is Missing. She tells me it's a bit scary – but to be honest I can't actually imagine Mary being scared of anything. Nothing seems to faze her. She was one of only two girls doing physics at school and one of three studying optometry at Cardiff University. She is widely recognised as a trailblazing female leader but she says: "I never really thought about it." She was brought up with two brothers and three male cousins and it simply didn't occur to her that she didn't have the same choices as the boys.
Mary met her husband Doug at Cardiff, and they came back to Bristol to set up an opticians. It quickly expanded to 23 shops and they sold their chain in 1980. It sounds like a very slick business with a planned exit strategy and an eye firmly on the profit. But that's not how Mary sees it at all. As she explained to me, the taxes were so high that you had to keep expanding, and they sold because they had built up a chain which meant that she became too hands-off from the business. Mary is, above all else, hands-on.
She also modestly attributes her early success to the fact that people regularly had their eyes tested because it was all free then. But although there was a ready market with wiling customers, there is a reason that people went to Bebbington and Perkins for their free sight tests and not somewhere else. In fact there were three things - and I think these are the three things that account for Mary's continued incredible success. The first is sheer hard work: she worked six days a week and until nine o'clock at night on three of these as she and Doug set up their original business. Not a lot of "me time" for Mary.
The second thing that accounts for her success is an overwhelming empathy for other people: she understood in those early days that some people could only come to get their eyes tested after work, so she made it easy for them.
She is still making things easier for people. Today Specsavers is the world's largest privately owned optical group, with more than 1,800 storesoperating in 10 countries. But the family have just set up an ophthalmic business organising cataract operations in the community. This makes it easier for people with difficult access to hospitals and it also makes it easier for the NHS.
The third thing that accounts for Mary's success is that she makes time. Mary worked for the Citizens Advice Bureau when she first moved back to Guernsey after they sold the first chain, and last month she made time to help them celebrate their 40th anniversary. She makes time to sing in a choir every Monday and performs in concerts. She makes time to talk with the young school-leavers who come to the Open Days at Specsavers HQ. She works tirelessly for a host of charities related to eyes, ears, education, children and women in business. Her diary is full until next February. Do you delegate a lot? I asked her. "No, I just get on with it, I just fit it in."She said.
So she just got on with founding Specsavers in 1984. Typically she sees the quick success of Specsavers as just lucky timing. In the early 1980s Margaret Thatcher loosened regulations on the professions and made it possible to advertise. So they took advantage of this to create what is now a worldwide iconic name. It is so powerful that "Should have gone to Specsavers" is a legally protected slogan.
Her personal favourite "Should have gone to Specsavers" advert (and we've all got one) is the one where an elderly couple have taken a seat at the seaside to eat their cheese sandwiches. Suddenly a harness clunks onto their chests and they are swept onto a tumultuous, full tilt roller coaster that whips them up and down and round. Cut to them walking along the pier afterward the ride and the man says to his wife, "what sort of cheese was in those sandwiches?" The actor in the advert came to Guernsey on holiday recently so of course Mary made time to welcome him into her office for a chat.
Operating since the 1960s on deeply rooted principles of sheer hard work; overwhelming empathy for people and making time for things that matter; co-founder of an iconic brand that continues to grow and develop across the world and that is still forging ahead into new areas, Chancellor, I present to you Mary Lesley Perkins as eminently worthy of the degree of Doctor of Laws honoris causa.