Professor Marcus Pembrey, FMedSci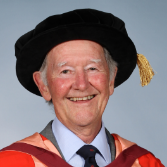 Doctor of Science
Tuesday 17 July 2018 - Orator: Professor Nicholas Timpson
Vice-Chancellor,
From Darwin's "gemmules" through to the "pangenesis" of de Vries and the "genes" of Johannsen and Bateson, the study of genetics has been faced with a problem – the development of complexity in light of a shared and single code. This and the undisputed presence of traits which do not follow the simple rules of Mendelian genetics, prompted the quest for an understanding of alternative routes to physical form including epi-genetic phenomena. i.e. factors which act on genetic code rather than being prescribed by the letters within it.
Whilst most early efforts to show the potential for environmental stimuli to act on the development of subsequent generations failed, analysis of outcomes showing a tendency for adaptation yielded signs that genetic events other than mutation alone could shape physiology. In the 1950s, Conrad Waddington saw these events as the environment "canalising" otherwise fixed developmental trajectories and this line of investigation opened the door for attempts to understand non-standard patterns of inheritance.
In this area of contentious and exciting research, Professor Pembrey has taken a leading role. Amongst studies tracking the association of environmental insults in generations of human cohort studies and in charting the unexpected persistence of effects appearing to prepare offspring for the world, Professor Pembrey is probably best known for his work characterising the genetic and epigenetic underpinnings of Angelman syndrome. In this case, the independent identification of the same genetic mutation in families affected by two markedly different disorders threw up a peculiar problem – seemingly identical genetic contributions to separate clinical conditions. What followed was an expert act of observation and detective work unpicking the aetiology of the Angelman and Prada Willi syndromes. Working with those responsible for the description of the reciprocal disorder, Professor Pembrey and colleagues were able to show that it is actually a combination of epigenetics and the parental origin of the mutation in question that is fundamental to the definition of this pathology.
Professor Pembrey was born in Sussex, educated at Hurstpierpoint College and went on to read medicine at Guy's Hospital Medical School. As a medical student his interests in human genetics were consolidated by the discovery that his family's mild anaemia was due to a form of beta thalassaemia – and also by the idea of reactivating foetal haemoglobin as a potential remedy for thalassaemia major.
Inspired by the likes of Paul Polani at Guy's, Professor Pembrey went on to a post graduate position at the University of Liverpool at the Nuffield Unit of Medical Genetics under the guidance of Cyril Clarke and where he was able to pursue his interested in haemoglobinopathy with David Weatherall. This took him to Saudi Arabia to study benign sickle cell disease before being appointed to head up the new Mothercare Unit of Paediatric Genetics at the UCL Great Ormond Street Institute of Child Health. Here he went on to pursue other complex health outcomes, the first of which being Fragile X syndrome – a difficult, deleterious and non-predictable triplet expansion on the X chromosome.
Important to Bristol and close to my heart, Professor Pembrey played a critical role in the inception and development of what is still the premier birth cohort in the world. Having met his long-standing friend and colleague, Jean Golding…
…at a meeting in Athens in 1988, he became a driving force in the Avon Longitudinal Study of Parents and Children ("Children of the 90s"). He was instrumental in the collection of samples needed for later genetics studies – a huge undertaking at the time both practically and ethically and one which set a precedent for many investigations to follow.
Professor Pembrey has left a legacy with studies like this, but also from activity in the media and through his heavy involvement in European and International genetics societies, educational initiatives and as advisor in genetics to the Chief Medical Officer for the UK's Department of Health. That said, he of course maintains an active research portfolio, focusing on trans and inter-generational effects of environmental exposure and will continue to shape science in Bristol and elsewhere.
These and numerous other achievements are only superseded by an obvious and unquenching thirst for scientific endeavour and with this – a sense of fun and energy in the process. Professor Pembrey has done all of this and is also proud to be part of a wonderful family with his wife Heather, two children (Lucy and Adam) and 5 grand-children in on the action.
It is a privilege to be here today to witness this honorary degree and to recount this extraordinary and continuing career.
Vice-Chancellor, I present to you Marcus Edred Pembrey as eminently worthy of the degree of Doctor of Science honoris causa.