Katie Alcott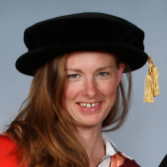 Doctor of Laws
Friday 20 July 2018 - Orator: Professor David Gordon
Pro Vice-Chancellor,
It is my pleasure to present Katie Alcott for an honorary degree in recognition of her innovative work, which has improved the health and lives of hundreds of thousands of people in Asia and Africa and also in the UK. Katie Alcott is the founder and CEO of Bristol-based FRANK water, a social enterprise and registered charity which sells spring water in the UK to fund life-saving clean drinking water projects in India and Nepal.
Katie grew up in Herefordshire before studying for a Fine Art degree at the University of the West of England. Between taking her A-Levels and going to university, Katie went to teach in a community school in Kashmir in North India. She became concerned that children were missing school due to bouts of severe diarrhoea and she eventually caught dysentery herself.
Unlike most people who have suffered in this way Katie resolved not just to feel sorry for herself but to do something about the problem of unsafe drinking water and inadequate sanitation and hygiene. So, in 2005, not long after finishing her degree, she set up FRANK Water, not for personal gain but to provide practical and much needed help to people less fortunate than herself. Katie is a hands-on CEO, who would drive the van to music festivals, such as WOMAD, and work on the FRANK stall selling spring water to festival goers.
She is a pro-active and inspiring leader and problem solver, who has won many national and local awards for social entrepreneurship, including Young Entrepreneur of the Year, the Women of the Future Award, the Ernst and Young Future 100 award and many others. However, she remains modest about these achievements and is truly more interested in being 'of use than fame'.
FRANK is a straight talking ethical water company which sells a luxury product, filtered spring water, to fund over 300 life-saving safe water projects in developing countries. To protect the environment in the UK, FRANK has been a radical and disruptive influence in the water industry. It was the first company to launch a 'FreeFill' initiative in 2010, offering festivals and events a way of reducing plastic waste, whilst giving customers unlimited refills of filtered, chilled water, with all net profits from the refill bottles funding the safe water projects.
More recently, FRANK became the first bottled water company to end all production of single use plastic bottled water and switch to 100% environmentally sustainable solutions. This is part of FRANK's #PledgeToRefill campaign, which asks all consumers to carry a refillable water bottle with them to stay hydrated without the need to purchase water (or other drinks) in single-use plastic bottles. I hope that you will all support this environmental campaign to reduce the use of plastics in the UK.
Katie Alcott is a brave, passionate and innovative entrepreneur who is an inspiration to the dedicated team of workers and volunteers around her – she even managed to personally persuade Vivian Westwood to design one of FRANK's bottles.
She has built the company and charity not just by learning from its successes – what it does well - but also importantly from its set-backs and failures. Most companies and people shy away from their failures but you can often learn more from what you have done badly than from what you have done well. FRANK's response has been to fund research to better understand problem areas, including sponsoring two PhDs at the University of Bristol, into the thorny issue of user fees for safe drinking water, and about how to improve the governance and working arrangements with its local partners in India (this PhD was called 'Drink Me Save Lives'). FRANK has used both research evidence and a robust ethical approach to advance social justice and the human right to safe drinking water and to help make a better world.
For Katie Alcott the personal is political and her work life balance is important - she has not sacrificed her family life to build a social enterprise. With her husband Tom she has raised three children, Amelia, Reuben and Elodie, here with us today.
Katie Alcott is a citizen of the world living a life well lived and a truly worthy recipient of this award.
Pro Vice-Chancellor, I present to you Katie Alcott as eminently worthy of the degree of Doctor of Laws, honoris causa.