Juliet Davenport, OBE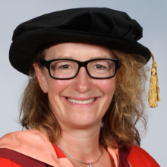 Doctor of Science
Friday 13 July 2018 - Orator: Professor Alan Champneys
Vice-Chancellor,
It is sometimes said that when future entrepreneurs graduate, in order to be successful they need a clear vision for their future. This was not the case for today's honorary graduate, Juliet Davenport OBE.
She is the award-winning CEO of the 100% renewable energy provider Good Energy, with its mission to power a greener, cleaner future, driven by consumers. With headquarters beside the river Avon in leafy Chippenham, they have pioneered innovative business models within the green energy sector.
Juliet studied physics at Oxford, but struggled when university physics seemed overly theoretical. Her first epiphany occurred on an option in atmospheric physics. She suddenly understood the reality of climate change and the urgency with which it needs addressing. She also realised that she had neither the patience nor the data analysis skills to succeed as a professional scientist.
Her career began on a winding path. She started in public relations, for example helping a major soft drinks company sponsor the FIFA World Cup. She learnt the importance of clear communications. She next tried her hand as a maths and physics teacher, finding creative ways to explain abstract concepts; such as what centrifugal force does to school pupils on a London bus as it goes round a bend... wheeeeeee!
She completed a Masters degree in Economics via evening classes at Birkbeck College, recognising a lot of similarity with physics, except in economics the scientific method doesn't necessarily work. Next, through an internship at the EU Commission she learned the geopolitical dimension of energy policy. She began working for an energy consultancy, helping national governments meet emissions targets. She realised that renewable energy must be key, not just due to its technological advantages, but because it can provide autonomy to local communities. But how could she make a difference?
It was at a conference in Greece in 1998 that Juliet's second epiphany occurred: no one was thinking from the perspective of consumers. With government, there are simple Yes/No decisions. Sadly, the decision is often no, as with the UK government's recent response to the tidal lagoon project in Swansea Bay. But consumers can bypass government. They are voters; and they also vote with their wallets. She met an investor willing to back this idea. Thus in 1999, amidst the early days of competition in the UK energy market, the company that eventually became Good Energy was formed.
There have been many twists in Good Energy's journey. The early days were about survival. The main investor went bust and the company re-formed via the first-ever crowdfunding initiative in the energy sector. The next major upset was the 2008 credit crunch, which required a strategic rethink. Banks became unwilling to fund generation investments that sold to small suppliers like Good Energy. So Good Energy started to develop their own wind turbines and solar farms, thus altering their relationship with the banks.
Unfortunately, in 2017 the UK government abruptly ended financial subsidies for renewable generation, so Good Energy had to adapt again. They are now entering their fourth incarnation, in the digital age. They seek to empower customers to both generate their own energy and directly connect with providers, avoiding any power wastage. There remain regulatory and technological challenges, but if such peer-to-peer energy trading is desirable, then Juliet believes the consumer ultimately will win.
Good Energy are a model employer. The 300 or so people at their Chippenham office enjoy many benefits, taking lunch outside beside the Avon and participating in team sports at the leisure centre next door. Good Energy are proud of their diversity: over 50% of the workforce is female. The company's presence in Chippenham has contributed to the town's revival – there is even a vegan takeaway van.
All who know Juliet agree she is a strong female role model. Despite the meanders in her career and in Good Energy's business model, she remains unflinchingly positive. The glass is more than half-full. She enjoys the opportunities for creativity and problem-solving her work brings. With a lifelong love of sport, she runs, rides horses and skis. Spending as much time as possible outdoors is crucial to her, as is protecting time for her family: her husband Mark, her daughter and step-daughter. Part of her secret is to spend a week a year on retreat, most recently in Austria, where she practices yoga, meditation and personal regeneration.
Vice-Chancellor, Juliet and the business she founded have received many plaudits. In 2015 she was awarded an OBE and was appointed to the board of the Natural Environment Research Council. She has worked with this University and others to inspire the next generation to think about innovation, climate change and energy transition. She is passionate that businesses should do good; that they should contribute to society's needs rather than just generate money. Good energy indeed!
Vice-Chancellor, I present to you Juliet Davenport as being eminently worthy of the degree of Doctor of Science honoris causa.