John Deer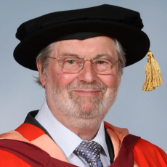 Doctor of Engineering
Monday 16 July 2018 - Orator: Professor Stuart Burgess
Deputy Vice-Chancellor,
Today's honorary graduate, John Deer, was born in 1938 in the Swansea Valley. After completing a mechanical engineering apprenticeship he joined Rolls-Royce in 1960. This was an incredibly exciting period to join Rolls-Royce. The company's jet engines powered Concorde and the Harrier Jump Jet as well as other famous aircraft. John worked at Rolls-Royce for 14 years in the aerodynamics department, testing engine intakes, nozzles and thrust reversers at model scale. In 1973 John met David McMurtry, who had invented a touch-trigger probe applied to a three-dimensional measuring machine for measuring complex pipes for the 593 Concorde engine.
In 1974 John Deer saw an opportunity to start a company making advanced measurement probes. Even though he effectively had a job for life at Rolls-Royce he decided the opportunity was worth risking his career and his house. Even though he had only met David McMurtry relatively recently he teamed up with David while the latter was still working at Rolls-Royce. They called the new company Renishaw.
John Deer was responsible for manufacture and the commercial aspects of the business and David McMurtry was responsible for design. John's garage was the machine shop, the dining room was the office and the spare bedroom was the assembly room.
His wife, Eileen, was fully supportive even though much of the house was taken over by the business. She had secretarial, accounting and packaging duties while also being mother to their two children.
Although leaving Rolls-Royce was a high-risk move, John knew that forming a partnership with David McMurtry was a safe bet against failure. It was nerve-racking [NR1] to begin with, since John was making products and trying to sell them while David McMurtry was rising rapidly in the Rolls-Royce ranks, eventually reaching the position of Assistant Chief Engineer. David later left Rolls-Royce and was able to devote all of his time to Renishaw.
There was one very difficult moment when a large customer of Renishaw in America decided to copy the probes and test the strength of the patents. This was an extremely stressful period and the subsequent court case in America absorbed an enormous amount of time, money and energy. With the help of Rolls-Royce and to John's great relief Renishaw won the case, and it subsequently strengthened their position in the world market.
The fact that Rolls-Royce helped Renishaw showed that John and David had left on good terms and had the respect of Rolls-Royce.
The case and its aftermath confirmed that the company's strategy of strong patents was correct, and this strategy continues to be fundamental to the company's success.
By 1976 there were two people working for Renishaw from John's home assembling probes, as well as a mechanical engineer and an electronics engineer working from their own homes. So in 1976 John decided to move to a small factory in Wotton-Under-Edge.
John was Managing Director from 1974 to 1989, when he became Deputy Chairman. Over the years, John has been mainly responsible for production and business development, including setting up overseas subsidiaries. The product range developed rapidly thanks to David McMurtry's remarkable innovative talent.
As a result of the vision, hard work and innovation of John Deer and David McMurtry, Renishaw is now one of the world's leading engineering and scientific technology companies. It supplies products and services used in applications as diverse as jet engine and wind turbine manufacture, through to dentistry and brain surgery.
Last year Renishaw's turnover was over £500 million, and today the company employs over 4,500 people worldwide in 77 locations in 35 countries. Renishaw has its own patent department with six full-time patent agents.
In 1987 John and David McMurtry were members of the four-man team of Renishaw engineers honoured with the MacRobert Award – one of the most prestigious awards for engineering design.
In 2012 John was awarded the Swan Medal by the Institute of Physics, jointly with David McMurtry who was now Sir David McMurty, for their role in founding Renishaw and leading it to become one of the world's principal manufacturers of metrology equipment.
In October 2014 John and Sir David were jointly honoured with a Lifetime Achievement Award at Gloucestershire Business Awards.
One of the things that gives John most satisfaction is being the founder of the strong apprenticeship and graduate programmes at Renishaw. Many graduates from Bristol have successfully completed the excellent graduate programme at Renishaw. The University is proud to have many connections with Renishaw through teaching and research.
This story shows that many things are required to develop a successful engineering company: innovative products, an ability to defend patents, being prepared to take risks, getting the right people from the start and a willingness to work incredibly hard. John Deer got all of these things right.
Deputy Vice-Chancellor, I present to you John Deer as eminently worthy of the degree of Doctor of Engineering honoris causa.