Baroness Amos, CH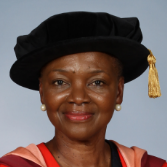 Doctor of Laws
Friday 20 July 2018 - Orator: Dr Caroline Williams
Pro Vice-Chancellor,
Calm, precise, measured and diplomatic, a 'doer not a publicist', 'and the coolest of cool' – these are just some of the enviable words used to describe Valerie Amos, today's honorary graduate, by those who have written about, or worked with her, over the course of an outstanding career in public service that spans nearly four decades. It is a career that will surely inspire our young graduates gathered here today.
Valerie Amos was born in Guyana to Mike and Dolly Amos. They were both teachers who believed in the power of education 'as a way to a better future' – not as 'a guarantee of wealth', but certainly as 'a guarantee against abject poverty'.
They moved their family to a largely white suburb in East London in the 1960s. While never forgetting their roots in Guyana, the family worked hard to fit in, and Valerie clearly thrived. She became the first black pupil to be admitted to Townley Grammar School in Bexleyheath, and in time also its deputy head girl.
This was a 'phenomenal achievement', her sister Colleen has been quoted as saying, while noting that Valerie never boasted about her accomplishments and often didn't even tell her family about them.
While acknowledging Valerie's reticence to draw attention to herself, today marks a celebration of her achievements, as a parliamentarian and businesswoman, as a leader on the world stage, and as a role model for women, particularly black women.
After completing a BA in Sociology at the University of Warwick and an MA in Cultural Studies at the University of Birmingham, Valerie began her career in local government in London.
Working in the boroughs of Lambeth, Camden, and Hackney through the 1980s, she developed the experience and honed the skills that led to her appointment as Chief Executive of the Equal Opportunities Commission. From 1989 to 1994, Valerie transformed the Commission. She gave it a more active role and through judicial reviews brought about improvements in, for example, employment protections for part-time workers, who were predominantly women.
In 1995, Valerie co-founded the consultancy firm Amos Fraser Bernard. It advised the post-apartheid government of Nelson Mandela on public service reform, human rights and employment equity. Valerie herself worked in the areas of leadership and change management.
Valerie was appointed a Labour life peer in 1997, becoming Baroness Amos of Brondesbury. She joined the Lords in the same year as the crime writer Ruth Rendell, and they developed a close friendship.
In reflecting on their appointment in 2015, Valerie wrote of how unexpected and strange the experience of being in the Lords was at first. They constantly broke the House rules of behaviour, she said, because they didn't know what these were!
Valerie's subsequent career would suggest that her newbie rule-breaking did not raise too many eyebrows, for in 1998 she joined the Labour government, becoming the first black woman ever to serve in the British cabinet.
Valerie's appointments included Foreign Office Minister, Secretary of State for International Development, Leader of the House of Lords, and Lord President of the Council. She was spokesperson on Social Security, Women's Issues, and, in the House of Lords, on Foreign and Commonwealth Affairs. And she still found the time to squeeze in positions as Fulbright Commissioner and Chair of the Royal African Society, among others!
Valerie served as UK High Commissioner to Australia from 2009 to 2010, when she was appointed UN Under Secretary-General for Humanitarian Affairs and Emergency Relief Coordinator – on the recommendation of David Cameron.
This was a post for which her background and experience as Secretary of State for International Development with responsibility for its response to crises around the world proved ideal preparation. In the role, which she held until 2015, Valerie became a strong advocate for people and communities affected by conflict, natural disasters, and other emergencies, and made a major contribution in raising awareness of humanitarian crises around the world. For the younger members of this congregation, her approach included collaborating with the singer Beyoncé to raise the profile of World Humanitarian Day in 2012. Indeed, for her 'diplomatic command of cross-sector global relief efforts in response to monumental humanitarian crises', Valerie received the United Nations Association Global Leadership Award in 2014. And in June 2016, she was made a Companion of Honour in the Queen's Birthday Honours, for 'services to the United Nations and emergency relief'.
As if there were not enough to celebrate in Valerie's exceptional career, I still have her latest and current post to draw to your attention. For in 2015, Valerie was appointed Director of the University of London's School of Oriental and African Studies, becoming – in yet another first – the first black woman to head a British University. To this role, as to every other role she has undertaken, Valerie has brought breadth of knowledge, exceptional insight, idealism, and a passionate belief in the values of social justice, commitment to equality, rights, and inclusiveness.
Before ending, Pro Vice-Chancellor, I would like to take us back to the beginning, and to Valerie's parents, Mike and Dolly Amos. For it was in their honour that in 2009 Valerie and her sister Colleen set up the Amos Bursary.
The bursary set out to address the under representation of young British men of African and Caribbean descent in higher education and the professions.
Combining financial assistance, intensive programmes of personal and professional development, and a team of nearly 200 peer and professional mentors, as of today it counts 100 students and 35 alumni. All are individuals who have excelled academically but whose progress could potentially have been hampered by personal circumstances.
Pro-Vice Chancellor, I present to you Valerie Amos, Director of the School of Oriental and African Studies, as eminently worthy of the degree of Doctor of Laws, honoris causa.