Andrew Langdon QC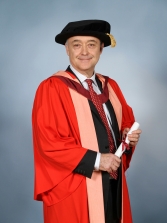 Doctor of Laws
February 2018 - Orator: Professor Chris Willmore
Pro-Vice Chancellor,
Andrew Langdon QC is someone I have looked up to since he first entered my office as a student. What started as a physical necessity on my part has increasingly become a gesture of my deep respect for a life well lived.
Andrew Langdon graduated in this hall in 1985, was called to the Bar, took silk, then became a Recorder, Leader of the Western Circuit and Bencher of Middle Temple. Most recently, he rose to the highest position in his profession, Chair of the Bar Council. Those bald facts are meritorious enough, but behind them is a more remarkable story.
In 2016 the University launched its Sanctuary Scholarship Scheme, enabling people from asylum seeking and refugee communities to study here. Andrew came to the UK as a refugee. He has gone on to become one of the staunchest defenders of the values underpinning our justice system. He has spoken out tirelessly on behalf of detainees and defended access to justice. And he does so from personal experience of the alternatives.
As a child Andrew lived on his parents' farm in the highlands of Ethiopia and was educated at home for many years. When he was 13, he and his family were forced from that home at gunpoint, during the revolution that overthrew Emperor Haile Selassie. He says they were lucky: Ethiopian landowners were simply shot. His family arrived here, refugees with no money. But, as he noted in his inaugural address as Chair of the Bar Council, "I cannot but contrast our soft landing on these shores with the way we treat refugees now, including from Ethiopia and Eritrea."
He came to Bristol to read Law with no intention of becoming a lawyer. Whilst a student, he reached the national finals of the Observer Moot, chaired the Student Union Debating Society and threw himself into student politics. He even stood for Students' Union President - just missing out to one Lembit Opik.
After University, he was – like a few of our graduands today, I imagine – unsure where his career would lead. Then he went to court. He saw barristers at work, and in his own words "The fairness of the proceedings struck me immediately and forcibly. A distinct moment."
At the Bar he is a 'Star Silk', described as "One of the stand-out silks of his generation … [who] delivers in a way that most barristers can only dream of emulating."
From the outset Andrew's career was special and proved that you can be successful and be true to yourself; few young barristers just five years after call would have the gumption to take a year out, to go to Ethiopia to teach with his wife Caroline.
Legal governance sounded a trifle boring to him in comparison. But after arguing that the Circuit Leaders of the bar should be speaking out about the effects of Legal Aid changes on the vulnerable, he was rapidly elected as Circuit Leader. He then swiftly mobilised all the Circuit Leaders to use their collective strength to speak out on this and other issues.
Continuing that approach, as Chair of the Bar, Andrew has been vocal in reminding its members (and others) of the values that lawyers are committed to. On taking office he explained "together we are very good at taking on challenges. We are adaptable and good at meeting threats, many of which subside once we have pointed out what the consequences to the delivery of justice will be. In other words, I am an optimist. I want to bring to the policy makers the consequences of their decisions."
The ability to bring people together to speak out about shared values is key to his success. A speech Andrew gave as Chair of the Bar Council about the detention of refugees encapsulates this perfectly. He said: "The lack of time limits, the lack of judicial oversight, the failure to protect vulnerable people held against their will by the state; these ought to be matters of concern for society. But […] ought they not especially to be of concern for those whose profession involves championing access to justice and the rule of law?"
It's one thing to recite a list of the positions someone has held, and quite another to talk about the difference they make in those positions. We are proud that one of our graduates has not only achieved the distinction of being elected Chair of his profession, but that he has accomplished so much in the role. A journal interview with him concluded: "[A]bove all, what comes through is that he is a real leader, in the proper meaning of that word."
We are grateful that the UK provided a home for this refugee child, and grateful for what he has done for us. As you graduate today, we hope you too will be thinking of how you can make a difference in the world.
Pro Vice Chancellor, I commend to you Andrew Langdon QC, as eminently worthy of the degree of Doctor of Laws, honoris causa.