Alastair Fothergill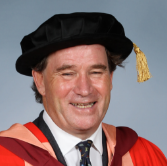 Doctor of Science
Thursday 19 July 2018 - Orator: Dr Anja Teschemacher
Chancellor,
The BBC's wildlife documentary films are known and cherished across the world, and they originate in Bristol. They make millions of – primarily urban - humans of all ages aware of the wonders of, and the increasing threats to, the diversity of life on our planet.
Alastair Fothergill, today's honorary graduate, is the figure behind many of the most ambitious and popular of these films. He and his teams have won countless well-deserved awards for their achievements, both from the film industry and from scientific societies. So, why do we acknowledge Alastair's work with a doctorate from the University of Bristol? Universities are academic institutions devoted to fostering research and education, and Alastair Fothergill has excelled in both these areas. Indeed, a symbiosis between science and education is at the heart of the production of Natural History documentaries.
Scientific rigour and scholarship underpin the factual accuracy of these productions but it is a two-way process: field scientists have often benefited from the patient observations of cameramen and women, and many research papers have been written based on the analysis of raw film material. These documentaries are educational tools for conveying the clever designs and beauty of our natural world to our fellow citizens. They provoke curiosity for more learning. For example, following the release of The Blue Planet, the number of students taking up biology at university increased by 50%, a fact of which Alastair is very proud.
Alastair himself is a scholar, not only do his productions involve close collaboration with scientists and engineers; he is also a zoologist through and through, knowledgeable about those exotic species living in far corners of the Earth but also about the ones immediately surrounding us. So if you happen to find yourself next to him at the edge of a playing field outside Bristol in early summer, he may pick up on the cuckoo's call and tell you about the evolutionary race between these brood parasites and their hosts.
Alastair's life and work has been driven by the conviction that to see nature is to love it, and that sharing knowledge about its treasures with as many people as possible, and sparking their fascination, curiosity and respect, is vital to conserving biodiversity.
How did Alastair come to make such a significant impact in his field?
He was born in London and attended Harrow School where he was inspired by his biology master and became passionate about animals. In his gap year, Life on Earth was broadcast for the first time, and Alastair became addicted to it as if it were the best soap opera ever.
He decided to study zoology, a plan that was very much opposed by his parents at the time. They yielded, however, when he made the ultimate sacrifice of promising his mother never to grow a beard and never to wear white socks with sandals. No doubt a difficult, if worthwhile, pledge which he has faithfully kept to this day.
He very much enjoyed his zoology studies at Durham; and in his final year, with a group of friends, won a BBC competition that allowed them to produce an amateur documentary film in Botswana. On the Okavango may have been what he describes as a 'really bad film' but it made one thing very clear: Alastair had realised that his trajectory was not so much towards research as he had originally thought, but towards communicating science. And the bigger the challenges, the better.
Therefore, after graduating, there was only one place to go – Bristol. He joined the BBC's Natural History Unit in 1983. He produced a variety of programs, for instance the children's series The Really Wild Show, where in spite (or maybe because) of a limited travel budget, he went for the most impossible-to-film animals in the UK, such as the Scottish wildcat or otters.
Within a few years, he began working with Sir David Attenborough on The Trials of Life, the third major Attenborough series, which explored animal behaviour. Here, he made his mark with crazy initiatives which, for example, involved the attempt of submerging Sir David in the Amazon while wearing a leaky diving helmet; or sending him swimming with electric eels that produce 500-volt shocks; or frying him in the Sahara; or racing him through the jungle in pursuit of hunting chimpanzees. For some reason, this created a trusting relationship, because a lifelong collaboration ensued to which Alastair brought his creativity and enthusiasm for the spectacular.
Then in 1992, Alastair, aged only 32, was asked to take on the lead of the Natural History Unit. He agreed, although he had to give up travels and adventures in exchange for admin and paperwork. However, he was the right person to ready the Unit for the future and ensure that the Bristol branch of the BBC went from strength to strength.
During this time he married Melinda. They have two sons, Hamish and William, proud Bristolians, and here today with their parents.
In 1998, Alastair stood down from his lead role at the Natural History Unit to focus on producing further major TV series. These included The Blue Planet and Deep Blue in which Alastair was able to follow his great passion for the sea and, for the first time, not only to film the shallow parts but to present open and deep ocean life. I am sure many of you will also remember other milestone productions from these years, Planet Earth and Frozen Planet.
In 2008, Alastair started producing films for Disney. Even though these aren't strictly documentaries, but superimpose an emotional storyline on nature films, they succeed very well in bringing across the wonders to be gained from observing animals. They also help to fund major education and conservation projects, a development in which Alastair was crucially involved.
In 2012, Alastair co-founded his own company, Silverback Films Ltd. To note, it's not actually headed by gorillas but by big, noisy, mature human males. He continues to collaborate with the BBC – you may have watched The Hunt, for example - with Disneynature, Discovery Channel, and more recently, Netflix. So, what can we look forward to in the future?
Biodiversity is showing cracks that have been widening for the past 30 years. We bear collective responsibility for this, and it needs our urgent support and intervention. This is driving Alastair's next ambitious project, one that links with the WWF for which he is an ambassador. It will be called Our Planet, will encompass film as well as interactive features, and will celebrate biodiversity and emphasise the value of habitats and the need for their conservation. So please watch this space and, as far as possible, do your bit to help preserve nature's wonders for future generations.
Chancellor, I present to you Alastair Fothergill as eminently worthy of the degree of Doctor of Science, honoris causa.