Professor Sir Eric Thomas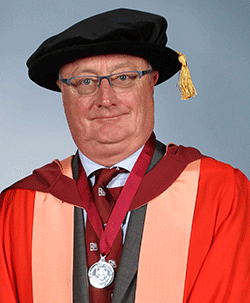 Honorary Fellowship
Wednesday 22 July 2015 at 11.15am - Orator: Denis Burn
---
Madam Chancellor
It is my privilege to commend to you Professor Sir Eric Thomas to be an Honorary Fellow of this University. An Honorary Fellowship is the highest honour the University can bestow and one that is awarded infrequently. In Eric's case, the Fellowship recognises his distinction as Vice-Chancellor of this University for 14 years, and his outstanding contribution to higher education leadership in the UK and across the world.
Many of you may feel that a Vice-Chancellor is a rather distant figure hardly connected with your daily experience of university. But for 14 years he has led and shaped this university and his fingerprints are all over the experiences you have had here at Bristol.
How can I describe Eric? Passionate? Driven? Strong minded? A force of nature and a powerful leader? Intimidating, to someone who has done something wrong and drawn his wrath, but compassionate to those in need.
Eric was born in Hartlepool. He is a Geordie through-and-through: his grandfather was a miner, and his early years in the north-east have shaped his views and values, and his love of football. He was strong minded even when young and took arts A levels, in defiance of his father, a GP, who wanted him to become a doctor. He realised his mistake and then took science A levels in a year, but his love of the arts remains.
He graduated in Medicine from the University of Newcastle-upon-Tyne in 1976, and married Narell the same year. They met in the Students' Union bar, somewhere as a nurse Narell wasn't strictly allowed but luckily she, like her husband, has an enterprising nature and had forged her own student card.
Once on track to become a doctor he excelled at every stage. He chose obstetrics and gynaecology as his specialism, and was particularly interested in infertility. He has an excellent track record in research, and has published over 150 papers, but even early on he was interested in management and leadership. At just 42 years of age he became Head of the School of Medicine at Southampton and was appointed Dean just three years later. From there, he came to Bristol as our Vice-Chancellor in September 2001. Narell still remembers him taking the call from Bristol to offer him the job; she says it was the only time she has seen him rendered speechless. Being rendered speechless is certainly not a characteristic I associate with Eric.
A short while later he stood looking out over the University with his predecessor, Sir John Kingman, who quietly said 'You do know that you now have the best job in British higher education?' Eric realised that, regardless of anything else, he must not damage this extraordinary institution. And he has not; indeed he has built the strength and reputation of the University in numerous ways.
He joined this University with a vision of how he wanted it to be, and one he has delivered – academically excellent in teaching and research, attracting the best students and the best staff, and making an impact on the international stage. His focus on teaching, and the establishment of clear career pathways for academics who wish to focus their efforts on teaching, was revolutionary for a university like this but it has led to the great experience that you, our students, have just had.
Eric also leaves research at Bristol in a remarkable position - more ambitious and outward facing, enterprising, multidisciplinary and delivering high impact. According to this year's Research Excellence Framework, which is a way universities are graded for their success in research, we rank fifth equal with Oxford in the UK, based on research intensity
This has not been achieved single-handedly, Eric has gathered and led a strong senior team and has empowered staff at all levels to make the changes that have underpinned these impressive results. He takes the view that a vice-chancellor should focus on the things that only a vice-chancellor can do. He puts his faith in his staff, and lets them do their jobs. Time and again I have heard this: from the Director of Communications when we were embroiled in a row with the Daily Mail some years ago to the Finance Director who talks of the freedom coupled with support Eric gave him to steer through the last few choppy years.
I have only time to touch on some of the things of which he, and the University are justly proud. For example: massive investment in people, buildings and the student experience based on a courageous and successful financial strategy; a leap forward in terms of philanthropic funding that has seen the recent completion of a £100m campaign (to which he personally contributed at a very generous level); the foresight to increase student numbers as soon as the opportunity arose and thereby strengthen a number of our smaller departments; and a new sense of partnership with the City of Bristol recognising that the city is important to the success of the University and the University helps the city to succeed.
Looking out at all of you I am reminded of the welcome diversity of our student and academic populations. Just considering one country, China, exemplifies how the University has changed over the past 14 years. When Eric joined Bristol, we had a few handfuls of students from China. Today we have 1,400, which is our largest international cohort. It was once unthinkable that we would have held graduation events in Beijing, as we did this April, with over 350 loyal and enthusiastic recent graduates, followed in close order by alumni events, both in Beijing and Shanghai, attended by 200 Bristol alumni. Indisputably, Eric Thomas has put the University of Bristol on the international map. We are now consistently placed well within the top 100 global universities.
Eric has been deeply involved in other ways within the sector. The Thomas Report of 2004 has had lasting impact in building critical philanthropic funding for universities across the country. He was President of Universities UK from 2011-13 which was a time of great change for the sector. He was also a founder member and President for four years of the Worldwide Universities Network, which is a huge enabler of collaboration and is now a key player within the sector.
In these and other ways and over 14 years Eric has developed an intuitive understanding of the University and the sector, immediately obvious to members of Council at our meetings and strategy sessions.
I undertook a fascinating consultation process ahead of the recruitment of our new Vice Chancellor and met with numerous groups of staff as part of that work. I asked each group what they thought was special about this University, what they wanted to keep and what they wanted to change. This gave me a remarkable insight into the mood and style of this great institution. There were many wonderfully contradictory statements but some things stood out: Bristol University has a culture that, although not perfect, has much that needs to be preserved. That is testament to Eric's vision and leadership over the last 14 years.
His ability to protect and shape the University's culture was perhaps identified at interview, when Eric was asked in what way he thought he was different; a tricky interview question. After some thought he replied 'I don't work on trains, I daydream.' I think that is a good answer. He clearly thinks deeply; he knows what a university is for and he pursues this vision with clarity, tenacity, integrity and great good humour.
Eric has deservedly won many accolades during his career, not least of course a knighthood in the Queen's Birthday Honours 2013 for services to higher education. As a lad in Hartlepool, I wonder if he ever thought he'd be a professor, a Vice-Chancellor and a knight of the realm? And I wonder whether any of you, our wonderful graduates, will follow in his footsteps?
Family is very important to Eric, and I'm delighted to see his wife Narell and children Rachel and David, and their partners here today to share with us this moment of expressing our gratitude to Eric and celebrating his time at the University. Narell has been a constant and calming presence during his tenure with us, and in her own right has done so much for this University for which we are deeply grateful. I know that Eric is finding it difficult to bring to a close his long association with this University; his commitment runs deep and his role as Vice-Chancellor has been so very much more for him than 'a job'.
Eric has three outstanding qualities – vision, leadership and commitment. He has known exactly where he has wanted to take the University, and he has had the leadership skills to take it there. He is immensely and personally proud of this institution, its staff and students, and has lived and breathed it every day – to his family's occasional annoyance, even on holiday – for 14 years.
He has told me that when the chips have been down he goes and talks to students, to reinvigorate himself and also because he knows that our University is here to nurture people like you - the talented individuals of the future.
Madam Chancellor, I present to you Sir Eric Jackson Thomas as most profoundly worthy of an Honorary Fellowship.