Matthew Warchus
Doctor of Letters
16 February 2010 - Orator: Professor Martin White
Mr Vice-Chancellor,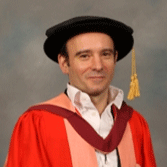 Matthew Warchus is one of the most celebrated directors working in the theatre today. His career to date has encompassed over fifty major productions, including five operas and one feature film (which he also co-wrote). He has directed award-winning productions in the West End and for all the major British companies (including a debut with the Royal Shakespeare Company as the youngest director ever on the Stratford main stage). Today, as well as being a freelance director, he is also the Associate Director of the Old Vic in London. Unusually for a British director he has been equally successful in America. Once described by the New York Times as the 'mighty Matthew Warchus', he has staged ten plays and one musical on Broadway.
Last year, he became the first director since 1942 to be nominated for a Tony Award twice in the same year, as Best Director for his Broadway productions of The Norman Conquests and Yasmina Reza's 'comedy of manners without the manners', The God of Carnage. In advance of the ceremony he modestly and wryly observed that the double nomination gave him the opportunity to hear himself lose the award twice in the same sentence. In the event he won – a fitting reward for a body of outstanding work over the last twenty years.
But back to the beginning. Matthew was born in Kent – we're delighted to welcome his parents, Rosemary and Michael, to the ceremony today – but grew up in Yorkshire, where his father, once an actor, was now a vicar. There, Matthew sought out what theatrical activity he could – helping build sets for pantomimes at the York Theatre Royal and becoming a founder member of the Selby branch of Youth Theatre, Yorkshire, before joining the National Youth Theatre.
In 1985 he came to Bristol to study Drama and Music, graduating three years later with a first class degree. Arriving at Bristol was an eye-opening experience for Matthew: as he recalls, he found himself for the first time in a place where he was actually required to do the very things he most liked doing, surrounded by people in both departments who felt about them as passionately as he did. A talented actor and musician, it was while he was a student that he decided that he wanted to pursue a career as a director and a number of fine productions followed. Of course it's tempting for those who teach students who go on to scale the heights of their profession to claim to have seen their potential from the beginning. But in Matthew's case many of us were aware that we were seeing the work of someone with a distinctive theatrical imagination.
On leaving Bristol, his career advanced rapidly. He took a production of Ben Jonson's notoriously difficult tragedy, Sejanus – which he had first staged in the Drama Department –to the Edinburgh Festival where it caused a bit of a stir. That production, and two he did for the National Youth Theatre of The Suicide and Coriolanus, led to jobs as an Assistant Director at the Bristol Old Vic and the RSC, and then as an Associate Director at the flourishing West Yorkshire Playhouse in Leeds. There, his work, especially his flair for directing big plays with big casts, brought him awards for productions of Life is a Dream, Fiddler on the Roof, Death of A Salesman and Peter Pan.
The success of his productions at Leeds, led in 1993, to an invitation from the legendary producer, Thelma Holt, to direct Much Ado about Nothing: the first time Shakespeare had been staged in the West End for 55 years. It was a big step for Matthew and an even bigger success, winning him that year's Most Promising Newcomer Award.
More excitement was to come. One evening in 1996, a script was delivered to his home with a request he should read it immediately. Matthew was already in the planning stages of a production of The Alchemist for the National Theatre, but by the time he had finished reading, he knew that this was a play he had to direct. The play was Art, a sharp comedy about art and friendship by the French writer Yasmina Reza. Unlike the big plays he'd largely handled until now, this had a cast of just three men in a single set, which was precisely what attracted Matthew to it; it took, in his words, a ''tiny perspective on an enormous idea''.
He was able to negotiate himself out of the National Theatre project and his faith in Art proved right: it won Olivier and Evening Standard awards for Best Play and Matthew's production became a theatrical phenomenon, running in the West End for seven years. The cast was changed every twelve weeks, each time refreshing the play and appealing to different audiences. It later opened in New York, winning yet more awards and a first Tony nomination for Matthew.
Matthew saw Art as an opportunity to create something artistically strong in a commercial setting, and here I think we get to the nub of what attracts him to such an apparently diverse range of material: a desire to make artistic things popular and popular things artistic.
When I asked him if he could choose a favourite production that brought these qualities together, he named Stephen Sondheim's Follies, which he directed in New York in 2001, and during which he met the American actress, Lauren Ward. They married in 2002, and we are especially delighted to welcome Lauren here today, too.
For Matthew, Follies is "a masterpiece, a very serious, deep human drama with sparkling music – it is a Broadway show about death". Indeed, the current crop of projects he is working on – an American play in rhyming couplets, Ira Levin's mystery thriller, Deathtrap, a musical version of Roald Dahl's Matilda for the RSC (which he's co-writing), a production of Chekhov's Uncle Vanya, and a musical version of the 90's movie Ghost – underlines the eclectic choices he makes, let alone his enormous appetite for work.
Mr Vice-Chancellor, Matthew has always found theatre a visceral, transporting experience, and all his work strikingly embodies his belief that theatre is supposed to induce moments of awe (the word is his) in an audience. He sees vivid pictures and hears powerful sounds, and this informs what he puts on the stage, giving intensity to his work that is thrilling and totally distinctive. And it doesn't matter whether it's an epic like Lord of the Rings (the most complex theatre production ever staged) or a farce like Boeing Boeing, the same intensity is there. Over the years he's been pushing at the technical boundaries of theatre, but whereas lesser directors can sacrifice the actor at the altar of technology, when Matthew works on even the largest theatrical scale the characters and the story remain at the centre. At the same time, some of his greatest critical successes have come with the chamber works of authors ranging from Alan Ayckbourn to Sam Shepard via Yasmina Reza. In these pieces, Matthew's imagination finds the emotionally epic.
When we watch a play, it is not difficult for us to decide whether we like it or not, or whether we think it is well-acted or if we like the design. It can be much more difficult to discern what exactly the director has done. Indeed, in defining what makes an outstanding director we learn most from what those they work with say about them. In Matthew's case, what emerges is his interest in and understanding of the processes of all those involved, his ability to listen, to be attentive to the questions actors ask and to understand what might lie behind those questions, and the judgement to identify the best idea in the rehearsal room. He also has a musician's sense of rhythm and a playwright's sense of dramatic structure; indeed, he is a director who could easily be, and often is, a writer.
Another way to establish how actors in particular feel about Matthew as a director is to look at those who want to work with him. Even a short list makes the point: Eileen Atkins, Alan Bates, Jeff Bridges, Ralph Fiennes, Albert Finney, Michael Gambon, James Gandolfini, Iain Glen, Jeff Goldblum, Philip Seymour Hoffman, Helen Hunt, Nick Nolte, Mark Rylance, Kevin Spacey, Imelda Staunton, Sharon Stone, Stanley Tucci, Harriet Walter...
I decided to ask Kevin Spacey, who has worked closely with Matthew at the Old Vic, both as a fellow director and as an actor, for his view. He describes his experiences with Matthew as "nothing short of extraordinary":
"As a director, Matthew always seems to be in good spirits, slowly building actors' confidences and makes coming to work every day feel like you're spending your time on the playground. With his brilliant sensibilities, humour, curiosity, passion and precision, there is no doubt that his work has brought joy, laughter, tears and understanding to audiences everywhere. The theatre world is lucky to have him and Bristol must be proud to call him one of their own."
Indeed we are.
Mr Vice-Chancellor, it is with great pleasure that I present to you Matthew Warchus, theatre director, as eminently worthy of the degree of Doctor of Letters, honoris causa.