Professor Patricia Mary Broadfoot, CBE
Doctor of Laws
17 February 2010 - Orator: Professor Rosamund Sutherland
Mr Vice-Chancellor,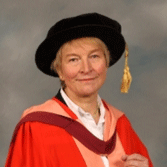 There are three threads of passion woven through the fabric of Particia Broadfoot's life: a passion for people, a passion for social justice and a passion for the countryside. These threads have influenced Patricia's values and actions from her early years to her position now as Vice-Chancellor of the University of Gloucestershire.
Patricia grew up in north London. The youngest of three children, her tenacity, social awareness and need for challenge developed at an early age. Her mother had been one of the first women to attend university in Manchester in the 1920s, and trained and worked as a social worker before getting married. By contrast, Patricia's father left school at 15 and worked his way up to become the Conservative MP for Luton and Dunstable in the 1950s. This was the family that was sufficiently sustaining to enable Patricia to love, to learn and to live. The family that enabled her to step out of her comfort zone, to take risks and to achieve the very highest accolades that society can offer, including the award of a CBE for her contribution to education in 2006. Patricia's passion for social justice was undoubtedly fired by her mother's experience of social work and her father's political career. However, her family were also strong Methodists and her Christian faith is a core element of who she is today.
Patricia started her education at the local primary school and then passed the 11-plus to attend Queen Elizabeth's Girls' School in Barnett. She describes her education as 'enlightened', with the school placing considerable emphasis on general skills such as critical thinking and a love of literature, as well as on more traditional subjects. However, she still remembers the day when she was called into the Headmistress's study after her 'O' level examinations. There was no praise for her many achievements, only the curt comment "I am very disappointed in your Latin result", a comment that probably sowed the seeds of Patricia's future academic work in the area of assessment.
Growing up in North London, Patricia longed for the countryside and with a friend constructed a 'virtual pony club', with only occasional encounters with real horses. But it wasn't all imagination and at the age of 13 she and a friend organized a riding holiday in Duntisbourne Abbey in Gloucestershire. There she fell in love with the countryside and with the county that would eventually become her home. She never gave up her love of horses and in her late 40s finally owned her first horse, becoming what she calls a "happy hacker" who occasionally "dabbles in dressage".
But before we continue with the present we need to understand more about Patricia's years at university. Like her mother she decided she wanted to go to university in the north of England. Also like her mother, she wanted to become a social worker and believed that a degree in sociology would be the best starting point for this career. In 1967 she arrived at Leeds University to study sociology: a time of great political unrest in universities, and a time when Jack Straw was president of the University Union. Patricia loved the subject, but soon realized that sociology, conservative politics and religion did not sit well together. She moved her political affiliation to the left, but found a way to live with the ideas of the great sociologists such as Max Weber, whilst at the same time being true to her Christian faith.
After university Patricia decided that she wanted to teach sociology. In her first two posts she learned to engage vocational students with the subject, and survived two years in a tough teaching job in Kingston, Jamaica. On returning to England she worked for the Scottish Council for Research in Education in Edinburgh, whilst at the same time completing a master's degree. This was to be the beginning of her apprenticeship as a researcher, where she met and worked with many of the people who were to continue as her mentors and advisors when she went on to her first lectureship post at Westhill College, Birmingham. Here she won her first Research Council grant, to study educational accountability, a comparative study between England and France – another example of Patricia jumping out of her comfort zone, as the project involved her interviewing key policy makers in French.
Remember that Patricia had fallen in love with Gloucestershire and she always knew that she wanted to live and work in the West Country. In 1981 a post came up at the University of Bristol and, one week after her first son was born, she successfully managed an interview and was offered the post of Lecturer in Education. Patricia spent 25 years at Bristol University, and it was here that she broke through all the glass ceilings on her way to becoming a Vice-Chancellor. This path was not without challenges. Soon after her arrival at Bristol, the financial crisis then facing the University led the Vice-Chancellor of the time to announce that two departments would be closed, one of these being Education.
However, the department was not closed and Patricia's career has been inextricably linked to the re-birth of the now world-leading Graduate School of Education. Here she built her academic strength, completing her PhD in 1984 and becoming the first person at the University of Bristol to be awarded a DSc in Social Sciences in 2000. Her research has contributed to a sociological understanding of the role and significance of assessment in society, and its effects on teaching and learning. Underpinned by a series of international comparative studies her work has demonstrated the significant educational impact of national cultural differences on assessment. This research has made a sustained practical contribution to the development of assessment policy and practices, nationally and internationally.
From 1993 to 1997 Patricia Broadfoot was Head of the Graduate School of Education; in 1999 she became Dean of Social Sciences, then Pro Vice-Chancellor and Senior Pro Vice-Chancellor at the University of Bristol.
In 2006 Patricia Broadfoot was appointed as Vice-Chancellor of the University of Gloucestershire, a university founded on Christian traditions. Here Patricia and her colleagues have developed an institutional commitment to sustainability, which includes sustainable practices, sustainable education and sustainable research.
Throughout her career Patricia has never lost her love of sociology. She was recently invited to become chair of the governing body of the largest ESRC longitudinal survey of households. This project, Understanding Society, aims to reveal the challenges facing UK society and similar societies around the world. This is yet another example of Patricia's unbounded contribution to society.
As Vice-Chancellor of the University of Gloucestershire, and as a lay cannon of Gloucestershire Cathedral, Patricia Broadfoot is still able to live in the beautiful village of Kingswood. Her home is one of ancient beauty, that was almost a ruin when she moved there in 1983. She describes her home as her sanctuary, and part of this sanctuary is undoubtedly her family. She openly acknowledges that she would not have been able to achieve what she has achieved without the full support of her husband David Rockey. Such partners are the "unsung heroes" behind most successful women. She is justifiably proud of her grown-up children James (28), Laurence (26) and Elanwy (21), and always believed that a woman does not have to make a choice between career and family.
Patricia described her life to me as a series of accidents. But I suggest that whereas serendipity could be an explanation, I would prefer to describe Patricia's life as a series of acts and opportunities that she has grasped and woven together into a rich tapestry. I would like to call this the "Tricia Tapestry". This tapestry would depict Tricia's life in all of its complexity, a woman's life characterized as much by the tapestry's hidden warp as by the visible weft.
Mr Vice-Chancellor, I present to you Patricia Mary Broadfoot as eminently worthy of the degree of Doctor of Laws, honoris causa.