Peter Louis Michael Sherwood
Doctor of Laws
17 February 2009 – Orator: Professor David Clarke
Madam Chancellor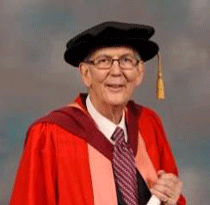 Bristol – both the City and the University – are places that have the quality of making incomers want to stay. (I myself fall into that category.) Our honorary graduand Louis Sherwood is also one such incomer, though he is slightly unusual in arriving in this city only in his late forties. But his impact on the city since his arrival has been immense.
Louis Sherwood is a Londoner by birth. Born in Hammersmith in 1941 and raised in the City of London, he had the experience as a very young child of being sent to the country during the war. He did not return home until he was six. He attended Westminster School in the City, where he was a Queen's Scholar and ultimately Captain of the School. Obtaining an open major scholarship to New College, Oxford, he read Classics and graduated with a Double First. Despite his success, he was not lured to the academic life; a career in business had always been his objective. He successfully applied for a prestigious Harkness Fellowship and travelled across the Atlantic to the west coast of America to study for two years at Stanford Business School, becoming one of a handful of international students there at that time. Nowadays, it is commonplace to seek an MBA degree and Business Schools abound, both in the UK and in many other countries, but in the 1960s it was highly unusual for anyone to pursue such studies. Indeed, on return to this country, Louis found that his hard-earned MBA carried little cachet in his homeland. But Stanford had introduced him to the tough, hard world of business life. While many of his contemporaries from Stanford set up small businesses, Louis returned to the City of London and took up employment with Morgan Grenfell in 1965, thus commencing work in one of the two mainstream business activities with which he has been connected in his career. His contemporaries must have thought he was set for a financial career in the City. But, to the astonishment of his colleagues, he resigned after three years and turned instead to a career in retail business management. Working first with Jim Gulliver of Associated British Foods, he rapidly learned the skills in retail supermarket trading, first with Fine Fare and later with the Melias supermarket chain. Within four years he joined Cavenham Foods, led by the well-known and high profile entrepreneur, the late James Goldsmith. This was a move he describes as the best thing he ever did in his business life as James Goldsmith was such an inspirational person and an exciting, if demanding, individual to work for. Louis rapidly became a director of various companies within the Anglo-Continental Group and grew both insurance broking and property development aspects of the business.
Another four years saw the next major change in career development for, after James Goldsmith acquired the Grand Union Group in America, Louis was sent to be senior Vice-President in charge of development. Louis Sherwood was to spend ten very successful business years in the United States, his final four years being with the Great Atlantic and Pacific group, which had a nationwide chain of stores and over £10 billion of sales. He was appointed President of Atlantic and Pacific in 1985.
By this time, Louis had a young growing family, having married his French wife Nicole while still based in London. He was keen to return to Europe to ensure his children did not become entirely Americanised and, while his return to England may have ensured that result, they have become citizens of the world, all resident abroad and enjoying triple nationality, being British and US citizens and also having French citizenship through their mother. We welcome both Nicole and their daughter Anne to this ceremony today.
It was to Bristol that Louis returned in 1988, having been head hunted to run the Gateway Supermarket chain (the forerunner of the current Somerfield group) whose head office was and still is (at least for the time being) based in Bristol. But by the time Louis and his family had settled in to Bristol for a year, that firm was taken over and Louis found himself looking for new employment. It was at that point in his life, in 1989, that Louis Sherwood's career took a fresh turn, which was to so benefit the city in which he had made his home. Deciding to move on from executive roles and directly managing businesses, he began a twenty year career (which is still continuing) proffering his skill and expertise as a non-executive director of a variety of businesses from Clerical Medical Insurance to Wessex Water and ROC, to name but a few. Perhaps the most significant of these roles was with HTV, where he served as Chairman of the group for the six years between 1991 and 1997 and continued as a director after that. He is widely credited with overseeing its rescue from bankruptcy and establishing it as a hugely successful media organisation. It was the last of the regional independent TV and media companies that were eventually absorbed into the large media group that we have today. Even today, his directorships continue, particularly with Insight Investment Management.
Madam Chancellor, Louis Sherwood's business career is exceptionally distinguished, but it is not for that that I present him to you for an honorary degree today. For in the last twenty years Louis Sherwood's work for the city and region demonstrates that, however alluring he found Bristol as a place to live and settle, it was not as a place just to enjoy the rest of his life. The real consequence of his commitment to the city was a drive and a desire to see improvement and lasting change for the better for his adopted home and its citizens. His range of contributions is remarkable. It begins with significant time devoted to education; he has been a governor and member of Council at Clifton College for very many years, and he has been involved with the universities in this city as a member of the governing body of University of the West of England. He served as a non-executive Director of the United Bristol Hospitals Trust (now University Hospitals Bristol) and through that role grew a connection to the Bristol Urological Institute that continues to this day. He has been closely involved with the Saint Monica Trust and worked to assist in the rapid expansion of healthcare for elderly persons in this city through that organisation. But perhaps the most enduring legacy is his commitment to cultural development and improvement. Early on, he became a leading figure in the then Bristol Chamber of Commerce and is still closely linked to what is now known as GWE Business West. Through those links he was a main instigator of cultural initiatives such as @t Bristol (since its formation in 1995/96) and the Cultural Development Partnership, where he is a director. It was through his considerable personal commitment, both in time and money, that the partnership was able to appoint a full-time director (Andrew Kelly, also an Honorary Graduand of this University, for the work he has done in that role). He was also a leading proponent of the bid to obtain a new concert hall for the city and it was not for want of trying that this scheme did not ultimately succeed. He will no doubt share the pleasure of all of us that the refurbished and extended Colston Hall will meet at least part of that original vision.
As a member of the Society of Merchant Venturers, Louis Sherwood became the Master of that organisation in 2003/04. The energy that he had demonstrated in so many other areas of activity was seen in his period of office, for significant reorganisation was made. The partnership between the Society and this university and the establishment of Merchants Academy at Withywood is another venture in which he has played a central part.
Madam Chancellor, such is the range of Louis' activities in the business, social and cultural life of the city that he admits to few recreational activities. Given that he never had anything other than the most challenging business objectives, it is appropriate that one such recreation is mountain walking. The other is his love of fine wine – but even here it is not disconnected with civic duties and charitable philanthropy; for he has been Maitre de Commanderie de Bordeaux, one of Bristol's twin cities, and many charities have benefited from his auctions of part of his wine cellar for good causes.
Louis is well known in business circles for his firm views and his ability 'to call a spade a spade'; and to express trenchant views to the point where his colleagues say ironically – 'there is Louis sitting on the fence again'. Yet he is a man with a great sense of humour, quick to establish friendships. Self-effacing and modest, he has combined strategic vision with attention to detail; and the businesses with which he has been involved, and his adopted city of Bristol, have been the grateful beneficiaries.
Madam Chancellor, I present to you Peter Louis Michael Sherwood as eminently worthy of the degree of Doctor of Laws, honoris causa.