Dr Una Scully Ryan
Doctor of Science
18 February 2009 – Orator: Professor David Wraith
Madam Chancellor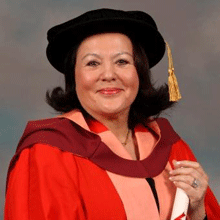 I present to you Dr Una Ryan, an eminent scientist and a leader in the field of biotechnology.
Dr Ryan was born in 1941 in Kuala Lumpur, Malaysia, the daughter of an English rubber tree planter. These were troubled times in which to be growing up in South-East Asia, and when Japan invaded Malaysia and Singapore, her family was forced to flee. Dr Ryan recalls 'My mother and I got the last boat out of Singapore before the fall, my father stayed and was taken by the Japanese. He was interned and held for five years. Eventually we were reunited, but since those days I have never taken life for granted.' Although she had not seen her father since infancy she picked him out of the crowd the moment he stepped back on to British soil.
From such a turbulent beginning to her life, Dr Ryan has risen to become a leading figure in the biotechnology industry, contributing both scientifically and politically to raising the stature of what is a vital field of medical science.
As a young girl Dr Ryan was inspired by her grandfather, a colonel in the British Army, who carried smallpox vaccine into the far reaches of the Himalayas. She was further moved at the age of six by watching a missionary film about a small child with leprosy. Memory of this missionary film would serve as an inspiration of her later work on the development of life-saving vaccines.
Dr Ryan won an open exhibition to study zoology at the University of Bristol, graduating in 1963. She completed her PhD at the University of Cambridge in 1967. She then moved to the United States, taking up an appointment as a Howard Hughes investigator at the University of Miami where her research focused on the angiotensin-converting enzyme. She subsequently received a prestigious National Institutes of Health 10-year merit award designed to support open-ended research by exceptionally talented scientists. This enabled her to continue her pioneering work on vascular biology. She has published over 300 papers and abstracts on this subject and many of her works on vascular endothelium are much cited in the medical and scientific literature.
A recent survey by the British Medical Journal asked people to vote for the most important breakthroughs of the last two centuries. Sanitation was considered the greatest medical milestone with the discovery and use of vaccines following close behind.
As we know, the importance of sanitation was originally established by John Snow and Edwin Chadwick in the 19th century, who respectively explained how the deadly cholera bacterium was spread by water and promoted the use of sewers in domestic life. In 2007, Mr Ban Ki Moon, Secretary-General of the United Nations, warned that the planet faces a water crisis. High population growth, rising consumption, pollution and poor water management pose significant threats. Mr Ban said 'Throughout the world, water resources continue to be spoiled, wasted and degraded. The consequences for humanity are grave.'
Vaccination is a proven tool for controlling and even eradicating disease. An immunisation campaign carried out by the World Health Organization (WHO) from 1967 to 1977 eradicated the occurrence of smallpox as a widespread disease, except for isolated outbreaks. When the programme began, the disease still threatened 60% of the world's population and killed every fourth victim. Eradication of poliomyelitis is now within reach. These success stories are, however, the tip of the iceberg. Numerous new vaccines with major potential for improving health in developing countries are in the research and development pipeline. As you will see, Dr Ryan has had a major impact in the field of vaccine development and she is now applying her expertise to the challenge of water purification.
In 1990 Dr Ryan began a distinguished career in industry when she took up joint positions as Professor of Surgery at Washington University School of Medicine and Director of Health Sciences at Monsanto. After four years, she was recruited by T Cell Sciences, a Cambridge, Massachusetts company focusing on the development of immunotherapeutic drugs. T Cell Sciences acquired the Virus Research Institute and thereby formed a new company AVANT Immunotherapeutics. Between 1996 and 2008 Dr Ryan served as CEO, president and director of AVANT, raising $135 million in capital and leading the company at the cutting edge of vaccine research. Her company pioneered an ingenious vaccine approach using cholera bacteria modified to remove the genes producing the bacterial toxins that are so dangerous to the human body while retaining their immunogenic properties. This cholera vaccine and a similar E. coli vaccine for the leading cause of bacterial diarrhoea are currently being developed and trialled by Vaccine Technologies, the International Vaccine Institute and the National Institute of Allergy and Infectious Diseases.
Dr Ryan can be understandably proud of her role in developing a successful vaccine against rotavirus, the most common cause of severe diarrhoea and dehydration in infants and young children. More than 125 million cases of diarrhoea are attributed to rotavirus per year and the virus causes around 25% of all deaths due to diarrhoeal disease. Under her management, AVANT Immunotherapeutics developed the vaccine and licensed it to GlaxoSmithKline. A clinical trial of the rotavirus vaccine in 20,000 children in Latin America demonstrated 85% protection against severe rotavirus gastroenteritis for more than a year. These and other trials led to the United States regulatory authority approval of the vaccine in April 2008.
Dr Ryan is now working on what you will recall is the greatest challenge facing both developing and developed nations, namely the provision of clean water. She is currently CEO of Waltham Technologies, a company dedicated to the use of bio-engineered algae to purify contaminated water.
Dr Ryan has received many honours. In 2002 she received the OBE for her services to research, development and promotion of biotechnology. In 2007 she was a recipient of the Albert Einstein award for the development of new vaccines for serious global infectious diseases and for her leadership in the biotechnology industry. She has been highly praised for her role in promoting biotechnology through both the Massachusetts Biotechnology Council and the Washington DC-based Biotechnology Industry Organisation. She believes that business barriers have to be broken down to allow the biotechnology industry to accomplish its real mission, to save lives.
Throughout her life Una Ryan has worked on her own mission to save lives. There is no doubt that she has achieved this first through her scientific discoveries, most tangibly through her work on the development of life-saving vaccines and finally through her tireless promotion of biotechnology as a force for good in the world.
Madam Chancellor, I present to you Una Scully Ryan as eminently worthy of the degree of Doctor of Science, honoris causa.