Batook Pandya MBE
Master of Arts
Orator: Professor David Clarke (Deputy Vice-Chancellor)
Madam Chancellor,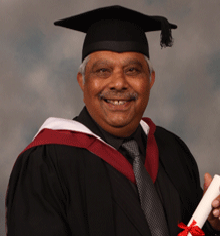 Batook Pandya arrived in this country from Kenya in 1963 aged 17 with fifty pounds, a return ticket (just in case) and a dream for the future. After a very diverse collection of jobs in London, he obtained A-levels via night school and met his wife, Devi, whom we welcome today. Visiting Bristol, he was captivated and moved here without a job. He first found success as a production manager. Later, he took a cut in wages to become a Concorde engineering apprentice. By 1988, his dream for the future seemed realised: he was now established as a skilled engineer as part of an elite team dealing with problems on incoming aircraft. The aim was to get 'the bird ready to fly'.
Then, a move that was to change his life. Looking to spend more time with his family, he applied to become project manager at the newly established Support Against Racist Incidents (SARI) in 1988. There was some funding and an outline vision for what might be achieved. With them Batook has built a dedicated team working to eradicate racism. He has never regretted giving up a secure career and making the financial sacrifice of working with SARI.
As a young man, he experienced racial harassment; while working at a pub during his engineering apprenticeship, he mastered the art of dealing with constant racial banter and gained the respect of employer and customers. He seemed equipped to assist others who had experienced such harassment. But he can really also empathise with the victims of racism. He suffered a vicious attack himself and in circumstances where his wife and daughter were also threatened. He experienced the depression and the challenge to self-esteem that such violent attacks can bring. The work of SARI is critical both to ensuring zero tolerance in society of racial harassment and violence and in providing the vital support to victims of racism in society. He has formulated the strategies to bring together communities and work with agencies against the ignorance that breeds fear, and to fight racism in all its forms by establishing a clear consensus on what is right and what is wrong.
Madam Chancellor, those who know Batook stress his inspirational and dynamic leadership, his firm authority and charisma and his ability to empower people and enable them to reach their potential. He has worked for social cohesion and respect for other cultures and, above all, for the removal of prejudice and fear. He has been instrumental in achieving a multi-agency approach committed to building a better society in the city that he has made his home.
Madam Chancellor, I present to you Batook Pandya as eminently worthy of the degree of Master of Arts, honoris causa.