Dr Susan McMullen
Master of Arts
15 July 2009 - Orator: Professor Len Hall
Madam Chancellor,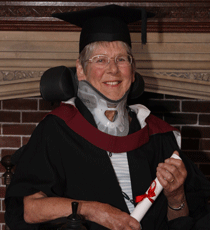 Dr Sue McMullen is one of those many individuals who came to Bristol, fell in love with the city, and has stayed ever since. Indeed it was after being awarded her Doctorate in Medical Sociology from the University of Warwick in 1975, at the age of 41, that she first moved here to become a medical social worker at the Bristol Royal Infirmary. She subsequently became team manager of the Social Work Department, a position she held until her retirement in 1992.
But retirement left Sue without a sense of direction and it was then that she became involved with voluntary organisations. First, she set up the Disabled Living Centre in the Fishponds district of Bristol, on the site of an old military hospital. This site eventually became the Vassal Centre under the leadership of its co-founders – Sue McMullen and the late David Hiatt Baker. In 1998 the Vassall Centre Trust was formed, of which Sue is the current Chair.
So what is the Vassall Centre? It is a large, single-storey building occupying a three-acre site which provides not just an 'accessible workplace', but a 'barrier-free physical environment' for disabled users; recognising that people with impairments only work with true equality and without disadvantage when workplace barriers have been removed. In this respect the Vassall Centre, and the work of Sue and her colleagues, has received both national and international recognition. The Centre is entirely the result of charitable fundraising, more than £3m to date, and is currently the home of about 15 local charities and organisations – all of which are led by, and employ, staff with disabilities.
Although wheelchair-bound for the past 15 years, as a result of contracting polio as a child, Sue has always been at the forefront of promoting the Vassall Centre and its objectives, right from its inception. Having visited the Centre recently I was immediately struck by the sheer enthusiasm of its staff; indeed it is easy to overlook the fact that more than a third of those working there have disabilities – in the appropriately-designed Vassall Centre they are not disabled!
Sue feels that despite her life-long disability she has had a good life, but she is all too aware that many disabled people are less fortunate. Upon retirement she was determined to address this by putting something back into the disabled community – there can be no doubt that over the past 15 years she has worked tirelessly to achieve this, with outstanding results.
Madam Chancellor, I present to you Susan McMullen, as eminently worthy of the degree of Master of Arts, honoris causa.