Caroline James MBE
Master of Arts
15 July 2009 - Orator: Professor Avril Waterman-Pearson
Madam Chancellor,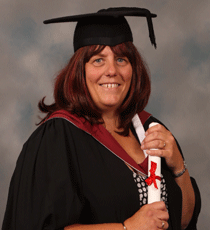 Ten years ago Caroline James was just one of many nurses who are the bedrock of health provision. Born in this city and trained as a specialist children's nurse, she was looking for agency work following maternity leave and was assigned to Frenchay as a Paediatric Burns nurse. She immediately found that it was a place where she particularly wished to use her nursing skills. The post remains her day job today. The burns that patients suffer can be gruesome but the Unit makes a huge difference, and children come from the whole of the West Country for treatment.
But she was one of a group of nurses who realised that the healing process for those suffering from major burns continues long after medical treatment in hospital. For nine and a half years she has been Chair of the Frenchay After Burns Unit, an independent charity consisting entirely of volunteers that works to provide activities and especially camps for children who are burn victims. The children come back year after year and she finds that the camps provide deep support for each individual. Major disfigurement is hard both for the children and other members of the family and there are real psychological issues for parents too. A lot of fundraising has to be organised as all the funding comes from donations. Caroline feels that the honour being bestowed on her today is as much for the team – the executive committee of nine, and a dozen or so volunteers - and is an honour for the children and parents of burns victims who have been given courage and confidence for their future lives. But a lot of credit is also due to her – in commitment of time and energy at camps, in fundraising and organisation, and in the emotional energy in establishing relationships and helping children and their families over the longer term. Appreciation for her work is perhaps best summed up in the recorded words of one of the children at the end of a camp – 'this is the bestest time of thirteen years of living'.
Madam Chancellor, I present to you Caroline James, as eminently worthy for the degree of Master of Arts, honoris causa.