Kipchoge Keino
Doctor of Laws
17 July 2007 - Orator: Mr Bob Reeves
Mr Vice-Chancellor: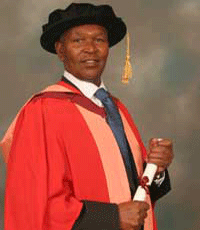 Today I will tell the story of a man who in his own country is revered, and is regarded around the world as having been one of the greatest athletes of all time; a man who has motivated large numbers of his countrymen to achieve standards in sport which might have been regarded as impossible until he paved the way. Yet this is a man whose greatest achievements are largely unknown.

I start at the Mexico Olympics of 1968. Kipchoge 'Kip' Keino, aged 28, was entered in three events, the 10,000, 5,000 and 1,500 metres, something out of the question nowadays.

He was unwell throughout the Games; indeed the German team doctor believed he had gallstones, and that running would endanger him. Run he did, however, and in the 10,000 metres, he was in the lead with a lap to go, when he collapsed, staggering off the track. The race was won by fellow Kenyan Naftali Temu, who thus became the first from his nation ever to win Olympic Gold. Kip was determined to finish, and though disqualified already for leaving the track, got to his feet and completed the distance.

Four days later, Kip was in action again and he took Olympic silver in the 5,000 metres, narrowly losing out in a thrilling finish. He qualified for the final of the 1,500 metres, but still unwell, he was put to bed and told not to run again. On the day of the final, he stayed in bed, but about an hour before the race, he got up, took his kit, and boarded a bus, determined to take part, even if it killed him. The bus became stuck in traffic, so Kip, already late, alighted and ran two miles to the stadium, just in time to register for the race.

His main rival, Jim Ryun, undefeated for three years, possessed a renowned finish. Kip countered this by setting a searing pace from the start, such that he burned off all opposition, somehow holding form to the finish to win his first Olympic gold in a new Olympic record time, with Ryun 20 metres back in second place. The doctor took Kip back to Germany straight after the Games and removed the gall stones.

This story provides an indicator of the character of a man who has left his mark as a great athlete and remarkable human being.

How did Kip Keino come to be the star of the 1968 Olympics and the sporting icon for Kenyan athletes in the years ahead? We need to look back to his childhood.

He was born in Kipsamo in Western Kenya. Both his parents died when he was very young, and he was brought up by an aunt. He was raised in a rural area, the nearest school being far away.

Kip spoke to our high performance sports group when visiting Bristol in January. He was asked when he had started training for athletics. He replied:

'When I started at primary school. I ran in my bare feet four miles to school in the morning, home for lunch, again for afternoon school and back at the end of the day. I did this every day until I left school'.

Mr Vice-Chancellor, 16 miles of running a day from the age of 5 might have helped us to be international athletes also!

Ralph Waldo Emerson wrote: 'Do not go where the path may lead; go instead where there is no path and leave a trail'. The paths trod by Kip Keino, either to school or round athletic tracks throughout the world, were already there, but he certainly left a trail.

After school, Kip trained for the police, later spending some time at the Police College in Aldershot. He could have stayed and qualified for Great Britain! Instead he became a Kenyan Police Physical Training Instructor, and it was while in the Kenyan force that he began what was to be his lifelong devotion to aiding young children. He could not resist the pleas for help from orphans and needy youngsters, who, in increasing numbers, he took home or were brought to him by fellow policemen knowing of his concern. Kip was away often, and his wife Phyllis, already with the first of what would be seven children of their own, supported the view that no child should ever be turned away.

It was when in the police that Kip's running ability saved him on several occasions, none more so than when out in the bush one day, he was attacked by a rogue buffalo, a dangerous beast. Kip just made it to a tree, which he leapt into, spending the whole night there. In the morning, the buffalo lost interest and went off, leaving an unscathed Kip to jog home.

In the early sixties Kip's athletic career had blossomed, though it was not until after the 1964 Tokyo Olympics, in which he just failed to reach the 1,500 metres final, that he came to the fore, breaking the world 3,000 metres record in 1965 by six seconds in his first attempt at the distance. He broke the world 5,000 metres record two months later, and in the 1966 Commonwealth Games won two golds, putting him well on track for his epic performances in Mexico two years later.

During the Edinburgh Commonwealth Games of 1970, Kip showed that life was not a simple jog in the park! After winning the 1,500 metres, he received an anonymous threat should he win the 5,000, a letter stating 'Our guns fitted with telescopic sights will be on your heart and we do not miss'. Games organisers took this seriously and security was increased in the village. On his way to the track for the final, someone approached Kip, saying quietly, 'Use your head or you will be in trouble'. Kip ran most of the race tucked in a bunch of runners, settling in the end for a bronze, probably a wise move.

In the 1972 Munich Olympics, aged 32, having come second in the 1,500 metres, Kip entered the 3,000 metres steeplechase, an event he had rarely run, and won his second Olympic gold. By now, however, his role as father to the fatherless had already begun to eclipse that of being a champion runner.

Kip retired from the track in 1973 when athletics had only just become professional. He and Phyllis had $20,000, enough to buy some farm land in Eldoret on which he built a house. This was to become the family home, a large extended family, and a home where all the children made a contribution, perhaps tending crops or helping in the house.

Kip and Phyllis wanted to provide a proper education also, and when more land was purchased on the other side of town, they were able to build a primary school catering for over 300 children, adding another home for more orphans. Parents in the locality want their children to be educated there, alongside the orphans, and it is now recognised as the best primary school in the region..

In 2008, the Kip Keino Secondary School will open, offering education to around 400 children, again including the orphans. It will have an emphasis on sport. Associated with it is a training centre for elite athletes aged 14 to18, who will receive scholarships and an excellent education alongside athletics opportunities.

The Kip Keino Foundation encompasses the orphanage, schools and farm. Kip has clarified its goals in writing the following:

'A fundamental challenge facing every society is to develop economic and social systems that continuously contribute towards improvement in human life. Of great importance is the building of systems that contribute to sustainability of the environment upon which human life depends.'

This is what he is doing in Eldoret.

Further afield, Kip has been Chairman of the National Olympic Committee of Kenya for a decade and he is a leading member of the International Olympic Committee.

Now in his late sixties, Kip still runs, as he did when going to school over 50 years ago. He ran firstly for his education, then later for his country. Asked why he runs now, he always replies simply, 'I run for life'.

Earlier this year, in Bristol, he signed an agreement linking the City of Bristol with Kenya in a multi-faceted project leading to the London Olympics of 2012. This four- year project will twin Bristol and Kenyan schools, establish opportunities for Bristolian and Kenyan sportsmen and women, explore the possibilities for collaboration in commerce and provide support for the Kenyan Olympic team up to the London Games.

I asked Kip what, in his extraordinary life, had been his proudest achievement. He quietly replied 'The orphanage'. His creed is 'You come with nothing and you leave with nothing'. One thing is certain - when it is time for Kip to leave, he will leave a great deal, not least many hundreds of young people, all calling him 'Dad', whose lives have been enriched by him.

Mr Vice-Chancellor, we have before us a Nandi tribesman, who went on to be a world-renowned athlete and international statesman, but perhaps whose greatest achievement has been in and around his own home. I present to you Kipchoge Keino as eminently worthy of the degree of Doctor of Laws, honoris causa.