John Roland Grimshaw
Master of Science
20 February 2007 - Orator: Professor Vala Ragnarsdottir
Mr Vice-Chancellor: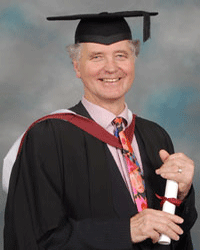 It is an honour for me to present John Grimshaw for an honorary degree. John is the founder and Chief Executive of the UK's leading sustainable transport charity Sustrans. It is not an exaggeration to state that he has done more for the cause of environmental sustainability than anyone else in the UK, if not further afield.

John was born in 1945 and grew up in Kenya where his father was a missionary. Out of his bedroom window he could see both Mt Kenya and Kilimanjaro and it was perhaps this experience that gave John his huge sense of landscape. He decided at the age of 10 that he wanted to be an engineer and after boarding school he studied Engineering and Architecture at Gonville and Caius College, Cambridge.

From 1963-68 John's first job was with Taylor Woodrow Construction, working
on the Heathrow Cargo tunnel and Barbican projects. He then worked as an engineer with MRM Consultants, Bristol, on projects as varied as China Clay tailings lagoons in Cornwall and proposed cycle routes in Bristol. His manager said of him that 'John was so full of ideas that it was like managing a race horse!'

In 1969 John went with the Voluntary Service Overseas (VSO) organisation to Uganda to build roads, and to prepare for the Pope's visit. He continued his voluntary work back in the UK, re-routing the narrow-gauge railway in Blaenau Ffestiniog in Wales.

In 1977 John organised and spoke at a meeting of about 100 people that was held at College Green to discuss the interests of cyclists and the 'Cyclebag' campaign group was born out of this meeting. David Sproxton of the Oscar Award-winning studio Aardman Animations remembers John's enterprising spirit and engineering abilities when Cyclebag was setting up its first offices. John equipped volunteers with hammers and nails, and with judicious direction managed to turn a pile of flat timber into a working set of office desks with storage in a matter of two hours. On them the formative plans for Sustrans were laid.

In the words of George Ferguson, founder member of Cyclebag, Chairman of Acanthus Ferguson Mann Architects, former President of the Royal Institute of British Architects and an honorary graduate of this University, Mr Vice-Chancellor, 'Cyclebag emerged as a constructive protest against the domination of the motor lobby in our politics and our roads. It filled a gap in the culture of Bristol and later in the fabric of the UK – taking a massive leap when reconstituted as Sustrans. Like all good things it was inspired by a single maniac, John Grimshaw, who felt that a step change could be achieved with relatively small amounts of money. I feel fortunate to have been there...'.

John is a man who transforms possibilities. The first Sustrans project was the Bristol to Bath cycle track on the line of the old railway. During the summer of 1979 five miles of usable pathway were completed. The work was undertaken by an army of volunteers, often up to 50 people, who spent their weekends camping and working. I'm told that child labour was not considered a sin! Everyone willing took part. At the end of the summer the track was officially opened and the Minister of Transport came to the ceremony. John then was commissioned by the Minister to undertake a study of sustainable transport in the UK. Her Majesty's Stationery Office (HMSO) delivered the huge report with 39 Appendices. While the report was largely shelved, the Appendices were designed to be used later as the basis of Sustrans routes and thus the National Cycle Network as we know it today. Today 75% of us live within 2 miles of a National Cycle Network route.

By the mid-eighties construction of the Network was being carried on all over the country. Often, John used the Manpower Services Commission of the Ministry of Employment to pay unemployed people to take part in track construction. At one time there were up to 800 workers on various railpaths, and John himself was the only one not paid by the Manpower Services Commission. Many of those early day workers are still with Sustrans. John often had to exercise considerable ingenuity for plans to work and salaries to be paid. He is known for never letting anyone down.

The future was not always clear for John and Sustrans. In the mid-eighties John went to Scotland, and alighting from the train at Rannock Moore, he was met by a man who instructed him to call the Department of Transport (DoT) immediately. An accountant at the DoT asked John down the telephone how many funding sources were supporting him and was told about 50. This evoked the response from the official: 'if you have 50 funding sources then you must be fiddling the system! We will no longer support you'. It apparently took a long time to get back on an even keel after these accusations. But John was of course not fiddling any system. He was simply good at finding pockets of money to dip into – including charities and various government departments.

By the mid 1990s Sustrans had built cycle paths all over the country, mostly along old railway lines, but these were not linked together. Following the arrival of a new Sustrans Financial Director the Millennium Commission backed Sustans by awarding the first ever Millennium grant of £42 million in 1996, to develop the National Cycle Network. Three times as much in matching grants was obtained and the result was not only the promised 2,500 miles of joined-up tracks, but 5,000 miles by the year 2000.

When the Millennium Commission handed out the grant, they insisted that the National Cycle Network had to include Northern Ireland. This was not considered by John to be a hindrance, even though at that time out of Sustrans' 10,000 supporters only 9 were in Northern Ireland. John simply packed up his bike, and went with some key members of Sustrans to Northern Ireland and returned with an immediate plan. All done in one weekend.

By 2005 Sustrans owned and managed over 500 miles of disused railway with 1,100 structures and co-ordinated 10,000 miles of connected tracks. Sustrans now has 200 employees, 70 of whom are in the Bristol offices. John is not only the key person responsible for the National Cycle Network. Sustrans now manages Liveable Neighbourhoods, Safe Routes to School, Travel Smart, Bike It and Active Travel as well as commissioning a wide portfolio of public art.

John once said: 'Look, we are a project - we just get on with things - we don't sit on committees'. He is also quick to seize opportunities. Once he met a guard on the train and while chatting to him John found out that he lived next to the Bristol to Bath railtrack. John appointed him as the warden of the cycle path on the spot – and this was the start of a long and active collaboration. This man was the first of many National Cycle Network rangers. Now there are 2,500 of them, all volunteers.

Over the years John has had a close relationship with Goldney Hall. He has been spotted climbing over the walls of the garden there to harvest mulberry trees. One year he even entertained a wedding party who did not mind him picking berries during their festive celebrations. I'd like to suggest John, that as a newly honoured member of the University of Bristol, you could ring the bell and enter the garden via the door in the future.

It soon became clear to me when I started my research for this oration that John is a larger-than-life person. He never lets anyone tell him that something is not possible. He finds a way to achieve everything his mind is set on. Keith Hallett, a friend of his from Cyclebag days, suggested to me that John Grimshaw is the Brunel of our times. I agree. John fulfils the belief that positive direct action can drive change. For all of the young people before us today I cannot imagine that there could be a better role model.

Mr Vice-Chancellor, I present to you John Roland Grimshaw as eminently worthy of the degree of Master of Science, honoris causa.