Phyllida Christian Lloyd
Doctor of Letters
14 July 2006 - Orator: Professor Martin White
Mr Vice-Chancellor: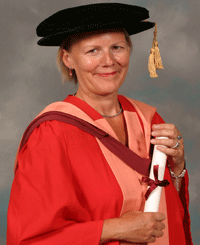 Phyllida Lloyd is one of this country's leading stage directors, with an international reputation, popular and critical, for her outstanding work in theatre and opera and for the global hit musical, Mamma Mia! She is also this year's Cameron Mackintosh Visiting Professor of Contemporary Theatre at the University of Oxford.

She has strong personal and professional links with the West Country. She was born just a few miles south of Bristol in Nempnett Thrubwell (a village immortalised in song by the Wurzels), and – this being a special day for family and friends too – we are delighted to welcome Phyllida's parents, Pat and Margaret and her partner, Sarah Cook, to the University today.

After graduating with a degree in Drama and English at Birmingham University she began directing on the London fringe. She was awarded a bursary under the Arts Council Trainee Directors scheme and started her apprenticeship in regional theatres in Ipswich.

She returned to this part of the world, first to the Everyman Theatre in Cheltenham, where she soon made her mark, before, in 1988, joining the Bristol Old Vic company as its Associate Director.

During her time in Bristol she directed a series of memorable productions that demonstrated what seem to me to be characteristic qualities in her work: her ability to rethink a play one thought one knew and open it up in unforeseen ways; the luminescent clarity of her control of the stage, creating images of great beauty yet resonant with meaning; her liking for a judiciously used coup de théâtre; and her playfulness as a director, her infectious sense of theatrical fun.

Indeed, such was the success of her revelatory production of Shakespeare's Comedy of Errors, that, a couple of years ago, when the Bristol Old Vic staged the play again (very well), the new production was nevertheless judged by many by the degree to which it stood up against Phyllida's.

Of all the arts of the theatre, the art of the director is perhaps the hardest to put a finger on. While it is comparatively easy for us when we're in an audience tell whether or not we like the acting or the singing, or the set or lighting, or to decide whether we think a play was worth doing in the first place, it is not always so straightforward where the directing is concerned.

A director is part artist, part artisan. Surrounded by writers, designers, actors, the director must be a catalyst and a crucible for their ideas and skills, and ultimately must orchestrate the production as a whole – its shape and its rhythms – to create the best possible experience for the audience, and fire their minds, emotions and imaginations.

That might suggest a puppeteer-like control, and some directors do shackle the creativity of others within a too-rigid production concept. Richard Eyre, former director of the Royal National Theatre, likens hearing actors talking about some directors to hearing prisoners talking about their guards.

But those who work with Phyllida Lloyd speak of her openness in rehearsal, her willingness to allow everyone's ideas free rein and to let the unexpected happen. Harriet Walter, currently playing Cleopatra at Stratford, and who worked with Phyllida last year, described to me how:
'she sees the overall picture and allows actors freedom within it, but also judiciously guides and tweaks because she knows, she just knows, how big, small, over, under the acting should be, given the overall focus and context, which actors simply can't see. So one completely trusts her. And she's fun.'

Since the 1990s she has consolidated her reputation with a series of productions for the country's leading theatres and companies, including the Royal National Theatre, the Royal Shakespeare Company, Shakespeare's Globe, the Royal Court and the Almeida.

In 1991, she extended the scope of her work, directing her first opera – Chabrier's L'Etoile – for Opera North, with whom she's had a long-standing relationship and developed a particular flair for directing Benjamin Britten's work, with productions of Albert Herring, Gloriana and, later this year, Peter Grimes. Showing yet another talent, she also directed a film for BBC2 of Gloriana, for which she won a number of awards, including an International Emmy Award.

Other opera productions include Medea, Carmen, La Boheme, Macbeth, The Carmelites, The Verdi Requiem, and (a move into new opera) The Handmaid's Tale, productions seen in London, Paris, Barcelona, Copenhagen and Toronto.

In the 2004-05 English National Opera season, she directed the Ring Cycle. This was ENO's first production of Wagner's masterwork for 30 years, and the choice of Lloyd as director is a further sign of the esteem in which her work in opera is held.

Mr Vice-Chancellor, the life of the theatre must always be in the present tense, and Phyllida Lloyd brings to operas and plays the same fresh eye, the same visual ingenuity, willingness to create controversy in interpretation, even a preparedness to shock when necessary, and the same conviction that a production should speak directly to its audiences. Audiences of all kinds. Concerned that opera, even more than theatre, is not only too often perceived as the prerogative of the middle class, but of the middle aged, she has said that: 'I want productions to speak to the next generation. It worries me that the average age of opera-goers is so high. If I didn't believe a particular opera had something to say to the two generations below mine, I wouldn't do it. I want young people to be excited by opera.'

With a track record that includes some of the most serious and demanding works in theatre and opera, it may have come as a surprise to some, when, in 1999, it was announced that she would direct a new musical, based around the songs of the Swedish pop-group, Abba. But she has described it as 'the most extraordinary adventure', an adventure she pursued with Catherine Johnson, a Bristol-based playwright who wrote the book of the musical, and who we also welcome to this ceremony today.

Three women sit at the heart of the story of Mamma Mia!, just as three women sit at the heart of the production's creative team – Phyllida herself, the playwright Catherine Johnson, and producer Judy Cramer. In fact, it was in many ways the combination of talents from more 'serious' forms of theatre – including the choreographer Antony van Laast, and designer Mark Thomson, with whom she had worked before – and her decision to treat it as a real play with songs, that produced a musical of phenomenal success, first in London, then on Broadway and then worldwide, a production enjoyed by millions of people and which, by the end of this year, will have been performed in 12 languages.

But while the range of her work is wide and diverse, it seems to me that it is unified by her consistent interest in the world as experienced by women, viewed through women's eyes, as well as a commitment to revealing how plays or operas relate to and reflect the lives of their audiences.

Last year, she received unanimous critical acclaim for her visually austere yet beautiful, sombre yet darkly funny, production of Friedrich Schiller's Mary Stuart, which centres around the relationship between Elizabeth I and Mary, Queen of Scots. Schiller wrote his play in 1800, but while staying true to the original, and illuminating, not forcing, the parallels, Phyllida uncovered a riveting political play for our times that laid bare the mechanics of power.

The production of an old play underlined for a modern audience Schiller's exploration of the toll taken on those in high office – in this case women isolated from the world around them. It asked probing questions about religious fanaticism and freedom, about terrorism, about how far political leaders in a democratic state should be allowed to go in compromising principles of justice in the national interest and the implications for the liberties of us all.

Looking at Phyllida Lloyd's career to date, it is not just the consistent quality and originality of her work that shine through, but its remarkable range and versatility across so many different kinds of theatre. She once remarked of a project that it would allow the actors a wonderful mix of opportunities, the chance to 'show off your rap, your tap, your opera, your madrigal, your choral speaking.' It seems to me that from her early work in Bristol and elsewhere, through to her work today as a director on the world stage, she has herself been doing just that.

Mr Vice-Chancellor, I present to you Phyllida Christian Lloyd, director, as eminently worthy of the degree of Doctor of Letters, honoris causa.