Iain Gilmore Gray
Doctor of Engineering
14 July 2006 - Orator: Professor Nick Lieven
Mr Vice-Chancellor: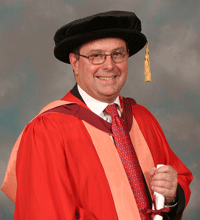 There can be very few graduands from the University of Bristol whose expertise spans the development of the world's civil airliner and an unassailable knowledge of dinky cars. It is fortunate for Bristol, the UK aerospace industry and the world of civil aviation that Iain Gray's career has concentrated on large aircraft rather than his toy car collection. And so, the context in which Iain is with us today is that of his leadership and vision for Airbus UK which has made it of the largest civil aircraft company in the world. Civil aviation has transformed the way in which the world does business, and Iain has played a major part in this process.

The purpose of honorary degrees from the University of Bristol is to recognise and celebrate excellence and achievement. Remit for selection is more than demanding: it requires almost superhuman qualities. I could try listing these attributes, but suffice to say our honorary graduands should demonstrate qualities that the University would like to see in our own students. They should also act as role models for future generations as they move into their careers. In a world that seems littered with potential pitfalls, there are few people who can rise above this and show leadership to encourage a whole industry and a nation to share a common pride in leading the world. The aerospace industry in particular presents us with global challenges in which only genuinely visionary leaders can thrive and lead the nation to international standing. It is even better when they live and work in Bristol. We are fortunate today in presenting to the University Mr Iain Gray, Managing Director and General Manager of Airbus UK as eminently worthy of an honorary degree from this University.

Although linked with Bristol as Managing Director of Airbus UK at Filton, Iain is a Scot down to his shoelaces. Indeed my own supposition that his selection of home in Stoke Gifford was on the basis that it was only five minutes from the factory turns out to be entirely misguided. I am instead, reliably informed that his selection was based solely on the fact that when he moved to Bristol there was a direct train from the nearest railway station, Parkway, to his native Aberdeen. In fact it is impossible to introduce Iain without mentioning his Aberdonian roots. He was educated at Aberdeen Grammar School and then Aberdeen University – in engineering I am delighted to say. Given the architectural solidity of his home city, it is therefore surprising that he moved into somewhat lighter weight structures on joining Airbus. Perhaps this concern with relatively slight structures led to his early career in crack propagation and fatigue in aircraft - not normally a concern for Aberdonian buildings.
Such was his proficiency in this area that only seven years after joining the company he was made Head of Fatigue and Fracture Mechanics. The code that he developed for fatigue prediction is still used by Airbus today. And only four years later he was made Assistant Chief Aerodynamicist. Iain describes the move from being a Structures Engineer to an Aerodynamicist as more difficult than his subsequent transition to running the UK's largest civil aerospace company. It was clear at this point that Iain was destined for great things and he set about collecting jobs with his customary enthusiasm and vigour. His trajectory through the Directorship of Future Programmes and then Engineering Director were only transient stages on the way to his current position as Managing Director. What has made Iain stand out throughout his entire career is vision. As Director of Future Programmes it was his personal initiative and determination that led to the subsequent development of the A380, the world's largest civil aircraft, which we saw fly over Bristol only a few weeks ago.

In the aerospace industry we refer to such developments as "game changers", aircraft that alter the direction of the industry. Indeed, Airbus' competitor across the pond - whose name escapes me for the moment - is still reeling from the shock.

So, Iain is single minded about his aspirations for Airbus. However, he also has a passion for collecting. It is true to say that Iain has collected aircraft programmes in much the same way as he has his Dinky toy car collection. Apparently he has often said that he would like to set up his own toy shop when he retires. The only flaw in this argument (which he seems happy to ignore) is that he would have to sell them. However he does have a fine collection of British Aerospace and Airbus desk miniatures he could replace his stock with. Perhaps in deference to his Scottish roots his Scottish whisky collection is also worthy of mention here. This may also explain why he is known to recite Burns' poetry at every opportunity no matter how tenuous the link or how formal the occasion.
He has also collected four children, his succession of three sons only being complete with the arrival of his daughter Elizabeth. The constant in this eclectic activity has been his wife Rhona who has been the key to his success as much as anything else – putting up with his long working hours and business trips away throughout his career, whilst at the same time looking after four children. I think this could be regarded as an equally demanding task as running Airbus UK.

However, and there is always a 'however', Iain's strongest and most likeable attribute is his heartfelt commitment to the development of people and in particular young people. It was in this hall three years ago during the Enterprise dinner that one of our students, Tim Axford, won the University prize for most entrepreneurial project within the University. The project was to develop a composite framed bicycle. As Iain saw the future business of Airbus in composite materials he wasted no time in rushing round the table to offer Tim a job at Airbus after graduation, thrusting a business card in his hand. I remember this vividly because he knocked my glass of wine over in his haste to recruit a rising star to the Airbus cause. It did not stop there. Tim has now joined Airbus and is being mentored by Iain personally through the early stages of his career. This exemplifies Iain's view that the future of UK industry and this great University lies in the hands of our graduands and young people here today. His commitment is not just in words. For the first flight of the A380 in Toulouse, Iain chose to remain in Bristol alongside his colleagues here rather than being indulged in the corporate hospitality suite at Toulouse airport.

So, it is hard to summarise Iain's contribution to the UK aerospace industry. He is not only a first-rate engineer but clearly a visionary and inspirational leader. He is a strong believer in role models, citing Robin Brown, who is here today with us from Airbus, as his guiding light in the early years in his career. Iain practises what he preaches. He has led Airbus to be the pre-eminent international civil aerospace company for wing design globally and has achieved this through personal support of his colleagues and peers. We can all learn from this. It is fair to say that through Iain's tireless exploits at the frontline in Europe he has managed to keep wing design and manufacture in the UK – with the unashamed statement that without the wings, an Airbus would just be a bus.

Mr Vice-Chancellor, given Iain's commitment to aerospace, people and indeed the city of Bristol, I would find it hard to imagine the circumstances in which I could commend someone more highly to you. Thus, I present to you Iain Gilmore Gray, industrialist, leader and aerospace visionary as eminently worthy of the degree of Doctor of Engineering, honoris causa.