Stephen Charles Pilkington CBE
Doctor of Laws
11 July 2005 - Orator: Mr Moger Woolley
Mr Vice-Chancellor: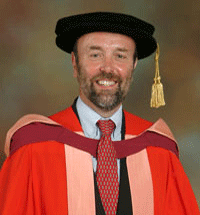 How many Chief Constables have you known with a doctorate in plant physiology, and how many have you known who sport a beard? The former Chief Constable of Avon & Somerset, Stephen Charles Pilkington CBE, QPM our honorary graduand has both.
Born at Wherwell on the River Test in Hampshire, Stephen Pilkington went to his local primary school, passed his 11+ exams and then attended Andover Grammar School. He did well at O-level and went on to take A-levels in Botany, Zoology and Chemistry.
His parents would not have found it easy to finance him through university, but fortunately two of his biology masters recognised his exceptional talent. Whilst endeavouring to persuade his parents of the long-term value of a university education, the teachers entered him for a scholarship to Queen Elizabeth College, London, which he won. He went on to obtain a First in Biology followed by a doctorate.
It was while carrying out his research for the latter that he met Ann, his wife to be, who was reading for a Masters Degree in Conservation. We are delighted that she is here today with some of their family.
Towards the end of his time at Queen Elizabeth College, Stephen concluded that research was not for him in the long term. With time running out, he decided that neither did he wish to go into business or conventional management. He started to look at forensic science, and from there his thoughts turned to policing. He applied for graduate entry to the police force, but was not selected. He dealt with this setback in the way that other successful people have often dealt with theirs; he dismissed it. He joined the police anyway as a bobby on the beat in Battersea. Ann tells me that going out with a police constable after doing so with a researcher represented quite a change! Stephen was to spend the next 25 years with the Metropolitan Police Force.
After four years at Battersea, he had passed his sergeant exam and applied for the Accelerated Promotion Course. He passed, which effectively put him alongside those who had achieved graduate entry. He spent a year at police college, during which he wrote a paper on the importance of working closely with communities, it was titled Active Citizenship for Community Safety. This has remained a key element in his philosophy to this day.
At parade ground inspections at police college, cadets were dismissed from the parade if they were improperly dressed. The inspecting officer looked Stephen up and down and, finding nothing wrong, put his face so close to his that they were all but touching and said, "I can't instruct you to shave off that beard, but you will go further in the police force if you do." The beard stayed.
After police college, Stephen felt the need for further operational experience and, after a short spell at Marylebone Lane Police Station, moved to Croydon for six years. During this period he had a six-month secondment to the Police Executive Research Forum in Washington DC. There he met Professor Herman Goldstein from Madison University, whose specialist subject was 'problem-solving policing'. This was to become another cornerstone of our honorary graduand's policing philosophy.
After Croydon he moved to another operational role in Lewisham and then, following a short break working for Assistant Commissioner John Smith in a strategic support role, he moved to Clapham where, as Superintendent, he had his first operational command in an inner-city posting.
Mr Vice-Chancellor, by now many will have realised that our honorary graduand's rapid progress had been brought about by his own drive and initiative. Such progress was to continue. He applied early for entry to the Senior Command Course, which was in effect the passport to senior officer ranks. Having completed the course, Stephen was ready for his own division. It was back to Battersea, where he had his first experience of working with a civilian – a businessman who was chairman of the Crime Prevention Panel and whose views on the importance of local people in policing mirrored his own. He found the endorsement and the partnership itself invaluable.
His career was now moving even more quickly. He applied to become a Commander with the MET. It was a difficult time as the MET was downsizing and there were to be only four Commanders. The process was that Chief Constable Paul Condon would call the unsuccessful candidates first. Stephen received his call at 7pm - all was well. He became the Commander for Central London with a new team. It was a unique assignment with Royalty, diplomats, politicians and terrorism on the agenda and, in his own words, "It was the making of me". By now he was Deputy Assistant Commissioner and when there was an inspection by Her Majesty's Chief Inspector of Constabulary, Stephen led the presentation. As he explained to me, Deputies were expected to run the business, including all the financial responsibilities. For his work in Central London he was awarded the QPM.
As you can imagine, the former research student who did not want to go into management was by now very experienced in just that, and his thoughts moved to joining a county constabulary as Chief Constable. The odds were against him. On the one hand, nobody from the MET had ever made such a move and, on the other, the original criteria for such posts stipulated that applicants "should have worked with a provincial police authority". Nevertheless Stephen was appointed Chief Constable of Avon & Somerset in early 1998.
Not long after he came to this area, I found myself seated next to him at lunch. The Queen had presented the Maundy money at a service in Bristol Cathedral and lunch was in the Mansion House in Clifton. On my other side was an officer of the Queen's Protection Unit. This officer began telling us just how wonderful the MET was. Although he was talking to Stephen rather than me, I endeavoured to intervene to tell him about our honorary graduand's past, but he was in full flow. He finally asked Stephen which constabulary he came from. "Oh, I served with the MET for 25 years," came the reply. Our lunch continued without a great deal more conversation!
Mr Vice-Chancellor, the Avon & Somerset Constabulary covers a large area and has a budget of £220 million, a staff of 5,000, some 900 vehicles and 60 to 70 premises – all of which underlines the scale and range of the management task involved.
As you will appreciate, our honorary graduand brought priceless experience from his past, together with a strong sense of public duty and social justice. This was exemplified in his handling of the case of a paedophile. There was a clear duty to the public on the one hand, but on the other a responsibility to the paedophile, who had served his time and needed to be protected from the lynch mob. For his own safety, he voluntarily spent nine months in Yeovil police station.
During his time with Avon & Somerset, Stephen maintained and added to his knowledge of and commitment to science. It is no coincidence that the force has one of the best forensic teams in the country and is in the vanguard of using DNA and fingerprinting together.
His understanding of inner-city issues and the best way of handling them was invaluable and included a significant decision to identify the drug dealers operating in parts of the inner city by both nationality and name. At the same time as responding to the particular challenges presented by urban environments, Stephen had to address the needs of a diverse sub-region encompassing everything from seaside resorts to rural communities. But whatever the issues, there was a consistency to his approach. He was, for example, committed to tackling the causes of problems and not merely the problems themselves. He believed in being actively engaged with local communities and working with them to deal with issues at source rather than just relentlessly chasing events.
Stephen Pilkington's roots become clear on visiting his home. He loves his garden and is a countryman at heart. He is also a caring man. Since 1991, he and Ann have helped handicapped children through the Pilgrimage Trust by being part of the support staff that takes between three and five thousand children to Lourdes at Easter. And his final act as Chief Constable was to cycle between every one of his police stations in the week before Christmas, raising £66,000 for the Children's Hospice South West.
Mr Vice-Chancellor, in the recent Queen's Birthday Honours list our honorary graduand was awarded CBE for services to the police. I present to you Stephen Charles Pilkington CBE, QPM, the former Chief Constable of Avon & Somerset, as being eminently worthy of the degree of Doctor of Laws, honoris causa.