Deborah Moggach
Doctor of Letters
Orator - Janet Thumim
Madame Chancellor: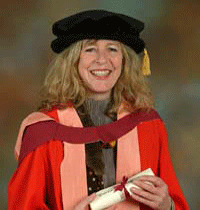 Today we honour one of our alumnae, Deborah Moggach.
Deborah Moggach has published fifteen novels, two collections of short stories, and several screenplays. These include adaptations of her own and others' writing – the latter including Anne Fine's Goggle Eyes (for which she won a Writer's Guild award) and Nancy Mitford's Love in a Cold Climate, both for television. Her adaptation of Jane Austen's Pride and Prejudice for the cinema is just completed - we may hope to see it later this year, and the screenplay based on her historical novel Tulip Fever had been due to go into production in February last year. Sadly this was one of the casualties of governmental intervention into film financing. According to her website newsletter there are now some 'glimmers of hope' about this production – so we should all keep our fingers crossed and hope that this delightful novel will reach the screen.
Deborah Moggach comes from a secure and busy literary family. The third of four daughters, she was brought up in and near London, though the family's holiday retreat in the New Forest is the location she remembers most warmly. She attended Camden School for Girls in the 1960s, then studied English here in Bristol, graduating in 1971. Both her parents were writers and she herself had originally intended to teach, but when her new husband was appointed to a post in Karachi she found herself 'released by the liberated atmosphere' (her words). She began to engage with life in Pakistan through writing for local newspapers and magazines and also started what became, after her return to London and the birth of her first baby, her debut novel You Must Be Sisters. It was during these two years in Pakistan, then, that her life as a writer began. It is significant, Madam Chancellor, that this arose from the desire to participate, to understand the lives around her and, in her words again, to 'mirror back' the world she shared.
For Deborah Moggach 'fiction is supposed to make you understand how people tick' and from her first novel to her most recent, These Foolish Things, she has both drawn on, and developed, her empathetic skills. By her own admission her first two novels were autobiographically based – the first was set amongst Bristol University student life in the late 1960s. The second, Close to Home, chronicled the experience of a young mother during a hot London summer ten years later. Subsequent novels were, as she puts it, totally fictional, though her subject matter is the world around her, 'things as they are now' she says. With one splendid exception, the historical Tulip Fever, all her novels and screenplays chronicle, consider and deliver back to her readers the concerns of our times, doing perhaps for our descendants what Balzac, Flaubert, and Zola, for example, have done for us. In crafting these concerns Deborah Moggach always 'tries to see the other side' and this empathetic ability has resulted in an astonishing range of characters both on the page and on the screen. Even her most minor characters are rounded, plausible and engaging. A striking feature of all her work is the ensemble inhabiting each of her fictional worlds.
Small details of everyday life can provoke, for her, the question 'what if…?' Hence her novel Final Demand, adapted into a two-part television drama which was broadcast over the Easter weekend last year, and which had been prompted by a newspaper article. This story is about the motivation for, and consequences of, a bright but dissatisfied young woman's fraud – a fraud that she thinks will hurt no-one, but which eventually blights many other lives. Hence also the novels Driving in the Dark and The Ex-Wives, both of which present male protagonists blundering through a world they don't understand and can't manage. One concerns a good-hearted coach driver and his total incomprehension of the women who reject his love and care, the other offers us a hopeless but charming philanderer and the trail of wives and children he leaves behind him but never quite escapes.
Deborah Moggach's imaginative skills in seeing the other side, as she puts it, means that her readers are led to understand and warm to even the most badly behaved of her characters. Sometimes this skill is put to work in explorations of difficult issues such as surrogacy in To Have and to Hold, or incest in Porky – the latter being the novel that she herself considers her best. In her writing it is always character that drives plot – she goes so far as to say there is no such thing as plot, that her characters tell her what is to happen. During the writing process, she says, she is totally absorbed in her characters: 'when the writing is going well it is like having an adulterous affair - no matter where you are, in your head you are always somewhere else'.
Deborah Moggach likes to be 'out and about': she is as eager in her appetite for experience as she is generous in her engagements with others. She is a frequent contributor to BBC Radio 4; she has taught many times on the Arvon Foundation creative writing workshops; she contributes to literary festivals – last year at Hay and at the Edinburgh Book Festival amongst many others - and she is clearly energised by the collaborative work that film and television production requires of its writers. In the mid-1980s she began to write screenplays and she also enjoys performing – like Alfred Hitchcock she always appears as an extra in productions of her scripts. Above all her writing is fed by her whole-hearted embracing of life in all its manifestations, amongst which she particularly values the contacts with other generations that her two (now grown) children, Tom and Lottie, have enabled. Her admirably rounded life routinely includes swimming, riding and gardening – her beautiful London garden seemed to me to be peopled with plant characters busily constructing their own events, just as her fictional characters do.
One of the keys to Deborah Moggach's apparently unstoppable creativity, Madam Chancellor, is the strong visual sense informing the delivery of place achieved in her writing. She values highly the practice of drawing and the perceptual insights this can deliver. The acknowledgements prefacing her acclaimed novel Tulip Fever conclude with thanks to the Dutch artists themselves, through whose paintings, she writes, 'we can step into a lost world, and find ourselves at home'. It is perhaps her own ability to offer her readers such a home in the great variety of fictional worlds she has constructed for us which is her greatest achievement. Reading and rereading the novels, watching the adaptations of her own and others' work on the screen, is like travelling again through the late years of the 20th century, seeing ourselves once more but from the outside, as it were, reliving the contexts which have formed us. This is the gift she offers, and it is one that thoroughly merits our appreciation and gratitude.
Madam Chancellor, I present to you Deborah Moggach as eminently worthy of the degree of Doctor of Letters honoris causa.