Bernard Stanley Acker Bilk
Master of Arts
18 July 2005 - Orator: Professor Gareth Williams
Madam Chancellor: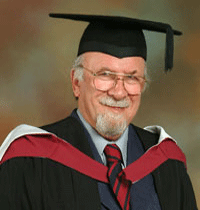 The human brain, exemplified by those belonging to today's graduates, is a wonderful thing. We now know a great deal about it, but some great mysteries remain. One perplexing example is taste in music: how the same series of sounds can be perceived and processed to produce quite different reactions in different people. Some adore Bach, or Elton John or Coldplay; others don't, can't and never will. We can't predict what someone will love or hate, with certain notable exceptions: for example, the Crazy Frog ring tones instantly drive all normal, well-balanced people – like me – to consider doing unspeakable things to mobile phones.
Jazz has often stirred up strong feelings – as much between its followers as among its detractors. Against that background of hot passions and warring factions, it's not surprising that rather few jazz musicians have stood the tests of time and of their fans' devotion.
Mr. Acker Bilk – clarinettist, band leader, composer and worldwide icon for traditional jazz – is one of the most enduring of these rare birds. He's been going strong for half a century now, and his popularity shows no sign of waning. Why? First, he's a virtuoso on his instrument. In jazz, this helps, even though in other areas of music, it's apparently a hindrance. Second, his passion for jazz is very obvious and highly contagious. Third, he's an inspiring leader and – with his trademark bowler hat and striped waistcoat – a thoroughly respectable role model. He also has a powerful personality, whose warmth you can feel as much on television and radio as on stage. Finally, he's always been a phenomenally hard worker; even now, when his age equates with the number of trombones in the Big Parade, he still has a performance schedule that makes a Faculty Dean's diary look like the tea rota at the WI.
Significantly for us here today, he is clearly – and proudly - a man of these parts. The Vice-Chancellor will maintain that Bristol is the centre of the Universe; Acker nearly agrees: the true centre is pretty close, just a few miles to the South-East.
Bernard Stanley Bilk was born in Pensford, North Somerset, about 30 years after jazz as we know it came into existence in New Orleans. He wasn't the only lad in the village to be nicknamed 'Acker'– this being North Somerset slang for 'pal'. Music was there from the start, in both genes and environment: his mother played the organ and piano, while his father specialised in hymns by the appropriately named Moody. During the war, while listening to the American Forces Network, Acker developed a liking for jazz. His first instrument – the tin whistle – doesn't exactly lend itself to the medium, and it wasn't until National Service in Egypt that he met the clarinet. His first clarinet remained on extended loan from a military band until he was demobbed – long enough for Acker to teach himself to play along with the jazz greats on disc. He also set up his first band, the Original Egyptian Stompers; Suez was essentially a gig-free zone, but they rehearsed a lot. The jazz bug had well and truly bitten.
Back home in Pensford, Acker set up the Chew Valley Jazz Band; this involved transforming a bell-ringer into a trombonist and a wooden tea chest into a double bass. Acker's recollections suggest that, for a while, the local cows turned to yoghurt production; perhaps harmonic perfection was not achieved immediately. Nonetheless, word spread rapidly about Pensford's bright young clarinettist, and in 1950, Acker was invited by Ken Colyer, the foremost trad jazz man of the time, to join his band in London.
There, Acker's reputation thrived; but soon, repelled by London and attracted by the notion of being his own master, he returned home and set up the Bristol Paramount Jazz Band. This was when things really began to take off: back to London, then their first big break – six weeks' solid playing in a Bierkeller in Düsseldorf …. I suppose someone's got to do it. This formative experience pulled the Band into top-class, internationally-renowned shape, and the late Fifties saw their first big hits, Summer-Set and Creole Jazz, roll out across Europe.
His biggest success came in 1962 with a sweet, relatively straight ballad for clarinet and strings. Originally entitled Jenny, after his daughter, it was hijacked by a BBC producer to be the theme music for a TV serial called Stranger on the Shore, and it was renamed accordingly. Stranger on the Shore is one of those tunes that you can recognise from its first two notes; also, one that you can remember where you were when you first heard it. In my case, I was sitting in front of a grey, flickering screen several centimetres across – that's all TV was in those days – wondering whether I'd made a mistake in taking up the flute. Stranger – or, to give it the Band's affectionate nickname, Strangler on the Floor – went on to do spectacularly well. It was top of the Hit Parade in the UK for weeks and one of the few singles ever to be No. 1 simultaneously in the UK and the US; in 2002, it came out in the top sixty of all the singles in the Hit Parade's 50-year history. It's sold over four million copies and has been played on air over four million times. I share Dorothy Parker's scepticism about statistics: as she said, 'if all the girls at the Yale Prom were laid end-to-end, I wouldn't be at all surprised'. Nonetheless, Stranger's total end-to-end airtime is now over 25 years, or about three years more than the average age of those graduating today.
There are many other jewels in Acker's crown. His other chart successes include Aria, in 1976 – a special achievement, given the hara-kiri tendencies of music at that time. His house in Pensford is stashed with some of the hardest currency of all: gold, silver and platinum discs from all corners of the planet. In 2001, he was awarded an MBE for his services to the Music Industry.
The universal appeal of his music has taken him and the Paramount Jazz Band on dozens of tours: full houses at the Albert Hall, the Sydney Opera House and Carnegie Hall, and an interesting evening in a chief's longhouse in Papua-New Guinea, where his audience included the shrunken heads of the tribe's former enemies – probably nearly as intimidating as being up here today. Ronnie Scott once complained about gigs where the bouncers had to throw the crowd in; Acker doesn't do those.
The adjective 'Bristol' dropped off the front of 'Paramount Jazz Band' back in the Sixties, but otherwise, Acker has remained loyal to his roots. He's the long-standing President of The Bristol Jazz Club and still pulls together the band known as The President's Men for evenings at The White Horse in Bedminster. In an age where musicians' excesses have helped to keep the tabloids solvent, his home life is remarkably solid: still in Pensford, and just one wife – Jean, also a Pensfordian, who's here today with Jenny. And those who would trace the creativity and spontaneity of jazz to a fondness for various herbal products will be disappointed: his only consciousness-modifying substance is – appropriately enough for a Somerset man – cider. On a serious note, he's a man of commitment and persuasion: he was one of those who led the campaign, ultimately successful, for retrospective recognition of the troops who fought in the Suez Crisis.
Overall, Madam Chancellor, Acker Bilk is one of jazz's very best front-men: a world-class performer who has made his art accessible, valued and even respectable. Recently, I looked up 'jazz' in the 1986 edition of the Oxford Companion to Music, which – significantly – was published after the editor's death. Being dead may be a reasonable excuse for holding reactionary views, but the whole of jazz merits only seven pages – just slightly more than bell-ringing – and the tone throughout is sniffy, if not snotty. To quote: "jazz compositions usually have a short life and a merry one… [ranking] as journalism, almost as daily journalism, not as literature."
Here, Madam Chancellor, is a man who, mercifully, has proved that this is indeed prejudice from beyond the grave. Acker Bilk and his Paramount Jazz Band came into fashion even before the Sixties began to swing, and half a century later, they have never been out of it.
Madam Chancellor, it is my great pleasure to present to you Bernard Stanley Acker Bilk – man of Pensford, global ambassador for jazz, and no stranger on any shore – as eminently worthy of the degree of Master of Arts, honoris causa.