Alastair James Scott Summerlee
Doctor of Laws
14 July 2004 - Orator: Professor Brian Pickering
Madame Chancellor: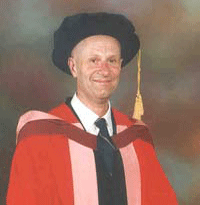 Just as one enjoys a meal that much more when one has grown the produce in one's own garden, so it is that the University takes extra pleasure in seeing one of its former undergraduates meriting the award of an honorary doctorate.
Alastair Summerlee, who is President and Vice-Chancellor of the University of Guelph, came to Bristol to study Veterinary Science in 1971. Today, we honour him as a leader of higher education in Canada, who has established himself as an international scientist and been recognised as an outstanding university teacher.
This is the fourth time that Alastair has been on this platform to receive a degree. As I said, he came up to read Veterinary Science but, after his second year, he was invited to interrupt those studies to intercalate a B.Sc degree in Anatomy, which he obtained with First Class Honours in 1974. He completed his veterinary degree in 1977, and, then, returned to the Department of Anatomy to undertake research for a Ph.D. He remained in the Department, as a postdoctoral researcher and was appointed as Lecturer in Veterinary Anatomy in 1981.
Throughout his life, Alastair has been a devoted believer in Learning as the active part of the acquisition of knowledge, with the teacher's role being to inspire and guide, rather than learning being the passive product of teaching. This passion began as a small boy: roaming the Sussex Downs, catching and rearing butterflies, and discovering orchids. Already, he had concluded that he could learn a lot more by creating his own experiences, rather than by what he refers to as the "rote learn and vomit" approach. These views were put into practice later in his life, when he became a great proponent of problem-based learning. He is a passionate interactive teacher, and the comments that I have received from many of his former students and colleagues are united in the description of Alastair as an inspirational teacher, whom they have come to admire, respect and, yes, love. I am using the present tense, consciously, because, since taking on the post of President and Vice-Chancellor, he has continued to teach, while being responsible for 4,000 staff and 16,000 students. Moreover, in 2003, he was one of the eight professors from the whole of Canada to be awarded the prestigious 3M Teaching Fellowship – the first President-elect ever to be given the award.
Not only is he continuing to teach Human Anatomy and the Art of Veterinary Medicine, but he has developed, and is currently teaching, a first-year seminar course, jointly with his Dean of Arts, on Sex, Gender and Sexuality. The development and teaching of a course jointly by a neuroscientist and a medieval historian seems to me, Madam Chancellor, to be an enormous challenge, but this is typical of Alastair as an innovator and one who relishes a challenge.. It is no surprise that it is a tremendously successful course – referred to by the students as "Sex with the President".
As a scientist, Alastair Summerlee has made significant contributions to the understanding of the fundamental physiology underlying the hormonal control of pregnancy, birth and lactation. However, we are honouring him to-day as a complete Academic, not just as a scientist, so that I cannot enumerate all the advances he has made, but let me just try and give a flavour.
His early work concerned the neuronal activity in the maternal brain during birth and suckling, and he devised techniques for studying these events, while animals went about their normal daily lives, undisturbed. When he began his research career, the hormone Relaxin was well known to be a substance that is produced in the mother's ovary, towards the end of pregnancy. As its name suggests, the job of Relaxin was to relax the ligament that holds the two halves of the pelvis together, thus allowing the baby to pass through. Alastair discovered that Relaxin also has a direct action on the brain to inhibit the release of the hormone Oxytocin, and, hence, to reduce the contractions of the uterus. Over the intervening twenty years, the central effects of Relaxin have been found to have many parts to play in the complex physiology of birth and suckling.
In 1978, Alastair took on a major leadership role, while still a postgraduate student. He was appointed Warden of one of the University's halls of residence - Goldney Hall. This 18th century historic house and garden, which many of you will be visiting for a garden party this afternoon, provides accommodation for students, most of whom are in their 1st year, and living away from home for the first time in their lives. A hall Wardenship is one of the most demanding jobs in the University because the Warden is not only responsible for the pastoral care of these newly independent young people, who require advice and guidance in a way that does not conflict with their status as self-responsible adults, but he or she must also run the hall as a business and, in the case of some halls, like Goldney, be the guardian of an historic house and garden. Alastair was an excellent Warden in all respects: he was a very popular and very effective leader of the community; he marketed and built up a very profitable conference and catering business; and actively conserved the house and garden and its historic monuments. One of the most popular monuments at Goldney is the 18th century grotto, constructed out of shells gathered from all over the world. When this was shockingly vandalised in 1984, Alastair set about restoring the monument: mounting a public appeal that raised almost £100,000, seeking sources of the authentic shells from around the world, and ensuring that accurate restoration took place. This was a mammoth task, which he undertook while looking after the student needs, and pursuing full-time laboratory research for his Ph.D degree. The result was that we can still enjoy the delights of the Goldney Grotto, and I hope, Ladies and Gentlemen, that you will take the advantage to visit it during the Garden Party.
In 1988, the Summerlees took a bold decision: they embarked for Canada. The late David Porter, with whom Alastair had been collaborating in the studies of Relaxin, had left Bristol, in 1986, to join the Ontario Veterinary College, part of the University of Guelph and one of the three veterinary schools in Canada. His remit was to build up a strong Department of Biomedical Sciences. David saw, immediately, that his task would be that much easier if he could persuade Alastair to join him. In due course, he succeeded and, in 1988, the Summerlee family, which, at that time, included two toddlers and a baby, moved to Guelph, close to Toronto, so say, for two years!
The move was a great success: Canada took to the Summerlees and the Summerlees took to Canada. Where else could he better indulge his love of the outdoors and hiking – particularly portaging. Alastair continued to be very productive, scientifically, and the Ontario Veterinary College and the University of Guelph benefited from the industry and personality of Alastair Summerlee. He became Associate Dean of the College in 1992, and Dean of Graduate Studies for the whole university in 1995.His style of academic leadership, totally informal but, nevertheless rigorous, was much appreciated, and he rose to become Provost and Vice-President (Academic) in the year 2000. In 2003, he was appointed President and Vice-Chancellor: the first internal appointment to that post that the University has made ever.
Madam Chancellor: I had the privilege to be present at Alastair's installation as President and Vice-Chancellor, last October. All of us from outside Guelph were overwhelmed by the depth of joy and admiration that the whole University felt for its new leader. There were heartfelt eulogies, not only from the senior hierarchy of the University but, also, for example, from the student leader (the equivalent of the President of the Students' Union) and from the leader of the campus Trades Unions. He continues to enjoy this reputation even after a year in the post! I am told that after delivering grim news to the University about funding, he received applause, demonstrating his colleagues' belief in his honesty and conveying their trust. They are sure that their university is safe in his hands. He may be known for his unconventional hairstyle and his desire to be barefoot whenever possible, especially when teaching, but he is comfortable and respected in the Canadian corridors of power, and is capable of taking tough decisions.
I have spoken about Alastair Summerlee the teacher, the scientist and the academic leader, but what about Alastair at home? As I have heard him testify, Alastair's success has benefited from the unceasing support of his wife Catherine, whom we are very pleased to welcome here this morning. To reflect my opening remarks, we can take pleasure at this home-grown product too. Alastair as a young tutor in Goldney, took an especial interest in a newly arrived undergraduate in Classics and Ancient Mediterranean Studies. They were married in 1976! I wonder how many, here in this hall today, have begun life-long relationships in the last three years?
One might think that someone who has achieved so much in his professional life would have had little time for family life. Not a bit of it! His family has always been of supreme importance to Alastair, and he has organised his working pattern to be able to spend quality time with his wife and children: often going to the lab or office at 3am, to spend a few hours, before returning home for breakfast with the family.
How does he achieve all this and remain calm and happy? I wish I knew. Maybe his constant listening to the music of Wagner and Mahler, and his love of outdoor pursuits, help. But he does, and will do more, so that, Madam Chancellor, I present to you Alastair James Scott Summerlee as eminently worthy of the degree of Doctor of Laws honoris causa.