Timothy West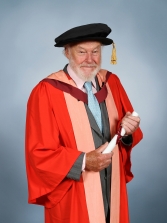 Doctor of Letters
14 July 2017 - Orator: Jo Elsworth
Vice-Chancellor,
Timothy Lancaster West is a household name and one of the country's most versatile, talented and respected actors.
I was going to start with a brief biography of Tim, but having read his 26-page CV detailing 296 productions in theatre, film and TV over the over the past 61 years, I am going to take a different approach…
Throughout Tim's life, Bristol has been a place of great significance; personally and professionally, and he has played an important role in supporting the city's theatrical life for over half a century. Tim is an actors' actor, a directors' actor and, most importantly of all, an audiences' actor. He is a mesmerising actor, who uses his exceptional technical precision combined with a seemingly effortless emotional presence to make you feel that you are not just watching him, but that you are going on a journey with him.
No one in Bristol last summer can have failed to notice that the highlight of the Bristol Old Vic's 250th birthday year was King Lear starring Timothy West. The cast comprised Tim and two other professional actors (Stephanie Cole and David Hargreaves) alongside graduating students from Bristol Old Vic Theatre School. Not only did this production exemplify Tim's generosity and willingness to share his craft with a new generation - but also his extraordinarily powerful acting technique. Director, Tom Morris, describes how, during Lear's soliloquies, Tim stood at the heart of the stage, in a place where all the radial geometry works, and began to speak. Then, at a key point, stepped further forward. In that moment, the boundary between actor and audience dissolved, and the audience felt they were there with him. It was a small technical move, but one which had an emotional, and quite magical, impact. That stage move has now been coined the 'Tim West Super Thrust'! It is that blend of technical perfection and emotional clarity, combined with a natural charm, modesty and generosity that characterises all of Tim's work.
Tim's performance as Lear in 2016 may have been the most recent time he worked in Bristol, but his relationship with the City goes back more than 70 years. Tim went to Bristol Grammar School; he confessed that the most rewarding experience of his school life was playing truant - cycling off down to the docks to look at the ships to-ing and fro-ing in the harbour. Inevitably, he was expelled… But this period sparked a lifelong interest in boats and travel - something I will return to later.
His next encounter with Bristol was altogether more fortuitous. Aged 21, and working for EMI as an engineer with theatre as his 'hobby', he returned to Bristol to direct Thornton Wilder's Our Town. This was for the National Student Drama Festival, which was being held in the University's Victoria Rooms. Afterwards, in the insalubrious surroundings of the gentlemen's toilets, the renowned theatre critic Harold Hobson, approached him and asked, 'are you going to take theatre up professionally?' This was the moment that has shaped the rest of his life. He replied. 'Oh yes… certainly,'
Vice-Chancellor, the career that followed has been outstanding, not just for its longevity and consistency, but also for the range of his work. Tim has acted and directed in rep and touring theatres across the length and breadth of the country, and further afield. He has worked with theatre companies including English Stage Company, the Old Vic (London & Bristol), the National Theatre and the Royal Shakespeare Company. Not only he is a classical actor, he is also an enduringly popular radio, film and television, actor. His appearances range from Emergency Ward Ten in 1959, to EastEnders in 2014 and the BBC's landmark, 2005, production of Bleak House.
What strikes me most about Tim is the personal level at which he works: he is dedicated to regional theatre and building meaningful relationships with local audiences. I am also struck by the intimacy of the relationship he creates between character and story line. He said to me 'when I do a play I think 'this is who I dream of being, this is where I dream of being, this is what is around me now'. Tim's extraordinary talent is that he can draw us completely into the soul of a character, to feel their emotions and follow their journey, and, in doing so he helps us to understand what it is to be human.
Offstage, there is a less public side to Tim's work, and behind the scenes, he quietly supports many aspects of British theatre. As President of London Academy of Music and Dramatic Art he continues to inspire young actors starting out in their profession. Closer to home, Tim served on the Board of Bristol Old Vic during the late 80s and 90s. His dedication, knowledge and experience was instrumental in steering them through some turbulent times.
From my own perspective, Tim was a Trustee of the renowned theatre archive, the Mander & Mitchenson Collection, and he supported its transfer to the University of Bristol in 2011. This, in turn, transformed our own Theatre Collection into a world class resource for students and researchers.
Of course, with Tim, theatre is a family business. We are very sorry that Prunella cannot be here to join us today, and we extend a warm welcome to Tim's guests.
Tim and Prunella Scales have been married for over 50 years and have an enduring partnership on and offstage. Their latest joint venture - the TV series Great Canal Journeys - sees them exploring the canals of Britain and abroad. It perfectly captures their sense of adventure and fun - and love for each other. Their children, Joseph and Samuel - an acclaimed actor in his own right, and Tim's daughter Juliet often join them on these trips.
Tim and Prunella's commitment to their family, as well as to each other and to theatre, is quite remarkable and deeply inspiring.
Finally, Tim, I've a message from Tom Morris, Artistic Director of Bristol Old Vic. After seeing your work with the graduating students from the Theatre School in King Lear last year, he thinks that if you keep up that level of determination and commitment then you've a fine career ahead of you…
Vice Chancellor, I present you Timothy Lancaster West as eminently worthy of the degree of Doctor of Letters, honoris causa.