Chrissie Wellington, OBE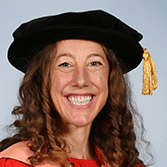 Doctor of Laws
Wednesday 15 February 2017 at 10.30 am - Orator: Professor Leo Brady
Deputy Vice-Chancellor,
One of the great privileges of being part of the Bristol academic community is the range and vitality of sheer talent that surrounds us every day. Nobody graduates from this university without mastering high and rigorous standards, without endless hard work, and without sheer determination. The pool of new graduates before you are a great testimony to these Bristol standards. But one member of our local community is a particularly fine example of these standards and we honour her here today. Christine – or Chrissie – Wellington is a familiar face within Bristol. There can be very few people in Bristol who have not been passed by her, whether swimming in the University pool, cycling up and down the hills that surround this city, or running in our great open spaces. And nobody will have missed the humility, encouragement and plain friendliness that Chrissie exudes.
Chrissie's list of achievements holds its own in a University of Bristol's standing. Originally a first-class graduate of the University of Birmingham in geography, she was also awarded a distinction from Manchester in her Master's degree in Economic Development Studies. In her first career she was a policy adviser in international development initially with DEFRA, and later worked with an NGO in Nepal. Cycling around the endless Himalayan hills proved not just fun but also inspired her to take up the gruelling sport of triathlon. She proved rather good at it. She turned professional very soon after in 2007, and remarkably within a year won the World Ironman Triathlon title. This is a rather daunting race that involves swimming 2.4 miles in the open sea, cycling 112 miles in blazing heat, and then running the 26 miles of a marathon. At the end of all this, she was still able to deliver a victory speech in which she highlighted the positive impact sport has on young people, on the disadvantaged, and even on communities at war.
This was the first of an astonishing list of sporting achievements. Chrissie returned to the start line the following year, and proved herself World Ironman Champion once again in 2008. And then again in 2009. Injuries prevented her defending her title in 2010 but, despite not being in full health, amazingly she returned in 2011 to win back her title once again. She set three world records in triathlon, including times that have never been beaten to this day. In 2009 she was named as the 'Sunday Times Sportswoman of the Year'. She was awarded an OBE in 2010 for her services to triathlon, and an MBE in 2016 for services to both sport and charity. In brief, she is a truly remarkable woman.
Retiring as a professional athlete in 2012, Chrissie has since turned her focus to using sport as a catalyst for community development and engagement. She has been instrumental in the development of the ever-popular parkrun movement, especially for juniors, is a Bristol City Council ambassador for sport, and has been a key figure in establishing the women's La Course cycling race as part of the Tour de France. Using sport as a facilitator for positive change, and especially engaging younger women in sport, are her real passions. And this seems to mean more to her than that first world championship medal, or the second, the third, or even the fourth.
Despite her daunting list of sporting achievements, Chrissie remains incredibly approachable and is ever encouraging to all - including those yet to discover sport. She is one of the most inspirational and motivational speakers I have ever met. Several years ago she presented a talk in this same hall at Bristol. The 800 available tickets were taken up in record time and there were at least another 800 disappointed at not being able to get in. Chrissie's autobiography A Life Without Limits went straight to Number One on the Sunday Times Bestseller List and should be compulsory reading for today's new graduates. This work is witness to her astounding sporting achievements, but perhaps more importantly displays Chrissie's real motivation: sport at any level as a central driver for change, for good: 'Sport has the power to build bridges, to empower, to teach, to heal – this is what triathlon and every other sport should be about and I hope that I, in some small way, can help inspire others to take up sport and realise their own dreams and their full potential.'
Chrissie is testimony to what we can all achieve with motivation, dedication, sheer hard work and, importantly, passion. She is an inspiration for us all and especially for today's graduates. You too can have a life without limits.
Deputy Vice-Chancellor, I present to you Christine Ann Wellington as eminently worthy of the degree of Doctor of Laws honoris causa.